The Afghanistan Arena: Pakistan's Pivot to China
Insights from Gareth Price, Senior Research Fellow, Chatham House.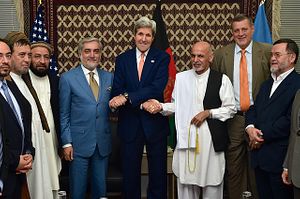 The Rebalance authors Mercy Kuo and Angie Tang regularly engage subject-matter experts, policy practitioners and strategic thinkers across the globe for their diverse insights into the U.S. rebalance to Asia.  This conversation with Gareth Price – Senior Research Fellow at Chatham House – is the fourth in "The Rebalance Insight Series."
What impact has the U.S. rebalance to Asia had on South Asia thus far?
Largely neutral. The pivot is largely towards East Asia, and about China. U.S. desire to deepen its relationship with India has been long-standing and pre-dates the "pivot." India clearly has its own concerns about China – both the Chinese presence in India's neighbors in South Asia, and the Indian Ocean in general, and its border disputes. While India is attempting to deepen its economic ties with China, increased Indian interaction with the U.S. is seen to serve the purpose of ensuring that China takes more notice of India and its concerns. At the same time, the U.S. drawdown from Afghanistan and shift in attention away from Afghanistan and Pakistan works in the opposite direction.
Afghanistan and Pakistan pose ongoing challenges for regional security. In a recent Chatham House briefing, you stated, "The trilateral dialogues between Afghanistan, Pakistan, and Turkey and China respectively are the most ambitious." Please elaborate on China's calculus in forging a regional leadership role.
China's interests in Afghanistan mirror those of the West and indeed of India. It wants stability, both to allow China to develop Afghanistan's resources, and because it fears radicalization in Xinjiang. It also has leverage over Pakistan. While the U.S. was deeply engaged in Afghanistan its ability to act was limited. But, now it would seem China is encouraging Pakistan to play a more proactive role in assisting in some kind of peace process in Afghanistan, and Chinese pledges of massive infrastructure development in Pakistan may well be an inducement to do so.
What are the hedging strategies of Pakistan and Afghanistan vis-à-vis the competition between India and China for influence in the region?
Pakistan doesn't hedge between China and India; it is pro-Chinese. Where it has to hedge is between China and its other allies in the Gulf. Interestingly, Pakistan refused to join the Saudi-led coalition fighting in Yemen. Again, China may well have encouraged it not to participate.
The previous Afghan government took an overly pro-Indian stance against Pakistan. The current Afghan government recognizes that it needs constructive engagement with Pakistan if it is to resolve its internal challenges and so is trying to better balance its relationship with Pakistan and India.
What are the implications of a potential U.S.-Iran nuclear deal on regional engagement?
It would be a largely positive development for South Asia. The Iran-Pakistan-India pipeline, discussed since the 1990s, would be a confidence building measure for India and Pakistan, but has been stymied by Western tensions with Iran.  But, tension between Saudi Arabia and Iran has been played out in Pakistan, as elsewhere. Were Pakistan and Iran to become more cooperative, there could well be a response from Gulf states.
Looking beyond 2016 horizon, please identify the top two challenges facing the next U.S. president – Democrat or Republican – in managing Afghanistan?     
Presuming that China is playing some form of facilitating role in political reconciliation in Afghanistan, the U.S. role would seem to be largely limited to providing a sufficient military presence to back-stop the Afghan government provided it remains beyond end 2015. If it has withdrawn before, the U.S. role will become more limited than it has been thus far. And the final withdrawal of U.S. troops may well be required for peace in Afghanistan. Sequencing the U.S. withdrawal with some kind of increased Taliban participation in government (provided a political process gets that far) is going to be complex.