The U.S.-China-Israel Defense Dynamic: Strategic Common Ground
Insights from Yoram Evron, Assistant Professor, University of Haifa.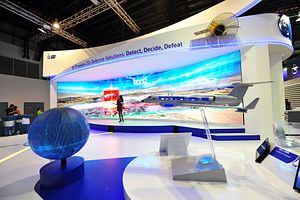 The Rebalance authors Mercy Kuo and Angie Tang regularly engage subject-matter experts, policy practitioners and strategic thinkers across the globe for their diverse insights into the U.S. rebalance to Asia. This conversation with Dr. Yoram Evron – Assistant Professor in the Department of Asian Studies at the University of Haifa in Israel and author of the forthcoming China's Military Procurement in the Reform Era: The Setting of New Directions (Routledge 2015) – is the second in "The Rebalance Insight Series."
Let's begin with Israel's recent decision to join China's Asian Infrastructure Investment Bank (AIIB). What are the broader implications of this move?
Israel's joining the Asian Infrastructure Investment Bank (AIIB) is the most recent development in what seems an enduring Israeli effort to strengthen its ties with Asian countries, China in particular. Considering China's growing influence worldwide and the loaded relations between the White House and Prime Minister Benjamin Netanyahu, this comes as no surprise. Most disturbing from Washington's point of view is the possibility of renewed defense relations between Israel and China, but not only that.
As a strategic ally of the United States, Israel is proactively bolstering relations with China, particularly in the defense industry. Please provide brief historical context.
Military relations were the forerunner of China-Israel relations – and also the cause of the worst crisis in them. From the late 1970s, military technology transfers were the bedrock of these relations for two decades. In the early 2000s Israel yielded to U.S. pressure and aborted the defense connection, fully aware of the ramifications of this decision for relations with China. In the early 2010s, after several years of giving Israel the cold shoulder, Beijing decided to leave its grievances behind. As part of it, Beijing initiated high-level military exchanges between the states. Realizing the symbolic role of that aspect in the relationship, Israel reciprocated. Yet unwilling to jeopardize its relations with the United States, Israel followed strictly their understandings concerning defense and dual-use technology transfers to China. It thus limited its defense connections with China to military exchanges and to areas that do not involve the transfer of classified technologies or information, such as counterterrorism, while keeping Washington in the picture.
What are Israel's motivations for closer military cooperation with China?
While Beijing clearly respected Israel's approach, the military aspect in the relations remained a sensitive issue. First, Israel's adherence to its understandings with the U.S. denies China access to advanced technologies of interest to it, and keeps China fully aware of the U.S.'s powerful influence in its relations with other countries. For Israel's part, these limitations – the broadest out of all U.S. allies – have been increasingly criticized domestically. Containing a long list of dual-use items and entailing a laborious licensing process, they are considered by Israeli exporters and government economic bodies an unfair barrier to the lucrative Chinese market. Aware of Washington's sensitivity to this issue, the Israeli government has rejected these arguments. Yet as China-Israel economic ties firm up it becomes increasingly harder for the government to counter domestic demands to ease the export restrictions to China.
What is the impact of U.S. rebalance toward Asia on Israel?
The U.S. rebalancing to Asia policy is realized as a possible reduction of the American commitment to Israel's security. However, while Jerusalem undoubtedly recognizes a decrease in U.S. willingness to back its regional allies, it is not convinced that the U.S. will actually reduce its involvement in the Middle East. But the rebalancing Asia policy may have other implications for the China-Israel-U.S. triangle. So far, Israel has been predicting no major shift in China-U.S. relations in the Middle East, and continues to advance its economic and civilian technology relations with China. That way it hopes to consolidate its ties with the rising power without violating its strong relations with Washington. But even such a path cannot assure Israel that the U.S.-China confrontation will not affect it. As the application to join the AIIB shows, economics and politics are inseparable. In this case, Israel has probably submitted its application at the last moment after being convinced that the U.S. would not oppose it. Given China's increasing involvement in the Middle East, things can get even more complicated.
China's relations with the Arab world date as far back as the Tang Dynasty (AD 618-907). In the modern era, the China-Arab Cooperation Forum serves to strengthen China's regional influence. From Israel's perspective, what are China's strategic interests in Middle East regional power dynamics?
The latter scenario might be relevant to Israel, considering China's traditional pro-Arab position and its support of the Iranian anti-Israel regime. In recent years Israel has not been bothered by that. While China's military activity in the region expands – joint exercises in the Middle East, participation in the international naval mission in the Gulf of Aden, etc. – and its involvement in regional crises and conflicts increases –the Iranian nuclear issue, the Syrian crisis, the Israeli-Palestinian peace process – China adheres to a passive role in the region's politics and its pro-Arab line is largely formal. And indeed, the few calls made in Israel for an examination of the political and strategic implications of China's investments and involvement in Israel's technology sector, academic institutions, and national infrastructure projects were immediately rebuffed by the government. Concurrently, Israel is apparently not adopting a pro-China policy in East and South Asia; it provides India with advanced defense technologies, cultivates relations with Japan, and reportedly has even discussed defense cooperation with the latter. In other words, Israel bases its relations with China on economic foundations only. But this path may shift its interests incrementally and even unconsciously closer to China. That does not change Jerusalem's uncompromised preference for the U.S., but its calculations regarding the China-U.S.-Israel triangle may become a little more complex to the degree that it will find itself once again caught between these two giants. To avoid such a development, Jerusalem and Washington would do well to clarify their positions on China.
Mercy A. Kuo is an advisory board member of CHINADebate and was previously director of the Southeast Asia Studies and Strategic Asia Programs at the National Bureau of Asian Research. Angie O. Tang is Senior Advisor of Asia Value Advisors, a leading venture philanthropy advisory firm based in Hong Kong.