The Unfulfilled Potential of India-Indonesia Relations
Despite enormous promise, the bilateral relationship remains remarkably quiescent.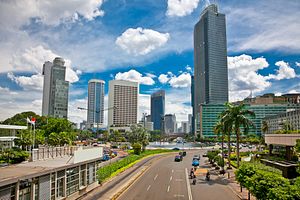 Indian Prime Minister Narendra Modi will soon be completing his first full year in office. While he has his critics, there tends to be broad agreement that Modi has done a robust job in the sphere of foreign policy. Modi's approach has focused on economics, soft power, connectivity, and maritime security. Modi has been deft at using what Joseph Nye has dubbed "smart power" – the right blend of soft power and hard power.
The government's policy towards Southeast Asia – previously called "Look East" and now renamed "Act East" has sought to be comprehensive. Some clear instances of this can be found in relations with Myanmar. Not only is India focusing on enhancing land connectivity, with an eye to boosting the level of bilateral trade, but it is also keen to boost connectivity through the sea as well, for instance with the start of a bi-weekly steamer service connecting Chennai with Yangon.
While the active outreach to Myanmar is welcome, given its strong historical and cultural links, another country that warrants more Indian attention is Indonesia. Now is an appropriate time to re-examine the relationship, given that only recently a conference was held at Bandung to mark the 60th anniversary of the first African-Asian meeting, where the then Indian Prime Minister Jawaharlal Nehru and Indonesian President Sukarno were amongst the leading lights. This conference led eventually to the Non-Aligned Movement (NAM), which has remained one of the cornerstones of India's foreign policy.
Of course, much has changed since then, with India making some especially sharp deviations in the post-1991 era, the most marked one being improved ties with the U.S. and a changed approach to the Middle East. Still, there is broad consensus within India in favor of positive ties with Indonesia, and with Southeast Asia more generally.
Modi's predecessor as prime minister, Manmohan Singh, who himself made a noteworthy contribution to strengthening economic ties with Southeast Asia, visited Indonesia in October 2013. Singh had previously attended the golden jubilee of the Asian-African Conference in 2005, as well as the 9th ASEAN-India Summit and 6th East Asian Summit in 2011. India and Indonesia thus had the opportunity to discuss a host of bilateral issues, strategic and economic, along with matters of global relevance.
Economic Context
Looking at the economic context, like India, Indonesia is also an emerging market with immense potential. In fact Jim O Neill former chairman of Goldman Sachs Asset Management and noted for coining the term BRICS, has recently come up with a new acronym, MINT, which includes Mexico, Indonesia, Nigeria and Turkey.
Like India, Indonesia has a rising middle class, which the Asian Development Bank puts at nearly 146 million. (In contrast, McKinsey estimates it to be 45 million.) In a 2012 report, Mckinsey suggests that by 2030, Indonesia could be the world's 7th largest economy, rising from its current rank of 16th. India's middle class is meanwhile thought to number between 200-300 million. According to International Monetary Fund and World Bank estimates, India is also set to overtake China in 2016 as the worlds fastest growing economy.
As of 2013, India-Indonesia trade was estimated to be worth around $20 billion, with Indonesia ranked as India's second-largest trade partner within ASEAN. Indian companies have made investments in areas like infrastructure, mining, banking, and power, with the chemicals industry enjoying particularly stong links.
Historical Links
But India and Indonesia are bound by more than just economic factors; they share strong historical ties that include the trade and maritime links between Kalinga (the current day Odisha) and Indonesia (Java, Sumatra, Bali, and Borneo). The Bali Yatra festival is held each November in the city of Cuttack to commemorate these links. Although Indonesia is an Islamic country, the Hindu influence is evident in the popularity of the famous epics, the Mahabharata and Ramayana.
Finally, it is interesting to note that the men who lead India and Indonesia, both elected in 2014, have some similarities in their political backgrounds. True, Indonesian President Joko Widodo has seen his domestic popularity decline much faster and to a far greater degree than Modi's has. Moreover, their approaches to foreign policy have differed. To date, Modi and Widodo have met only once, in Naypyidaw in November 2014 on the sidelines of the 25th ASEAN Summit.
Still, Indonesia should be a priority for Modi from an economic, strategic and cultural perspective. One area that needs to be strengthened is connectivity; there are no direct flights between the two countries, despite the strong business links and the tourism potential.
Second, India should set up more centers for India studies in universities in Indonesia. India is in fact hoping to set up an "India corner" at various universities, and Udayana University was presented with works by renowned Indian novelists as well as books on areas like governance and health care by India's ambassador in 2013. While the Indian government already grants scholarships to Indonesian students, setting up research centers would be an important step in increasing awareness not just about the historical ties, but the significance of strengthening the current relationship.
Third, many state governments have been reaching out to Malaysia and Singapore. States such as Odisha, which share strong historical ties with Indonesia, should contribute to furthering the bilateral relationship.
India has moved from idealism to pragmatism in a number of its relationships. In the case of Indonesia, it has been heavily dependent upon historical ties, and in spite of the numerous synergies the relationship is far from fulfilling its potential. In other important relationships, Modi has sought to balance historical links with current and future interests. He should do the same with Indonesia.
Tridivesh Singh Maini is a Senior Research Associate with The Jindal School of International Affairs, Sonepat, India. The views here are his own.