Time for a Reset in US-Indonesia Relations?
Jokowi's upcoming visit to Washington provides an opportunity to boost the relationship.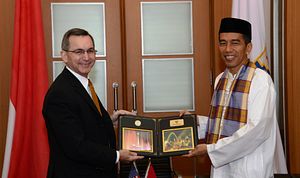 Two weeks ago, a senior aide to Indonesian President Joko "Jokowi" Widodo confirmed that the Indonesian leader plans to make his first visit to Washington as president in June. Thus far, despite hopes in Washington that Jokowi's term as president might usher in closer ties to the United States, the U.S.-Indonesia relationship has remained roughly where it was before Jokowi took office. The bilateral relationship is generally warmer than it was in the 1990s and early 2000s, but the two countries' strategic, economic, and cultural relations still lag far behind those the United States enjoys with many other partners in Southeast Asia. Given Indonesia's massive size, and the plans for a new U.S.-Indonesia relationship—the U.S.-Indonesia Comprehensive Partnership is now five years old—the lukewarm economic and strategic ties could be seen as a disappointment.
Jokowi's economic and strategic policies have received a mixed response in Washington, and from American companies. He seems to be continuing the economic nationalism that prevailed in the late days of the Susilo Bambang Yudhoyono (SBY) administration. However, Jokowi's long-term economic policies still remain unclear. He has used several foreign trips to aggressively woo investment in Indonesia, while simultaneously using speeches to call for a "project-based" approach to foreign investment. A project-based approach seems reasonable on its face but the idea has scared many foreign investors into believing that the government will scrutinize potential investment excessively, in a country where red tape already slows investment possibilities. Jokowi also has decided to favor many unwieldy state enterprises in his plan to expand Indonesia's physical infrastructure.
In the first quarter of the year, Indonesia posted its lowest quarterly growth rate since 2009, during the global financial crisis. And Jokowi must know that economic growth needs to speed up rapidly to provide jobs for all the young Indonesians who will be entering the workforce in the next decade.
Jokowi's strategic vision also remains unclear. Although last year he unveiled a broad new concept of Indonesia as a maritime power, he has provided few specifics of exactly how Jakarta will accomplish this task, beyond general promises to upgrade Indonesia's maritime infrastructure and to position Indonesia as a shipping and strategic link between the Indian and Pacific Oceans.
The visit will provide an opportunity to reset relations and attempt, once more, to build the foundation for much greater bilateral trade, increased U.S. investment in Indonesia, and closer military-to-military ties. For one, the White House should work with Jokowi to begin negotiations on a bilateral investment treaty, which will be critical for increasing trade, and would help reassure U.S. investors that Jokowi is more of a pragmatist, focused on growth, than an economic nationalist.
In addition, the Obama administration should utilize the visit to assess how aggressive Jokowi plans to be in using Indonesia's power in Southeast Asia to push other countries in the region to embrace democratic transitions and human rights. Jokowi's predecessor, SBY, took steps to do just that, especially in dealing with Myanmar, but Jokowi enjoys a level of credibility as a democrat—the first Indonesian leader not from the traditional elites—that would give him even greater leverage in dealing with Myanmar, Cambodia, Thailand, and other nations in the region that have seen their democratic transitions stall. In particular, the voice of ASEAN's largest power and most vibrant democracy may be critical in the months after Myanmar's elections this autumn, when the country's transition will be most fragile.
Finally, the White House could use the Jokowi visit to push military-to-military ties forward. The Obama administration should press Jokowi to expand upon and explain his vision for Indonesia's maritime power, offering further specifics about how he plans to modernize the country's navy and build a new coast guard, which is supposed to be independent of the navy within a year. The White House could further offer to help Jakarta with this naval and coast guard expansion, with training programs for Indonesia's new coast guard officers, joint exercises with the U.S. coast guard, and possibly the sale of older U.S. Coast Guard vessels to the new Indonesian force.
Joshua Kurlantzick is a fellow for Southeast Asia at the Council on Foreign Relations. This post appears courtesy of CFR.org.