US Eyes Expanded Military Exercises with ASEAN Navies
A senior US navy official suggests more could be on the way soon.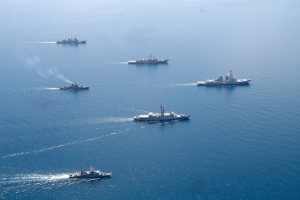 On May 5, IHS Jane's quoted a senior U.S. navy official as saying that the U.S. Navy is exploring the possibility of expanding the scope and scale of its present training exercises in Southeast Asia.
Captain Ronald Oswald, Theater Security Cooperation (TSC) Officer at the 7th Fleet, said on board the USS Blue Ridge on May 4 that next year could see the rise of more multilateral exercises between the United States and countries in the region, including previously bilateral exercises expanding into multilateral ones with the addition of new partners.
"Historically, most of our exercises have been bilateral; [however] we are also exploring doing more multilateral exercises with our counterparts," Oswald said. "I think you'll see a number of [expanded] events beginning next year that bring additional partners into previously bilateral exercises."
His remarks are not surprising. U.S. officials have been looking into broadening these exercises for a while now, and analysts have been suggesting various ways that this might be done.
Oswald unsurprisingly did not offer much in the way of specifics. He did, however, hint at the potential growth for existing programs such as the annual Cooperation Afloat Readiness and Training (CARAT) exercises. CARAT is a series of bilateral naval exercises conducted by the U.S. Navy since 1995 and now involves several countries in Southeast and South Asia including Bangladesh, Brunei, Cambodia, Indonesia, Malaysia, the Philippines, Singapore, Thailand and Timor-Leste.
Turning to the multilateral realm, another example would be expanding the Southeast Asia Cooperation and Training (SEACAT) exercise, first conducted in 2002, involving the United States and the navies of six ASEAN nations – Brunei, Indonesia, Malaysia, the Philippines, Singapore and Thailand. As I have written earlier, expansion in this case could be envisioned not just in terms of the number of countries involved, but the scope of the involvement of existing countries, with even greater participation from ASEAN civilian maritime enforcement in different components of the exercise.
While these exercises are no doubt important and countries are often happy to pursue this sort of cooperation with the United States, the act of broadening these exercises is often much more complex than some observers appreciate. Several considerations come into play, including the capabilities of new partners, the degree of interoperability, and how all that fits in with the nature and scope of a particular exercise and its various components.
Furthermore, the decision about who to include and exclude – as well as when and in what capacity – can often be a complex one that is subject to other political considerations as well. The controversy around the inclusion of Myanmar as an observer in the Cobra Gold exercises, as well as the ongoing debate about whether to exclude China from RIMPAC next year, are just two recent examples of this (The Diplomat has covered the recent dynamics of those exercises extensively, including here and here).