US-Japan Joint Patrols in the South China Sea?
A brief look at the idea in the wake of recent discussions.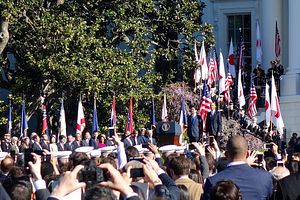 Over the past few weeks, media reports have suggested that Japan and the United States are considering having the Japan Self-Defense Forces (JSDF) and US military conduct joint patrols and surveillance in the South China Sea.
On April 19, Jiji Press reported that the Japanese government would discuss the issue cautiously with the United States as the two countries were revising their defense guidelines. And on April 29, Reuters cited defense sources as saying that while no concrete plans were formulated, discussions have been occurring within the Japanese military, with Tokyo looking to join U.S. patrols in the South China Sea or operating patrols in rotation from Okinawa on the edge of the East China Sea.
The general idea has been discussed before by both U.S. and Japanese officials. Admiral Robert Thomas, commander of the U.S. Seventh Fleet, said earlier this year that Washington would welcome Japanese air patrols in the South China Sea, and Japanese defense minister Gen Nakatani offered a case that would support Tokyo's involvement. However, recent discussions seem to have gotten more specific.
The idea would be consistent with Japanese interests. Tokyo needs a stable South China Sea to protect its imports, and China's unilateral attempts to change the status quo have disrupted this stability and affected several Southeast Asian countries with which Japan has been cultivating closer ties. Furthermore, how Beijing handles territorial disputes in the South China Sea could have general implications for the East China Sea as well, even if the two cases differ in significant ways.
Even so, Japan will still have to take several steps before the idea becomes a reality. While there has been much speculation about what Tokyo and Washington can do under their new defense guidelines, Japanese officials have been stressing that proper domestic legislation must first be passed to allow Japan to undertake such moves. Yasuhisa Kawamura, spokesperson for the Ministry of Foreign Affairs of Japan, told The Diplomat that Japan views the domestic legislation and the defense guidelines as "two tracks" that need to move in tandem. And while Prime Minister Shinzo Abe said in a speech to Sasakawa Peace Foundation USA's Second Annual Security Forum yesterday that the South China Sea situation "should go without saying," the U.S.-Japan joint operation scenario he focused on in his address related to helping U.S. ships without adding much specificity about their geographical location.
Capacity is another challenge. As one senior official at Japan's defense ministry pointed out, the SDF already has its hands full patrolling Japanese territory. Extending its activities in the South China Sea would also raise questions about adequate equipment and staffing.
The specifics of how these patrols would work could bring up additional issues as well. For example, a U.S. military source told Reuters that Japan could perhaps ask the Philippines for access to air bases under disaster relief training and other joint training exercises, thereby giving Japanese aircraft more range to stay out on patrol longer. However, as of now, Manila does not have an agreement with Tokyo that would allow this kind of access.
Of course, like many other things in the South China Sea, these realities too could change in the near future. But for now, there do seem to be a few steps left between considering US-Japan joint patrols in the South China Sea as an idea and putting it into practice.