China: From Superclusters to Supercarriers
China's local industrial policies reveal national strategies.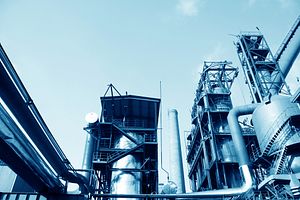 One of the most important public intellectual debates in China during 2014 centered on the industrial structural impasse that currently confronts the country. The reliance on industrial policy in heavy industry has given China both the industrial infrastructural base on which its tertiary industry has been built, and an industrial overcapacity headache that continues to output more steel, cement, and glass than can justifiably be absorbed as inputs by other sectors of the economy.
Still, it is hard to imagine China achieving its future macro industrial, technological, and strategic goals without recourse to industrial cluster theory or state techno-industrial policy guidance.
Emerging from the planned period of heavy industry prioritization, existing industrial infrastructure, regional development strategies, and techno-industrial policies have produced a series of industrial superclusters. Future state-directed industrial development strategies will naturally make use of the unique industrial complementarities present in each, creating strategic opportunities for a convergence of national technological, industrial, and military policy.
Six superclusters have emerged with idiosyncratic industrial complementarities: the northeast industrial belt, the north China plain, the Yangtze delta, the southwest, central Wuhan, and the Pearl River Delta. All have unique political economies and their own industrial geographies.
Under the 12th Five-Year Plan, three sub-national policies guide industrial policy at the provincial and municipal levels: The Revitalization of the Northeast Industrial Base, the Great Western Development Strategy, and the Rise of Central China. Each sub-national industrial policy has its own agenda, industrial infrastructure base, and development path dependency. These three policies define China's future technological trajectory.
The industrial complementarities of the six clusters reveal the industrial development trajectories of the component technologies and systems that would be required as inputs, not only for domestic economic development but for strategic objectives such as, say, a future aircraft carrier. The most important developments will be in systems engineering and processes, such as electronics, avionics, and communications systems.
In terms of industrial geography, China can be broken into six distinct industrial clusters, each of which yield their own industrial complementarities.
The northeastern traditional heavy industry cluster makes advanced hardware. Power generation and transmission systems in Harbin, electronic systems being developed in Changchun, military aviation development in Shenyang, and large vessel shipbuilding in Dalian will provide the intelligent equipment manufacturing and large-scale hardware for future aircraft carrier development.
The southwestern cluster produces advanced weaponry and communications systems. Guangdong's nuclear power generation, Fujian's satellite communications systems, and Wuhan's photoelectronic systems and future micro-optical-electro-mechanical integration will enable mobile power solutions and communications hardware and systems development.
The aerospace cluster of Xi'an, Chengdu, and Chongqing will deliver advances in aero engines, avionics, rocketry, military aircraft, helicopters, and traditional weaponry. This cluster forms the test bed for future naval borne aircraft technologies.
Around the Bohai sea, Dalian and Tianjin are focused on developing super large vessels, while Shandong is involved in joint ventures with South Korean shipping firms. Integrating organizations and technologies will help China challenge the shipbuilding industries of Japan and Korea.
Meanwhile, key military aircraft factories in Shenyang and Chengdu, the commercial aviation center in Shanghai, and commercial aviation factories in Tianjin and Harbin constitute a geographically dispersed but organizationally integrated system.
Multisector industrial integration and the transition from foreign technology transfers to domestic innovation will determine the success of China's future industrial policy strategy.
In 2014, China experienced a marked slowing of growth in the northeast and widespread industrial overcapacity throughout the economy. Both trends have highlighted the need for an industrial upgrading and restructuring. Policy updates this year have focused on improving industrial complementarities while exploring public and private routes to innovation and R&D.
Commercial technology transfers have been integrated with state industrial policy and military strategy. Current policy pushes into advanced R&D are focused on engineering a transition from technology absorption to genuine innovation.
But the key to watching the growth of industrial technologies that would be of use for aircraft carriers is not geopolitical or military research analysis, but rather analysis of industrial geography, industrial complementarities and clusters, and the various levels of techno-industrial policy directed through them. Infrastructural analysis allows far more accurate projections of future technological path dependencies than waiting for innovation or entrepreneurship to deliver critical technological upgrades.
Expect the 13th Five Year Plan's techno-industrial policy to focus on technology clustering of benefit to aircraft carrier-related industries: advanced avionics, electronic systems, communications systems, advanced transportation systems, mobile nuclear power systems, and advanced aerospace technologies.
Tristan Kenderdine is a research manager at China Policy in Beijing and a PhD candidate at Australian National University, Crawford School of Public Policy.