India, Japan and Australia: A Trilateral in the Making?
The three countries held their first ever trilateral dialogue this week. What are the prospects for cooperation?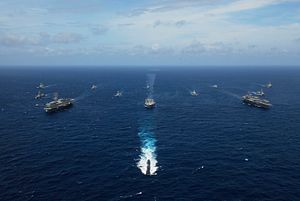 On Tuesday, Australia, India and Japan concluded their first ever high-level trilateral dialogue in New Delhi. While the meeting marked yet another milestone for building the foundations of cooperation between the Asian trio, there are still formidable challenges it needs to overcome in the coming years to achieve that goal.
On the one hand, the stars seem aligned for trilateral cooperation. As the world commemorates the seventieth anniversary of the end of the Second World War, Japan is shedding its shackles of pacifism and could soon be exporting arms. Narendra Modi, who many feared would be an insular leader, has been jetting across the world during his first year in office, covering Tokyo and Canberra within just six months of taking power. And China's growing assertiveness at sea has spooked Asia and catalyzed discussions about the maritime domain and the rule of law, thereby inadvertently creating a shared agenda for these three countries that basically writes itself.
The three legs of a potential trilateral are taking shape. Of the three, the one with the two U.S. allies – Japan and Australia – has arguably seen the most progress thus far. Economically, the two countries just inked a free trade pact last year which was hailed as the most significant one between them in nearly six decades. Security-wise, Tokyo and Canberra are in groundbreaking discussions to ramp up military exchanges and exercises this year. Next month, Japan, is expected to join in U.S.-Australia war games for the first time. Tokyo may not quite be Canberra's "best friend" as Australian Prime Minister Tony Abbott infamously suggested back in 2013, but the relationship has nonetheless warmed considerably.
The India and Japan leg has also proven promising. The chemistry between Modi and Abe has helped somewhat. But the two leaders have also clearly prioritized the relationship and invested a lot in it as well. When Modi and Abe met last year in the former's first visit outside of India's immediate neighborhood, Asia's two largest democracies gave their so-called "special global strategic partnership" a pretty big boost. Abe ambitiously vowed to double Japan's investment and the number of Japanese companies operating in India within five years. The two sides also pledged to upgrade their security cooperation through institutionalized dialogues, joint maritime exercises and potentially even transfers of defense equipment. More trilateral cooperation with the United States may also be on the cards, as the U.S.-India joint vision statement inked earlier this year suggested.
India and Australia are growing closer too, albeit more slowly. An agreement last year allowing the sale of Australian uranium to India helped begin to address major irritant the relationship. Both countries are now working towards concluding a free trade pact by the end of 2016. Discussions also began in Perth this week ahead of their first bilateral maritime exercise expected to be held off the east coast of India in September.
The first trilateral dialogue in New Delhi earlier this week was a good sign that the pieces are slowly coming together (See: "India, Australia, Japan Hold First Ever Trilateral Dialogue"). The three countries – represented by Indian Foreign Secretary S Jaishankar, Japanese Vice Foreign Minister Akitaka Saiki, and Australian Secretary of the Department of Foreign Affairs and Trade Peter Varghese – reportedly had frank discussions on maritime security including the South China Sea. If the momentum continues, there is no reason to doubt that we will see trilateral exercises between them further down the line.
Despite this promising start however, formidable challenges could lie ahead. While the governments of these three countries seem committed to the trilateral, they will need to drag along key constituencies and win over skeptics in order to deliver on big-ticket items to advance bilateral relationships. This will not be easy. Legitimate arguments are already being made against a submarine deal between Australia and Japan and a nuclear agreement between India and Australia, to take just two examples. Yet it is precisely big boosts like these that will help build confidence in newer alignments and help convince old hands that change is indeed possible.
Coordinating and calibrating policies between the three nations could also get complicated. Differences among the trio raises concerns ranging from general ones like the tightness of alignments each country is willing to tolerate to specific ones such as the degree of interoperability needed for joint exercises to occur. In addition, each will also be looking to manage these relationships alongside other important ones as well. For instance, India is expected to include Japan in the next iteration of the bilateral U.S.-India Malabar exercises scheduled to be held in October this year. But New Delhi will likely tread carefully in doing so. Beijing may throw a tantrum about a perceived containment scheme as it has in past years, and other smaller Asian states may also be concerned that the trilateral is undermining regional stability rather than promoting it.
Lastly, even if Canberra, New Delhi and Tokyo do have converging interests and deeply-held values, the constellation of factors in favor of trilateral cooperation may not last. Australia faces an election in 2016, and it is unclear whether Abbott's successor will be as committed to pursuing relationships with India and Japan to the same degree. Modi and Abe also face key tests ahead for their domestic agendas. Lackluster performances at home could sap their attention abroad over time, especially since both have made explicit connections between these two fronts.
None of these challenges are inevitable or insurmountable. Nonetheless, they are worth considering as the trilateral – and other arrangements like it – evolve in the Asia-Pacific in the coming years.