When you fly out of Phnom Penh airport, rising above the scores of blue tin roofs, past the pagodas and the new, solitary skyscraper, you'll see a gaping hole in the center of the city. It was once a vast body of water called Boeung Kak Lake and it served as a natural reservoir for excess rainwater in Cambodia's flood-prone capital. Thousands made their homes there.
In 2008, the authorities began filling the lake up with sand so a Chinese company could build luxury apartments worth billions of dollars. The people who lived there were turfed out. More than seven years later the land is still empty and its former inhabitants are still fighting a battle for compensation that has taken them in and out of prison.
Theirs is just one story in the broader narrative of the shuddering change that has swept Cambodia over the past decade, turning a Southeast Asian backwater into a frontier market with a growing middle class. But at what cost has that transition taken place? And how many have been left behind?
Enjoying this article? Click here to subscribe for full access. Just $5 a month.
A new photo-book by photographer Nick Axelrod and reporter Denise Hruby, who both live in Cambodia, attempts to illustrate the different ways change has been felt in the country, from shifting cultural norms among the new generation to the desperation of victims of forced evictions.
A few days after the first copies of Transitioning Cambodia, which was crowd-funded online, rolled off the presses, The Diplomat spoke to Axelrod and Hruby about whether the country's apparent evolution is really just a "mirage on the Mekong."
Nick, on your blog describing the book you talk about arriving in Cambodia in the mid-2000s and sensing it was a place of opportunity. How do you think the feeling of the country has changed?
N.A: When I arrived, I felt like the country could go in any direction. There was a lot of opportunity to do good things. I was 24 and I knew very little about the modern history of the country. So I hoped for a 'smart' development of the country. Now, years later, I still believe that good things will and can happen in Cambodia. But I do believe that a lot of the recent development has not gone in the right directions. The people are being robbed of natural resources. Phnom Penh has developed with little regard to city planning and risks becoming as congested as places like Jakarta or Manila.
One of the photos featured is the one author and journalist Sebastian Strangio used for the cover of Hun Sen's Cambodia. How much do you agree with his assessment in that book of the country's apparent transition as a 'mirage on the Mekong'?
D.H: The political system in Cambodia is fundamentally flawed – essentially, it's based on corruption and nepotism. It's so ingrained and has become part of wider society to an extent that it's hard to see how Cambodia could ever work differently. Bribes and kickbacks are even called tea money, making it more palatable, and it's pervasive. Foreign aid has often only perpetuated this.
That said, we're looking at how rapidly Cambodia has developed and changed in a relatively short period of time. Development has to happen, and it does everywhere in the world, but the way it is happening in Cambodia is what's so worrying. Typically, the political elite is making sure that the already rich are getting richer, with little to no regard of the poor, who still make up the biggest part of the population.
But in the past seven years, there's also been so many success stories and Transitioning Cambodia looks at those, too. Education and health care are good examples. Both are still far behind international standards, but at the same time much better than just a few years ago.
Do you think the political excitement that surrounded the country's most recent general elections, in 2013, when the opposition came close to a majority, led to any lasting change?
D.H: The 2013 elections definitely proved that the opposition can win an election. Despite the frustration over the results, and the violence that followed, I believe that Cambodians saw what can be possible.
As for the CPP [Cambodian People's Party], it definitely had a huge impact. Hun Sen, the winner, didn't even celebrate the results. It's clear that the way the CPP has ruled in the past pushed many over the edge. People used to be thankful for the peace and stability the CPP secured. The absence of war was enough, and other than that, people didn't want to be bothered by politics.
Today, about half of the population is under 25. For them, the absence of war isn't enough. They need education, jobs, a positive perspective on the future – all things the CPP has largely neglected over the years.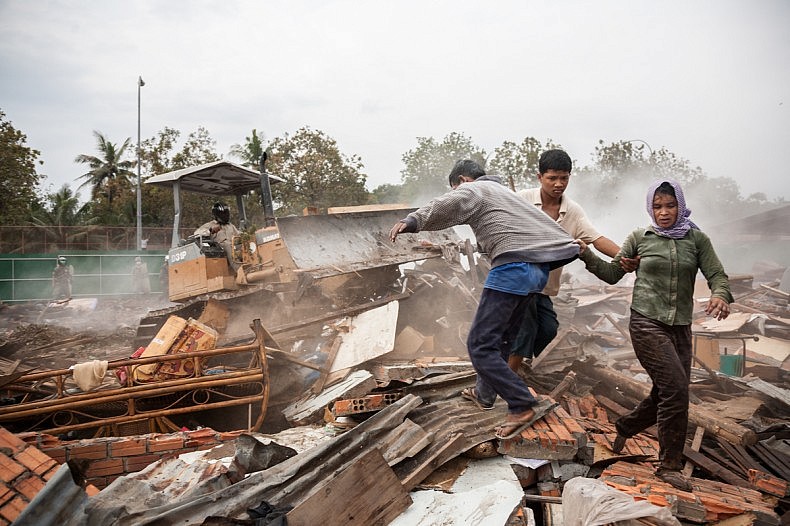 One of the quotes that pops up again and again in stories from Cambodia is, 'This is bad for me, but good for the country.' Do you attribute that to a karmic acceptance of fate?
D.H: One rationale I commonly hear is: 'This is bad for me, and this rich person benefits, but it's because the rich person has made good merit in the past.' The idea of karma is still prevalent, and many poor people believe that their poverty is a sort of punishment for their previous life, while the super rich have clearly done something to deserve all their fortunes. That's slowly changing. Not all young people accept that anymore.
Are there elements of Cambodia's transition that you think the government wants to hide?
D.H: Their own wealth and connections. Look at Hun Sen [the Prime Minister]. He's said that he survives on a salary of under $1,200 per month. That'd be a very good salary for the average Cambodian, but it won't be enough to own luxury villas across the country.
N.A: In 2008 to 2010 or 2011, the authorities often tried to prevent me from photographing in sensitive areas like Boeung Kak. I think over the years they realised that no matter how much media attention these places get it will not change the outcome of the development project. Boeung Kak hardly made international news anyway, so there was little chance of outrage and even if there was it would not influence their agenda.
I think there are elements that the government wants to hide, mainly relating to economic land concessions and illegal logging. Having said that, the extent of the pillaging of Cambodia's resources by the government and their cronies is well known by international authorities and yet NGO money is still pumped into Cambodia.
The book's called Transitioning Cambodia but a lot of the change is concentrated in the capital, Phnom Penh. How much do you think the transition is mirrored in the provinces?
N.A: There is change happening in the provinces but it is not as openly apparent as in the city. It is in the form of clearing forest land for dams and large-scale monocultures. It is dredging rivers for sand. It is people leaving their land to go to work in factories in the city, or losing their land to large companies.
Do either of you have particular favorite photographs in the collection? And, if so, what are the stories behind them?
D.H: My favorite one is the giraffes on Koh Pich [island], grazing on a tiny spot of grass with construction material in the background. It's hilarious because they are so obviously out of place – you look at it and wonder how this happened, and who would have come up with the idea of building two giraffe statues on an island in the Mekong. That represents so many things in Cambodia that make you wonder, 'How did that even happen?' Take Boeung Kak lake. Filling a 90-hectare lake that's a vital water reservoir with sand to build luxury housing sounds ludicrous – but it happened.
More information about Transitioning Cambodia can be found here and here.