Japan's China-Driven Tourism Boom
Maritime tensions and historical issues notwithstanding, Chinese tourists are flocking to Japan. Why?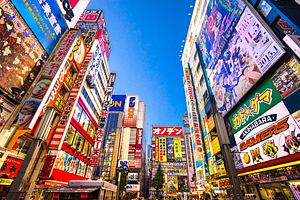 Japan is enjoying an unprecedented boom in foreign tourism, with 2013 and 2014 breaking all-time records, and 2015 on track to surpass 2014. Most recently, Japan hosted 1,764,700 foreign tourists in April – an all-time monthly high. Of that number, 405,800 came from mainland China, a 113.0 percent change from a year before that makes China the single largest and fastest growing source of foreign tourists in Japan.
A number of factors, both domestic and international, can explain the tourism boom and especially the upturn in Chinese tourist numbers.
Domestically, one reason is surely the strength of Japan as a brand. FutureBrand ranked Japan as the number one national brand in the world in its Country Brand Index 2014-15. Another, perhaps more compelling explanation is the much weaker yen, which has fallen precipitously against many other regional and international currencies since Prime Minister Shinzo Abe took office with his policies of Abenomics. As a consequence, travel – and shopping – in Japan have become much more affordable.
To attract shoppers, Japan has expanded the number of duty-free shopping locations overseas visitors. Many stores in popular areas such as Ginza and Akihabara now offer tax-free shopping, with plans to create more duty-free shopping centers elsewhere around the county.
Another explanation for the recent rise in tourism is the lower cost of regional and international travel to Japan. The cost and frequency of Japan-bound Asian flights are particularly noteworthy. The 2007 addition of a second runway at Kansai International Airport had boosted international flights at that facility 29 percent by 2014. Similarly, Narita International Airport – which serves mainly Tokyo – has built and opened Terminal 3 exclusively for low-cost carriers (LCC), which represented 19.3 percent of landings in fiscal 2014. To take advantage of high demand for an international airport closer to the center of Tokyo, Haneda Airport opened an international terminal in 2010. New Chitose Airport (Hokkaido) and Chubu Centrair International Airport (Nagoya), Fukuoka Airport, and others have meanwhile provided ports of entry for Asian tourists.
As noted, much of this growth in tourism is being driven by the surge in visitors from mainland China. Japan experienced a 140 percent year-on-year increase in Chinese tourists in 2014. So many Chinese are headed to Japan that the Japanese government fears it will run out of the paper it uses to print visas.
Most striking is Chinese spending power. Mainland Chinese have become the biggest spenders among visitors to Japan – about a quarter of the $17 billion outlaid by tourists in Japan in 2014 came from Chinese visitors. On average, Chinese tourists spent $2000 during their stays, helping Japan achieve for the first time since 1970 a "tourism surplus," meaning that foreign tourists spent more money in Japan than Japanese tourists spent overseas.
In addition to the domestic pull factors created by the Japanese government, there is a distinct push factor driving mainland Chinese to Japan: Hong Kong. The ongoing mainland China-Hong Kong tensions have discouraged mainland Chinese from visiting the one-time shopping mecca, leaving Japan a priority destination for Chinese shopping, despite the overt anti-Japan sentiment in China. In March this year, statistics showed that tour groups visiting Hong Kong from mainland China had plunged about 80 percent.
Hong Kong retailers have long been reliant on mainland Chinese tourists. Sales have fallen sharply as a consequence of the current tourism slowdown.
Hong Kong's loss seems to be Japan and South Korea's gain. In fact, local Hong Kong retailers are now looking towards overseas to profit from mainland Chinese buyers.
Combined, these factors seem likely to overcome the tensions between China and Japan at the political level, and mainland Chinese are set to be the driving force behind Japan's tourism boom for the foreseeable future.
Trevor Kennedy and Lotus Yang Ruan are M.A. Candidates in Asia Pacific Policy Studies at the University of British Columbia. Trevor writes on various policy-related issues in Northeast Asia on his blog, Asia Pacific Policy and on Twitter. Lotus Ruan (@lotus_ruan) focuses on Chinese politics and mainland China-Hong Kong relations. Follow her blog here.