Meet the Next Member of the World Trade Organization
After 20 years, the region's biggest economy is set to join the World Trade Organization.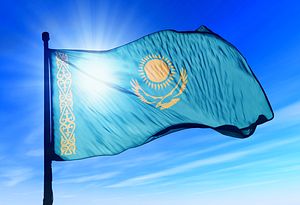 Kazakhstan is on its way to becoming the 162nd member of the World Trade Organization (WTO) after nearly 20 years of negotiations. Kazakhstan will join Kyrgyzstan and Tajikistan, which acceded in 1998 and 2013 respectively, in the intergovernmental organization that regulates international trade. Uzbekistan started negotiations in 1995 but hasn't held a meeting since 2005 and Turkmenistan, predictably, hasn't shown concrete interest.
WTO membership fits handily into the state's declared "multi-vector" foreign policy–which can also be glimpsed in its various other initiatives: acting as a mediator in international conflicts, as a host for the IAEA's planned low-enriched uranium bank, even as a candidate for the 2022 Winter Olympics.
With a GDP of over $230 billion, Kazakhstan's economy surpasses its neighbors easily and its ambitions are higher yet. In 2012, President Nursultan Nazarbayev rolled out a grand strategy to establish Kazakhstan as one of the world's top 30 economies by 2050, called "Kazakhstan 2050" it has been augmented in recent months by the unveiling of the "100 concrete steps" to implement Nazarbayev's most recent campaign platform, the "five institutional reforms."
WTO Director-General Roberto Azevedo congratulated Kazakhstan on June 10, when the working party concluded negotiations, calling it an "historic step." Ambassador Vesa Himanen of Finland, who was chairperson of the working party, called the negotiations "one of the most challenging negotiations in the 20-year history of the organization."
Kazakhstan has been negotiating membership in the WTO almost as long as the WTO has existed. Russia, which acceded in 2012, previously held the record for longest membership negotiations–19 years, 2 months. Interestingly, Kyrgyzstan holds the record for shortest negotiations–2 years, 10 months. Kazakhstan applied for membership on February 6, 1996–19 years, 4 months ago. Its final accession package will be voted on by the WTO at at June 22 meeting and the country should formally accede within the year.
According to the WTO release the "complexity and uniqueness" (read: difficulty) of the Kazakh accession process related to its membership in the Eurasian Economic Union. Tariff adjustments to resolve differences between Kazakhstan's other commitments–to the EEU and bilaterally with Russia–was the "principal hurdle in completing Kazakhstan's market access negotiations."
Specific details on how the tariff discrepancies were resolved have not been reported and all documents relating to Kazakhstan's accession are restricted by the WTO until the process is complete in its entirety.