US Lauds Future Promise of Vietnam Ties amid Historic Visit
US vice-president says there is "nothing but promise on the horizon" for bilateral ties.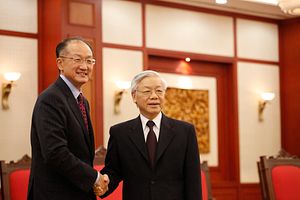 U.S. Vice President Joseph Biden lauded the future promise of U.S.-Vietnam relations earlier today after participating in the first ever meeting between U.S. President Barack Obama and General Secretary of the Communist Party of Vietnam Nguyen Phu Trong as both countries celebrate the 20th anniversary of the normalization of ties.
Biden, who called for an end to the Vietnam War when he was first elected as a senator in 1972, said it was remarkable that he was standing with the general secretary celebrating the 20th anniversary "with nothing but promise on the horizon" for bilateral ties. For all the progress that had been achieved thus far, he said that both Obama and himself viewed this as just the beginning of a relationship.
"As remarkable as the past two decades have been, I believe, and more importantly, the president believes, that our relationship is just getting started," Biden said in lunch remarks in honor of Trong.
Earlier, before their White House meeting, Obama had said that his interaction with Trong had provided a good opportunity for both sides to lay out the future vision for their comprehensive partnership which they signed back in 2013.
In an indicator of this future promise, the United States and Vietnam inked several agreements to boost their bilateral relationship further still. They reached memorandums of understanding (MoUs) on the prevention, early detection and response to dangerous pathogens and the exchange visits of defense and military delegations on peacekeeping operations. Both sides also agreed on a double taxation avoidance agreement and a grant to promote aviation safety. Separately, Biden also announced that the government of Vietnam will grant a license to allow a new Fulbright University of Vietnam to begin construction and investment process at a fifteen hectare site in the Saigon Hi-Tech Park.
Other commercial deals are expected to be signed tomorrow in an event hosted by the U.S.-ASEAN Business Council and the U.S. Chamber of Commerce. Biden also noted the burgeoning partnership between Boeing and Vietnam Airlines, which took center stage yesterday when the very first Boeing 787 Dreamliner – one of 19 new aircraft to be delivered – was unveiled to Trong at Ronald Reagan Washington National Airport. More deliveries are also in the works.
Looking ahead, the main goal for both sides in 2015, Biden said, should be to focus on strengthening their economic relationship. This includes working to ensure the full implementation of the Trans-Pacific Partnership, a twelve-member, U.S.-led free trade agreement.
"There's more work to do. But after five years of negotiations, we're hopeful that we'll be able to achieve this goal in the coming weeks," Biden said.
Beyond this, Biden said cooperation between the two nations will continue to grow in diverse areas including defense, maritime security, civil nuclear programs, humanitarian assistance and disaster relief, climate change, sustainable development and clean energy in the Mekong region. Both countries would also continue to work together in the Asia-Pacific as the U.S. rebalances to a region where they have several converging interests, including regional peace and stability and the prosperity of the Association of Southeast Asian Nations (ASEAN).
While acknowledging remaining war legacy issues, the different political systems of both sides and outstanding disagreements over Vietnam's human rights record, Biden stressed the need to continue to have honest, inclusive conversations while pursuing cooperation where it is possible.
Alluding to the symbolic importance of Trong's historic visit, the vice-president said that an important part of strengthening bilateral ties is building personal relationships. Amending former U.S. House Speaker Tipp O'Neill's famous line that "all politics is local," Biden said that "all politics is personal," particularly in the conduct of foreign policy because it begins with building trust among people.
"Unless you can establish a personal relationship, it's hard to establish trust. And that's ultimately what all agreements are based upon," Biden said.