G7 2016 Summit to Be Held at Site of Mie's Ise Shrine
Prime Minister Shinzo Abe hopes to send a message with the choice of location.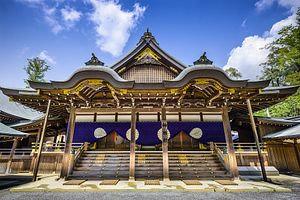 On June 5, the Japanese government announced that Mie prefecture would be hosting the 2016 G7 Summit. Mie prefecture is home to Ise Shrine, which is dedicated to the ancestral deities of the Japanese Imperial family, dating back around 2,000 years.
When the central government's deadline closed last August for prefectural governors to apply to host the summit, Mie was not in the running. A member of the Prime Minister's Office actually contacted the governor of Mie in December, encouraging him to submit a bid. Mie was subsequently declared a candidate on January 21.
Other candidate sites were Sendai, Niigata, Karuizawa, Hamamatsu, Nagoya, Kobe, and Hiroshima. Ise Shrine had an advantage in terms of security, as it has regularly hosted visits by both the Imperial family and Japanese political leaders. Another plus was its location in close proximity to Chubu International Airport, offering easy access to visitors.
However, Japanese Prime Minister Shinzo Abe has long had a fascination with Ise Shrine. Abe visits the shrine every year after the New Year's holiday, and has even been known to postpone meetings so that he could attend a ceremony held at the shrine.
Abe is also a member of the Shinto Seiji Renmei, the political wing of the Association of Shinto Shrines, which is a religious administrative organization that oversees around 80,000 Shinto shrines across Japan. The Seiji Renmei's mission, along with promoting Shintoism, is to preserve Japan's culture and traditions so that they can be passed on to future generations. It looks to achieve this by calling for the Constitution and educational practices to be revised in line its conservative values. This recently found support from the government, when it prevailed on Japanese universities to sing the national anthem. The Seiji Renmei also promotes the Imperial family and the controversial Yasukuni Shrine visits.
Hiroshima had been considered a frontrunner for selection as the host site, since it would allow Abe to send a political message. Through a Hiroshima summit Japan could again call for the abolishment of nuclear weapons. In fact, at the review conference on the Nuclear Non-Proliferation Treaty held in New York in May, Abe attempted to encourage world leaders to visit the cities where the atomic bombs were dropped at the end of World War II – Hiroshima and Nagasaki – through the conference text, but was blocked by China, which claimed that Japan was only portraying a single part of history as "victim." By late May, though, the choices for the summit location had apparently narrowed to Hiroshima or Mie.
According to a Liberal Democratic Party lawmaker, Abe wanted to "emphasize the history and tradition of Japan." Abe himself has said that he "hopes world leaders would feel and enjoy Japan's rich culture and tradition, along with its beautiful scenery."
Irrespective of the political motives, the prefecture of Mie is surely rejoicing at being chosen. Mie will be able to expect a surge in tourism-related income that should continue well after the summit, bring in an estimated 13 billion yen ($105 million) or so for Mie alone, according to Hyakugo Economic Research Institute. Japan will soon form a task force to prepare for the summit.