'Internet Plus' and the Salvation of China's Rural Economy
A new "Internet Plus" plan may expand opportunities for China's rural residents.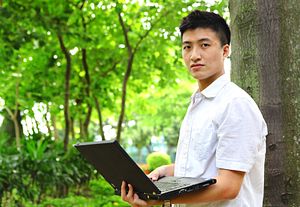 Earlier this month, China's State Council released an implementation plan for "Internet Plus," an initiative aimed at using the Internet and related technologies to spur the next stage of economic development. First announced in March by Premier Li Keqiang as part of his annual government work report, Internet Plus focuses on deepening the integration of the Internet, cloud computing, and big data into traditional manufacturing. In the process, the government hopes to also stimulate the growth of China's domestic tech industry.
The State Council's action plan (in Chinese) identifies four primary goals. China's leaders hope to upgrade and strengthen the security of Internet infrastructure, expand access to the Internet and related technologies, make social services more convenient and effective, and, most importantly, increase both "quality and effectiveness" of economic development—in other words, move away from labor-intensive manufacturing to a higher point on the value chain. By 2025, the plan says, Internet Plus should be an "important driving force of innovative economic and social development." Think of it as state planning meets the Internet of Things.
The plan outlines eleven areas for government work to achieve these goals by 2025, all of which are linked to other key initiatives of Xi Jinping and Li Keqiang. Fearing that wage increases will push China out of low-end manufacturing, causing already-slowing growth rates to drop even further, the country's leadership is taking steps to develop a domestic innovation capacity with a "Made in China 2025" roadmap (in Chinese). Concerns about NSA snooping have led to a push for technology to be "secure and controllable." To streamline administration and social service provision, the government has drafted a comprehensive government big data strategy. A proposed "social credit system" would upgrade the government's social monitoring to Orwellian levels.
Such plans, and the Internet Plus initiative to integrate modern communications technology into them while maintaining strict social control, have been criticized as ineffectual and overly optimistic. Taking the skeptical view, George Chen writes that "if Beijing misses the point and continues to censor access to information, Premier Li's new Internet Plus strategy will probably just get more Chinese to shop online rather than have any significant and long-term impact on the country's long-awaited economic transformation."
This prediction may come true when it comes to innovation, but one area where Internet Plus has a better chance of success is in modernizing China's agricultural sector and improving the standard of living in rural areas. The item in the Internet Plus plan that focuses on modernizing agriculture identifies four areas for government work:
Encouraging Internet firms to create platforms to support new forms of agricultural production—such as large-scale farming and peasant cooperatives—strengthen marketing channels, and orient agricultural production towards consumer demand,
Connecting all aspects of agricultural production to the Internet—for example, promoting environmental monitoring systems that are connected to the Internet, automatic, and provide real-time data,
Creating pilot programs aimed at connecting more villages and rural enterprises to the Internet,
Using the Internet to more effectively and safely trace agricultural products "from farm to table," an attempt to combat China's frequent food scandals.
These are important efforts. The digital divide between rural and urban China, much like the income gap between the two, is growing. Internet penetration in rural areas hovers around 30 percent; in urban areas, it's twice that. In recent years, rural residents have overcome the challenge of Internet infrastructure that's weaker than in urban areas by migrating to mobile. Internet Plus initiatives that support mobile Internet access, loosen restrictions on mobile financial service apps, and boost e-commerce will be critical for continued economic growth in rural China. At the same time, e-commerce, and e-commerce apps, continue to grow: the total value of e-commerce in China in 2014 was $2.1 trillion. Government support could make a big difference in helping rural enterprises and farmers get their products to urban consumers with disposable income. Working in tandem with a recently announced initiative to provide support to migrant workers who choose to return to their rural homes and start small businesses, Internet Plus could create a lot of opportunities for rural areas in China's central and western regions that have too often been left behind in the rush to profit from the glut of investment on the coast.
One major challenge will be navigating through the alphabet soup of central agencies tasked with overseeing Internet Plus efforts in the agricultural sector. Agencies responsible for implementation include the Ministry of Agriculture, National Development and Reform Commission, Ministry of Science and Technology, Ministry of Commerce, General Administration of Quality Supervision, Inspection, and Quarantine, China Food and Drug Administration, and State Forestry Administration. A failure to coordinate efforts between these central agencies and the respective local authorities could result in misallocation of state resources, redundant or contradictory policies, or opportunities for local officials to exploit policy overlap for their own profit—all problems we've seen resulting from ineffective policy coordination in China in the past. However, effective leadership at the very top levels of government could overcome some of these challenges, potentially resulting in meaningful increases in the livelihoods of China's rural citizens.
Lincoln E. Davidson is a Research Associate in Asia Studies at the Council on Foreign Relations. His research interests include rural China, Chinese cyber policy, and cross-Strait relations.