Interview: Professor Shi Zhiqin
It is the 40th anniversary of China-EU relations. Where do they stand?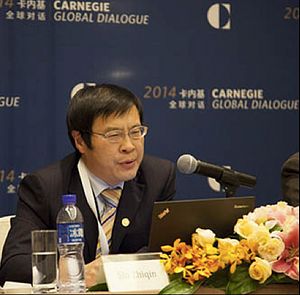 Shi Zhiqin is dean of the department of international relations at Tsinghua University and a resident scholar at the Carnegie Tsinghua Center for Global Policy. He has been one of China's leading experts on European comparative politics and ideology, and has led many advisory groups on China-EU relations. Shi received his PhD from Peking University and his MA from the Central Party School. He has been a visiting researcher at the EHES in Paris.
Shi recently spoke with The Diplomat about China-EU relations. 
The relationship between China and the EU has experienced many ups and downs: from Romano Prodi's declaration of the EU and China as "engaged yet not married" partners to later distress over trade and human right issues. What is the status of the partnership at the 40th anniversary of China-EU relations? 
As China and the EU celebrate their 40th year of diplomatic exchanges they have forged a truly comprehensive strategic partnership and the status of their bilateral relations is at a very good level, as indicated in the agenda 2020 and in the recent EU-China summit in Brussels.
While the EU and China trade more than 1.5 billion euro ($1.65 billion) per day, their relationship has nonetheless transitioned from a mere commercial partnership to wider coordination in diplomatic, security, and global governance issues. China has contributed to the anti-piracy campaign in the Gulf of Aden, it cooperates with the EU in the P5+1 discussions over Iran's nuclear program, and both sides have shaped a crucial partnership on green energy and urbanization. People-to-people exchanges are also rising steadily and the EU has become one of the most highly desired destinations for Chinese tourists. Overall, both sides have solidified their economic relationship after the trade disputes of the past years (solar panels and anti-dumping), and are now exploring ways for deeper political cooperation.
The EU has perhaps been China's most important market and technology partner. Premier Li Keqiang during his recent trip to France signed multibillion dollar agreements on nuclear technology cooperation and promised significant investments. How much more can China invest in the EU and which are the sectors that China sees as a priority?
China's economic success has endowed the country with trillions in reserves and also with an industry that needs to explore new markets due to overcapacity within the Chinese market. In that sense Chinese private companies and government investment vehicles have looked to Europe as a mature market that offers secure investments with significant returns.
China has invested in infrastructure projects like ports and airports, eminent among them being the Port of Piraeus in Greece and Toulouse Airport in France, in the energy sector (Italy and Portugal), in real estate, and also in niche high-tech European companies all over Europe. Overall the EU is the second most important destination for Chinese investments after Asia, and it even surpasses the United States.
While an amateur observer would believe that China has invested too much in the EU, this does not reflect reality. It is the EU that has invested much more in China and there is a significant asymmetry that needs to be corrected. Currently, China and the EU are also negotiating a bilateral investment treaty (BIT) that can significantly accelerate their investment relationship in the coming years. This treaty should be seen as a first priority and if successful it could even pave the path to a free trade agreement that along with the revival of the silk road can create the largest open economic space in human history.
The 16+1 initiative with Eastern Europe has not been well received by EU officials. What is China's motivation in engaging with Eastern Europe directly? Does China prefer Brussels or national capitals when it looks to its interests in Europe?
This is a question that has been very often raised in China-EU fora and has indeed puzzled many European policymakers.
China's diplomacy toward Europe has been unambiguously transparent and consistent. On the one hand Beijing has looked to Brussels and has diplomatically upgraded the role of EU institutions as President Xi Jinping, last year, and Li, three weeks ago, visited Brussels – a first for Chinese leaders. On the other hand, China also engages with member state since member states still enjoy significance autonomy and political independence. The EU is not a federal state and its members can forge strong bilateral win-win relations with China, thus Beijing has no choice but to also promote its relations with EU member states.
Therefore, the 16+1 initiative does not aim to undermine EU cohesion. As China has built very strong economic relations with Western Europe the country is trying to balance that asymmetry by reaching out to Eastern Europe with more concrete [approaches]. In addition, as the silk road geographically passes through Eastern Europe to reach the advanced Western European market it is natural for Beijing to engage in closer relations with the Eastern part of "le vieux continent" to speed up connectivity and trade networks.
Chinese media have paid a lot of attention to the crisis in the eurozone and Li in his recent trip in Brussels declared his support for a united Europe and for Greece's position in the eurozone. Why has China been so vocal in its support toward the eurozone and Greece?
It has been a constant diplomatic position of China to support European integration. Europe is a crucial economic partner for China so if the European economy is unstable this also adversely affects the Chinese economy, which is already slowing down and experiencing stock market instability. President Xi Jinping in the early months of 2015 underlined the adverse external conditions that China would face this year and the crisis in the eurozone seems to confirm his prediction.
Beyond material calculations of economic stability, the European project is an atypical project that seeks to unify former existential enemies into a sui generis political construction, and this is something that China endorses as it seeks a harmonious multipolar global order and a new type of great power relations.
To be sure, China has not only been vocal in her support towards the eurozone and Greece; it has also invested substantially in such a way that supports weaker eurozone economies. It has turned the Greek port of Piraeus into an entry hub for many multinational companies; it has invested in Italy's energy and manufacturing sectors; and it has bought the bonds of eurozone economies.
The eurozone economic distress however is not merely a financial issue, but [is also] a political issue. It needs the fiscal architecture to complement the monetary union and support a closer political union among its members. While China has been vocal about this necessary step, it is only Europe herself and the European constituencies that can take that very crucial step for their future.
What is your view on the ideological struggle in Europe between the old established liberal and social democratic parties and the new left and right wing challengers (such as Syriza and Front National)? Do you see ideological conflict intensifying in Europe and how can this affect European integration and China-EU relations (Grexit & Brexit)?
European history offers abundant examples of ideological struggle. From the Spanish-Dutch war to the Napoleonic War to the antifascist war to the Cold War, ideology divided the Europeans. Today it seems that right wing parties have become uncomfortable with the rise of the left and have attempted to "ostracize" Tsipras – the Greek prime minister.
I believe this is not the right policy. Europe should balance between right and left without sacrificing its "normative power." On the one hand, it is positive for Europeans to use the invisible hand of the market to promote efficiency, while on the other hand using the very visible hand of the state to promote fairness and equality of opportunities.
Evidently, Europe has made a neoliberal turn in recent years and this has created serious societal problems. The European welfare state has been weakened, thus boosting movements like Podemos and Syriza who ask for more equality and a social safety net. Europe needs to fine tune and balance between ideological streams. As we put it in Chinese political jargon, it needs system confidence, theory confidence, and path confidence. Perhaps it needs to follow the Aristotelian theory of the "middle path" between two extremes and shape a prosperous future for its citizens. The EU project was after all based on the expectation of Europeans of a prosperous and socially secure future.
In your latest publication at the Carnegie-Tsinghua Center you described the AIIB as a win-win for China and Europe. As China-EU economic and investment links are solidifying do you think that the EU will be less dependent on the United States and take on a more independent foreign policy? Will the EU support China in reforming the Bretton Woods institutions? 
The relationship between the EU and the United States remains strong, as the U.S. is the only major state that significantly supports European security though NATO. The security interdependence between the U.S. and the EU has become even more important today after the Ukrainian crisis and the disputes with Russia.  
In the economic space, the EU has long followed an independent policy from the United States and has been a peer U.S. competitor in advanced and technology intensive exports. The two sides have many times clashed in the WTO (Airbus vs. Boing, genetically modified products, hormones, etc.) and even now when they are negotiating the TTIP there are still issues of disagreement.
China's economic rise has enhanced EU's economic position towards the United States, as the EU has diversified its exports and become less dependent on the U.S. market. Furthermore, as the EU does not face any security competition with China this has accelerated its commercial links with Beijing. The AIIB reflects exactly this "security asymmetry." The EU members' states trust China more and are willing to cooperate on development initiatives. Perhaps this EU behavior can also inspire the United States to follow a similar strategy. 
On the Bretton Woods system, the major EU states (France, the U.K.) are net beneficiaries as they were members of the original negotiations more than 50 years ago. After all the agreement between the United States and Europe is that the president of the IMF will be a European national and the president of the World Bank will be a U.S. national. Today it seems that EU states are taking a case-by-case approach toward China's initiatives to constructively reform the Bretton Woods system. They tend to support reform of the international monetary order, thus accepting RMB's inclusion in the SDR, yet they are not committed to sharing governance of the old institutions, as this would limit European influence and prestige.