Modi's Worrying Pakistan Policy
A lack of coherence allied with tough talk could prove self-defeating.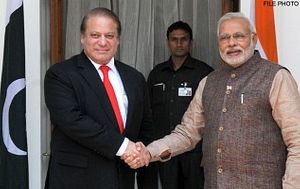 Indian Prime Minister Narendra Modi has yet to craft a coherent policy on Pakistan. He was outspoken in criticizing the government of his predecessor Manmohan Singh for being soft on Pakistan, but tempered his rhetoric after coming to power, inviting Pakistani Prime Minister Nawaz Sharif to his inauguration ceremony, before using a pretext to cancel talks. Recognizing that disengagement with Pakistan creates more problems for India, Modi allowed a resumption of talks at the secretary level in March 2015. Modi and Sharif themselves met on the sidelines of the Shanghai Cooperation Organization (SCO) Summit in Russia on July 10, 2015. Modi is opening talks at a time when the Sharif government is weak and the balance of power has decisively tilted in favor of the Pakistani military establishment.
Nawaz Sharif went to Modi's inauguration ceremony despite resistance from Pakistan's powerful army and refused to meet Hurriyat leaders. Instead of capitalizing on this gesture, Modi cancelled secretary-level talks with Islamabad on the grounds that the Pakistani ambassador to India had continued with the longstanding practice of meeting with Kashmiri separatists. This weakened Nawaz's ability to improve relations with India. Increased tensions at the Line of Control and Kashmir, in which Modi responded to cease-fire violations in a way that went beyond tit-for-tat worsened the situation.
Islamabad, however, was confident that apart from these ceasefire violations, New Delhi will not risk actual conflict, because of the risk it will turn nuclear. But the Indian army's raid in Myanmar against militants has Islamabad worried that India might pursue the same option against Pakistan. The latter's tactical nuclear weapons are meant to counter India's "Cold Start" strategy of an offensive strike within Pakistan in order to punish terrorist elements. India, for its part, has made clear that it would deploy strategic nuclear weapons in response to Pakistan's use of short-range nukes. There is no clarity on how to prevent an escalation in the event of conflict and Modi is taking a risk in raising public expectations of an aggressive response to Pakistan.
Some argue that Modi should rely on robust anti-Pakistan rhetoric to retain his domestic support in case he fails to fulfill his election promises of economic growth and good governance. For its part, Islamabad is highly aware of the Modi's administration's penchant for provocative statements. Statements by senior Indian officials on sub-conventional warfare strengthen Islamabad's long-held view that India has not accepted Pakistan's independence and is working hard to destabilize it by supporting belligerent groups. Indian National Security Advisor Ajit Doval warned in February 2014 that, "you can do one Mumbai and you may lose Baluchistan." Similarly, Indian defense Minister, Manohar Parrikar, stated that, "we should neutralize terrorists through terrorists only." Modi's remarks in Dhaka that Pakistan "promotes terrorism" were seen as further confirmation of his hawkish policy.
Nuclear Weapons
In addition, a BBC report on links between India's Research and Analysis Wing and the Karachi-based political party MQM (Muttahida Quami Movement) provided Islamabad with evidence that India is encouraging subversion itself, to balance Pakistan's involvement in Kashmir. This reopens old wounds from India's role in the creation of Bangladesh, and confirms Islamabad's fear that New Delhi is willing to do anything to break up Pakistan. Pakistan accuses India of supporting anti-Pakistan terrorist groups, including the Pakistani Taliban and Baloch separatists. Pakistani Defence Minister Khawaja Asif, warned that Pakistan would use nuclear weapons if its survival were at stake. Lieutenant General Khalid Kidwai, still an advisor to Pakistan's National Command Authority and former Director General of Pakistan's Strategic Plans Division, has described four conditions for nuclear use: a) space threshold (India attacks Pakistan and conquers a large part of its territory); b) military threshold (India deploys a large part of its land or air forces); c) economic strangling; and d) domestic destabilization. India's support of anti-Pakistan elements would seem to meet that last condition.
India, on the other hand, blames Pakistan for terrorist activities in Kashmir and within India, ranging from the Twin Peak Crisis (2001-2002) to the Mumbai attacks in 2008 and the attack on the Indian embassy and consulate in Afghanistan. New Delhi protested the release of Zaki-ur- Rehman Lakhvi, the mastermind behind the Mumbai attack, from prison, with Pakistani authorities claiming India had provided insufficient evidence to prosecute him in Pakistani courts. India tried to raise the matter of Lakhvi's release at the United Nations Sanctions Committee, under resolution 1267, but China used its veto to block. China's veto shows that Beijing is willing to shield Islamabad from international scrutiny despite New Delhi's sensitivities.
China and Pakistan are also expanding their influence in Afghanistan. After taking office, Afghan President Ashraf Ghani chose Saudi Arabia, China, and Pakistan for his first overseas visits. Ghani cancelled an arms deal with New Delhi before visiting India in April 2015. The Afghan president is also reaching out to Afghan Taliban for talks facilitated by Islamabad and Beijing. After U.S. forces withdraw, New Delhi's influence in Afghanistan is likely to weaken.
Beijing is meanwhile investing $46 billion in Pakistan-China Economic Corridor (CPEC) to link its underdeveloped western frontier with the Persian Gulf and Middle East through Pakistan. The CPEC would provide infrastructure within Pakistan in support of Beijing's plan of storing Middle Eastern oil in refineries at Gwadar and sending it to China via road or pipeline. Gwadar port is already operational, and has strategic significance for both Beijing and Islamabad. In September 2014, Chinese President Xi Jinping invited India to join the economic corridor, but Modi baulked because of fears of a growing Chinese foothold in the Indian Ocean. India is developing the Iranian port of Chabahar as a competitor to Gwadar, but construction will take some time.
Indian attempts to isolate or ignore Pakistan will not yield the desired results and are counter- productive given Islamabad's position as the second largest country in South Asia and its strong links with China. Militarily India cannot afford to be confrontational with Pakistan, because of the latter's nuclear weapons. Politically and economically New Delhi cannot isolate Pakistan, which enjoys strong ties with China. New Delhi has no option but to engage Islamabad constructively by opening dialogue. It is in India's interest to reduce Pakistan's sense of insecurity by initiating negotiations and using confidence building measures to reduce Islamabad's reliance on nuclear weapons. India's dream of great power status will be hard to achieve without a solution to the "Pakistan problem."
Modi may want to talk tough for domestic political reasons, but it is self-defeating in a number a ways. First, it constrains India's options in a future conflict, as he would be under tremendous option to respond aggressively, a highly dangerous move given the presence of nuclear weapons. Second, it is unnecessarily provocative and gives strength to anti-India elements in Pakistan. Third, it raises international concerns that are not only damaging to the Indian economy but also pairs India with Pakistan, something that New Delhi has long abhorred.
For India, the only way to de-hyphenate itself from Pakistan is to improve relations with Islamabad through bold initiatives. Modi, who has always advocated a more muscular approach to national security, cannot ignore Pakistan, but must also recognize that a hardline approach will create problems for New Delhi. His huge victory gave Modi the political space to reach out to Pakistan in ways his predecessor could not. South Asia expert Stephen P. Cohen, once said, "India cannot make peace. Pakistan cannot make war." It is time for Modi to engage Pakistan directly and initiate a peace process.
Saira Bano is a visiting fellow at the Stimson Center, Washington D.C.