Myanmar Faces Daunting Post-Election Challenges, Experts Warn
Much remains to be done following historic elections in November.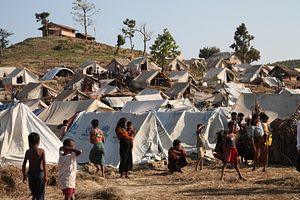 Myanmar faces significant challenges following historic elections to be held later this year, experts warned Tuesday.
Last week, Myanmar confirmed that it would hold its election on November 8, setting the stage for polls following a historic opening in 2011 after half a century of military rule (See: "Myanmar Reveals Date for Historic 2015 Elections").
In terms of the election outcome, while democracy icon and opposition leader Aung San Suu Kyi is still unable to become president following the failure of constitutional reform last month, assuming a peaceful election, her National League for Democracy (NLD) is expected to win comfortably relative to the ruling Union Solidarity and Development Party (USDP), though perhaps not as overwhelmingly as it has done in the past (See: "Constitutional Reform Fails in Myanmar Ahead of Polls").
But the real challenge will come after the polls, Priscilla Clapp, formerly Washington's top diplomat in Myanmar, said at an event at the Brookings Institution, a Washington, D.C.-based think tank. If there is a less decisive majority for the NLD and a dizzying array of ethnic parties pick up seats, that might mean a much more diverse parliament – a boost for democracy but a challenge for getting key reforms through.
"The next government is going to have to do a lot of deal-making," Clapp warned.
Despite this, Clapp said that constitutional reform – including ending the military's effective veto in parliament and amending a clause that currently bans Suu Kyi from running for president – would continue to be at the center of debate following the elections. Even though a move to reform the constitution had failed in parliament last month, she noted that it did enjoy broad support across parties, with just over two-thirds of lawmakers – including from the ruling party – backing it.
"In the next government, constitutional reform will remain front and center," she said.
Economically, the new government following the election will still have much to do but will probably still lack the capacity to get it all done. Despite several reforms, the country's leaders will have to work hard to prevent vested interests from leading the resource-rich country to fall prey to the 'resource curse' as well as implement reforms in key areas which have remained virtually untouched such as agriculture. The worry, though, is that the government's capacity to do all this still remains quite limited, says Lex Reiffel, a non-resident fellow at the Brookings Institution.
"There are few countries in the world where state capacity is lower than in this country," Reiffel argued.
A new government will also have to confront other lingering challenges that are unlikely to see significant progress before the election in November. The country's treatment of the Rohingya remains a black spot on its human rights record. And while the current government under President Thein Sein has made some notable progress on making peace with ethnic groups, resolving the issue itself has so far proven elusive.
"It's a long process, and it will continue under the next government and the one after that probably," Clapp said.
With still so much for Myanmar to do following the elections, Reiffel stressed the need for Washington to respond more pragmatically to developments in the country based on the government's actions, rather than punishing Naypyidaw for not meeting unrealistic benchmarks about free and fair elections and Suu Kyi's need to be included in them.
"From where I sit, that would not be a smart way to react," Reiffel said.