Willem van der Bijl had an office in Pyongyang, the capital of North Korea, until in 2011 he was declared persona non grata. After twenty-four visits to the country, the North Korean government had enough of him. The Dutch stamp collector was placed behind North Korean bars in solitary confinement. He was interrogated for 15 hours a day for two weeks before eventually being expelled from the country. It not only put an end to Van der Bijl's trips to North Korea, it also marked the end of his collection of North Korean propaganda posters.
Van der Bijl's fascination with printed material began when he was six years old. He collected post stamps from all over the world and by the age of 21 had started his own stamp shop in Utrecht, the Netherlands. On one of his visits to a stamp exhibition in 1998 he met the director of the North-Korean stamp cooperation. They stayed in touch and after Van der Bijl bought a large quantity of North Korean stamps in Milan the director invited him on a trip to North Korea.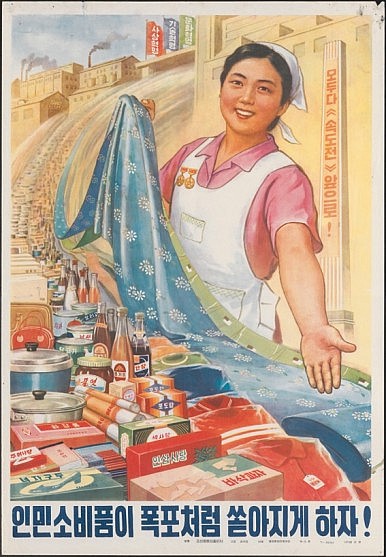 Initially, he wasn't interested. "The country didn't appeal to me." But he changed his mind, accepted the invitation and travelled all around the country as a tourist. It wasn't love at first sight: "After the first trip I was totally done with the country. Yes, it is intriguing, but at the same time you experience an enormous amount of pressure."
Shortly after his return to the Netherlands Van der Bijl starts making new plans to go to North Korea. "In a way, the country gets under your skin." In the end, he went back 23 times.
Art
Van der Bijl is not only interested in North Korean stamps. The propaganda posters he sees in the communist country fascinate him: "You see them in train stations and in the streets. They communicate a message from the regime." The posters are printed in limited editions, because they are used as propaganda material. When the regime wants to send another message to the people, they change the posters. "So I started asking around where I could buy the old posters." With that, the largest North Korean propaganda poster collection in the world began.
The biggest problem was how to export them to the Netherlands: "I had to bribe a lot of people to get the posters through customs every time." To solve the export and visa problem, Van der Bijl and his North Korean business partner started a branch office in Pyongyang. By that time there were only seven foreign branch offices in North Korea. Their office was a hotel room and they had to hire two government secretaries who kept an eye on them at the same time.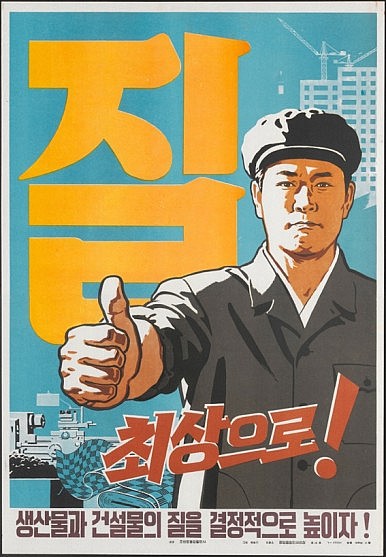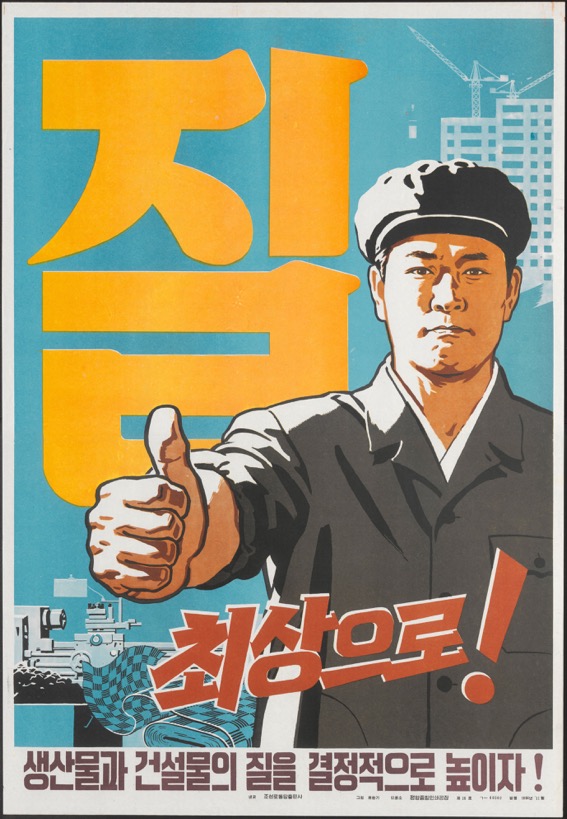 With the branch office, doing business was easier. "While I was working in the Netherlands, my business partner and the secretaries travelled around North Korea to look for propaganda posters. Twice a year I visited them to choose from their collection, so I could take the best ones home." Sometimes he only took six posters, sometimes more than a hundred.
Secret Service
On every visit to North Korea Van der Bijl was followed by the secret service. In addition, all the phone calls they made from their office were tapped. "They knew what I was doing. Some said: 'Round eye' is exporting our beautiful art, others felt that I was exposing things to the outside world that were meant to stay in North Korea."
On the last day of what would be his last visit to North Korea, in 2011, Van der Bijl was arrested and kept in solitary confinement for two weeks. The interrogations were tough: "For 15 hours a day, they asked me all kinds of details from all my trips to the country. Then I found out that they have been following me on every visit," Van der Bijl explains. He's not sure why he was arrested: "Maybe because I took some photos of a train, I don't know. They never told me. I was never scared that they would lock me up for 30 years. I thought maybe two or three years."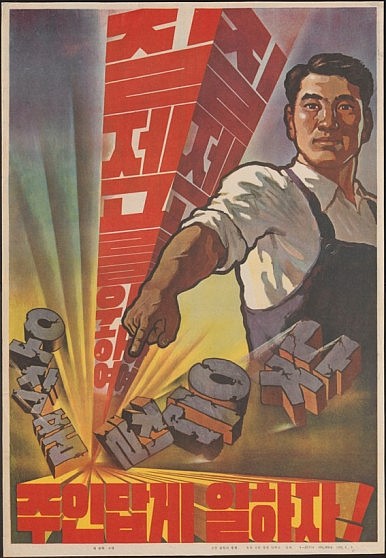 After two weeks in prison, he was given an offer: confess guilt and ask for leniency. He took the offer immediately. "I signed a document in which I confessed that I spread bad things about North Korea, that I stimulated people to flee the country and that I took spy photos. Besides that I had to publicly apologize for my behaviour." That confession was the only path to freedom. "The downside is that I will never be able to visit North Korea. But if the regime collapses, I will be one of the first to visit the country."
Collection
In all his 24 visits Van der Bijl collected more than a thousand North Korean posters. It is the biggest collection of North Korean propaganda posters in the world. A couple of months ago, Van der Bijl made the collection available to the Modern East Asia Research Centre at the University of Leiden. "Because I'm persona non grata in North Korea, my collection is finished."
According to Koen de Ceuster, lecturer in Modern History of Korea at the University of Leiden, "It is a unique collection. All the posters are printed in limited numbers, because they were replaced so often by a new message from the government." The oldest poster in Van der Bijl's collection was printed and distributed in 1952, the most recent in 2011. Van der Bijl has just finished digitally scanning over a thousand posters. He is now working on an online database where the posters will be available for researchers and academics. The database is expected to be finished by June 2016.
Tessa Hoogvliet is a foreign news journalist with the program VPRO Bureau Buitenland. All images courtesy Willem van der Bijl.