Piracy in the Malacca Strait: Can ASEAN Respond?
The bloc needs to prove its credibility in tackling transnational threats.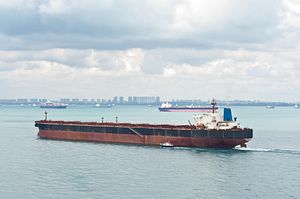 According to a recent report from the International Chamber of Commerce (ICC) and International Maritime Bureau (IMB), Southeast Asia accounts for 55 percent of the world's 54 piracy and armed robbery incidents since the start of 2015. According to these statistics, Southeast Asia has regained its reputation as the world's number one piracy trouble spot. According to a recent news report from Indonesia, the navies of Association of Southeast Asian Nations (ASEAN) member countries are to join forces and conduct a joint operation to combat piracy in the Malacca Strait. Considering ASEAN's mixed success at tackling regional transnational threats, can we expect an effective response to this crisis?
According to the report from the ICC and IMB, pirates in Southeast Asia hijack a small coastal tanker every two weeks on average. Recent reports show that from January until June this year, 56 cases of piracy had taken place in the Malacca Strait. Of this number, 21 were cases of suspected piracy, 22 were attempted piracies, and 13 were confirmed piracies. Indonesia has the highest number of attacks, accounting for almost 40 percent of the attacks in 2015. Vietnam has also seen an increase in armed robbery incidents, with thieves breaking into ships at anchor. Most acts of piracy are carried out by armed gangs that target small coastal tankers to steal their fuel. The increased frequency of piracy attacks in Southeast Asia can be compared with incidents in Somalia. According to an April 2015 IMB report, there were zero incidents of piracy for Somalia in the first quarter of 2015. If these figures are accurate, Southeast Asia has now regained the reputation as the worst region in the world for piracy.
Indonesian Navy Western Fleet commander Rear Admiral Taufiqurrahman recently gave assurances that the Malacca Strait was safe, unlike Somalia's waters, because ASEAN countries were able to provide security to its users. But is this claim credible? To date, the states of Southeast Asia have struggled to tackle the threat posed by piracy. The Malacca Straits Coordinated Patrol, codenamed MALSINDO, is a regional effort to suppress piracy. Introduced in 2004 by Malaysia, Singapore and Indonesia, MALSINDO conducts coordinated patrols within each state's territorial sea. However, out of respect for state sovereignty, the patrols are not allowed to engage in cross-border pursuit into the territorial waters of another state. MALSINDO has therefore struggled to significantly reduce instances of piracy. An aerial patrol known as "Eyes in the Sky" (EiS) has attempted to address this issue, allowing aerial patrols to travel up to three nautical miles over another state's territorial sea. However, EiS has been criticized for the low number of flights actually taking place, and the limited resources available to respond to incidents spotted during aerial patrols.
Considering these difficulties, certain regional states have requested increased cooperation within ASEAN to tackle piracy. According to a senior officer from Vietnam's Department of Foreign Relations under the Ministry of Public Security, ASEAN countries should step up efforts to share intelligence and hold law-enforcement exercises. Because maritime security issues only affect certain ASEAN member states, the organization has yet to provide an effective response to the increased threat of piracy. To date, there is no anti-piracy measure involving all ASEAN member states. Forums such as the ASEAN Maritime Forum (AMF) and Maritime Security Expert Working Group (MSEWG) aim to address problems associated with maritime security. While these enhance dialogue between member states, they have not resulted in actual measures to tackle piracy that involve all ASEAN member states.
These issues are symptomatic of a wider problem relating to ASEAN's ability to respond to transnational threats. The recent Rohingya migrant crisis and the discovery of mass graves in Malaysia and Thailand have highlighted ASEAN's poor record on human trafficking. Similarly, ASEAN has made little headway in fighting the haze, despite numerous meetings and action plans designating the environmental issue a high priority. ASEAN struggles to provide a coordinated response to regional crises. ASEAN forums also have difficulty moving policies from the dialogue stage to the implementation stage. According to Indonesia's Rear Admiral Taufiqurrahman, an ASEAN pact has proposed the establishment of an ASEAN Navy to combat piracy in the Malacca Strait. However, true to form, this proposal is still currently under discussion.
If ASEAN is going to shed its image as a "talking shop," it is going to have to move quickly to respond to regional transnational threats. If it fails to do so, it risks losing what little credibility it still has, both regionally and among the wider international community.
Laura Southgate is a third year PhD student at the University of Otago, New Zealand. She is studying ASEAN and the international relations of Southeast Asia.