The Philippines' Dilemma on China's New Infrastructure Bank
Manila faces a tough balancing act.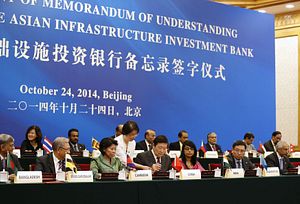 Earlier this year, China was painfully isolated during the Shangri-La Dialogue, Asia's premier security forum, when it came under criticism from across all quarters for its expansive reclamation activities across disputed features in the South China Sea. Recent weeks, however, have been kind to China.
China formally launched the Asian Infrastructure Investment Bank (AIIB), a promising rival to the Bretton Woods institutions of the World Bank and its regional derivative the Japanese-dominated Asian Development Bank (ADB). China's national legislature also approved another major Chinese-backed global financial institution, the New Development Bank (NDB). On paper, the NDB symbolizes the emergence of the BRICS as active shapers of the international economic order. In reality, however, it will depend largely on Chinese contributions ($41 billion), which represents 39 percent of total shares.
China's ultimate economic initiative will be the "One Belt, One Road" project, which will place Beijing at the heart of infrastructure development across the Eurasian landmass while connecting a wide network of ports from the Pacific to the Mediterranean waters. These ambitious efforts fall under Xi Jinping's "Peripheral Diplomacy" doctrine, aimed at wooing China's immediate neighborhood, reviving ties with estranged maritime neighbors, and transforming China into the pillar of the Asian economic order.
Unsurprisingly, some neighboring states, particularly the Philippines, have come to view the AIIB and other Beijing initiatives as a disguised effort to create a Chinese 'zone of deference' across Asia. Amid an intensifying dispute in the South China Sea, Manila has shunned robust economic and diplomatic linkages with Beijing, depriving itself of much-needed capital and investments.
A Diplomatic Coup
Equipped with as much as $4 trillion in currency reserves, China is interested in diversifying its investments as a cushion against volatilities in global currency markets. By investing in the infrastructure of neighboring countries, China aims to accomplish at least three objectives.
First, it re-channels China's currency reserves into tangible (and potentially lucrative) investment opportunities, which also enhance the overseas experience of "national champions"; second, it deepens economic linkages between China and its trading partners by creating the necessary infrastructure to facilitate long-term trade; and lastly, it gains the good will of neighbors, who are in desperate need of capital and infrastructure development.
Given Asia's estimated $8 trillion infrastructure spending gap, China's financial resources are obviously indispensable to the region. As many as fifty countries, from across five continents, recently signed the Articles of Agreement of the AIIB. No less than Australia, a key America ally, reportedly led the signing ceremony at the Beijing's Great Hall of the People amid much fanfare.
The AIIB officially claims that its "foundation will be built on international best practices and the lessons and experiences of existing multilateral development banks and the private sector," while China has foresworn any veto power in the new lending agency. But some are unconvinced, especially since China will be holding a whopping 26 percent of voting shares in the AIIB, which will be headquartered in Beijing despite earlier calls for alternative venues such as Jakarta.
Doubting whether the AIIB is "truly multilateral in nature", the Philippines has opted to defer formal membership.  After the short-lived "golden age" of Philippine-China relations in the mid-2000s, which saw massive Chinese infrastructure investments in the Southeast Asian country, bilateral relations have taken a nosedive in recent years.
The Shadow of Skepticism
Since President Benigno Aquino's rise to power in 2010, the Philippines has adopted a more assertive posture for two major reasons. Primarily China's growing territorial expansionism, which culminated in the mid-2012 Scarborough Shoal standoff, has rattled the Filipino leadership, dramatically undermining trust and good will towards Beijing.
Moreover, China's past investments in the Philippines — particularly the $329.5 NBN-ZTE contract and the $431 million Northrail infrastructure contract — were mired in corruption scandals and bidding irregularities, leaving a very negative impression on Manila.
With limited tools at its disposal, the Philippines has largely relied on compulsory arbitration to push back against China's sweeping claims. With the oral arguments (over jurisdiction) in the arbitral tribunal at The Hague kicking off, Manila has dispatched its top leaders from all the branches of the government in order to bolster its legal blitzkrieg against its northern neighbor.
Meanwhile, high-level diplomatic channels have effectively collapsed, with the Aquino administration rejecting China's latest offer for bilateral dialogue amid the ongoing arbitration – boycotted by Beijing. Today, the Philippines is the only country in East Asia that doesn't count China as its top trading partner, with bilateral trade and investments largely stagnating in recent years.
Aquino has openly suggested that China may use its financial resources to extract territorial concessions from its neighbors. Yet, the Philippines needs as much as $11.56 billion annually to revamp its decrepit infrastructure, which has put into question the country's long-term growth prospect. Despite its efforts to transform the country's infrastructure landscape, long delays, bidding irregularities, and inadequate capital are still a major concern. With growth slowing in recent months, no less than the World Bank has implored the Philippines to step up its infrastructure development.
China, either bilaterally or through multilateral channels such as the AIIB, is in a strong to position to bridge the Philippines' infrastructure spending gap. But so long as territorial disputes in the South China Sea continue to define the overall texture of bilateral relations, the Philippines will tread cautiously vis-à-vis Beijing's largesse.
Manila's ultimate challenge, therefore, is how to benefit from much-needed Chinese investments without sacrificing its legitimate territorial interests.
The author is an assistant professor in political science at De La Salle University, and a former policy adviser at the Philippine House of Representatives (2009-2015. He is the author of "Asia's New Battlefield: US, China, and the Struggle for the Western Pacific" (London ,2015).