US Upgrades Malaysia in Trafficking Report: Boost for TPP, Blow to Rights?
Washington argues that Malaysia has made significant efforts to improve its record.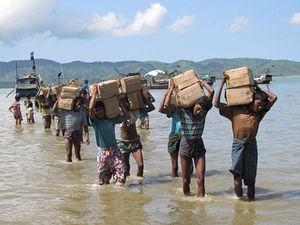 The United States upgraded Malaysia in its much-awaited annual report on human trafficking Monday in a move that paves the way for the completion of the Trans-Pacific Partnership (TPP) but will be read by some as a blow to rights.
Last year, Malaysia was placed on the lowest tier (Tier 3) of the Trafficking in Persons (TIP) report, meant for governments who neither fully comply with the minimum standards for the elimination of trafficking nor are making significant efforts to do so. But this year's report upgraded Malaysia to the Tier 2 Watch List meant for governments that are making significant efforts to bring themselves into compliance with the standards.
"The Government of Malaysia does not fully comply with the minimum standards for the elimination of trafficking; however, it is making significant efforts to do so," the report argued.
The move is significant as it impacts the TPP, a mammoth free trade agreement which groups 12 countries including the United States and Malaysia and represents nearly 40 percent of global GDP. A provision in a trade bill passed by Congress in June bars Malaysia and other Tier 3 countries from fast-tracked trade deals with the United States like the TPP. By upgrading Malaysia to the Tier 2 Watch List, the United States has effectively removed yet another barrier to the completion of the agreement – the Obama administration's signature trade initiative.
But the decision to upgrade Malaysia – widely expected for weeks – will also anger human rights groups and some lawmakers. It comes following a discovery in May of mass graves in jungle camps in Malaysia used by suspected smugglers of Rohingya Muslims from Myanmar.
Even though that discovery took place after the March cut-off for the U.S. report, some have argued that there are few signs to suggest that Kuala Lumpur's record has improved in any meaningful way. Human rights advocates say Malaysia's conviction rate has been failing over the past few years, while recent revelations have exposed the linkage between corruption and trafficking. Last month, Malaysia's police intelligence agency noted in a report compiled over ten years that a startling 80 percent of law enforcement officers in Malaysia's borders were corrupt, with many of them directly involved in smuggling drugs, weapons and people.
Ahead of the launch of this year's TIP report, Ambiga Sreenevasan, president of the Human Rights Society of Malaysia (HAKAM), wrote that any upgrade would be "unacceptable" as there was no credible evidence showing any improvements in protections or enforcement or an attempt to address the link between human trafficking and corruption.
"If the Obama administration raises Malaysia's status to Tier 2, they will lose credibility," Sreenevasan wrote. "Worse it would seem that the US, who claims to value human rights, is prepared to barter ours away for their own benefit."
But the report noted some efforts by Malaysia to address its trafficking problem. It said the government had consulted with civil society stakeholders to amend the existing anti-trafficking law and had more than doubled the number of trafficking investigations while substantially increasing prosecutions.
The report did acknowledge, however, that the amendments remained pending passage by the legislature at the end of the reporting period and that Malaysia had only convicted four traffickers despite the rise in prosecutions and investigations – a further decrease from nine in 2013.