Abe Stokes History Wars by Avoiding Apology
With his 70th anniversary statement, the Japanese prime minister fails the test of history.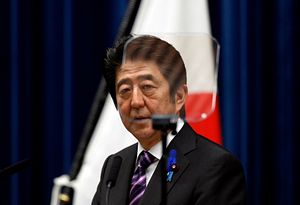 Japanese Prime Minister Shinzo Abe has dug a deep diplomatic hole by failing the test of history with his 70th year anniversary statement on August 14. It could have been worse, but it also could have been better, if only Abe had expressed his own sincere apology for the suffering Japan inflicted. All year long the prime minister downplayed expectations about his statement and thus managed to exceed them, but only just. He was longwinded, roundabout, vague and evasive on the historical controversies that have dogged Japan and strained relations with Beijing and Seoul.
For those observers caught up in the word game – aggression, colonialism, repentance and apology – Abe checked off all the boxes, but the way he used these words ensured that he generated no goodwill. In the diplomatic equivalent of Scrabble, Abe failed because he was too clever by half. It is not really enough to say Japan won't do colonialism and aggression ever again or to hide behind the apologies of other prime ministers. And Japan doesn't get to decide when it no longer has to assume responsibility for the war – that is up to its victims and adversaries. Abe has a point when he says that Japan should not have to endlessly suffer the humiliating indignity of prostrating itself in front of the rest of Asia for its wartime misdeeds, but he and other revisionists bear significant responsibility for ensuring that Japan's shared history with China and the Koreas remains such a potent source of tension. Japanese revisionists continually downplay, deny, shift responsibility, and justify Japan's wartime actions and thus they prevent reconciliation with the countries that suffered most from Japanese colonialism and aggression. Tokyo is correct that Beijing and Seoul hammer Japan relentlessly on the anvil of history, but the revisionists handed them the hammer. Taking the hammer out of their hands requires that Japan grasp the nettle of history and embrace a forthright reckoning, assume unequivocal responsibility, and express an unambiguous and emphatic apology. This needs to be followed up by grand gestures of atonement and contrition. The Abe Statement is a carefully calibrated message that falls short on all counts and will draw plaudits only from those who already support him.
Abe's trademark caviling about history is at the heart of his diplomatic debacle on the world stage. There is only an oblique and inadequate reference to the comfort women ("the dignity and honor of many women were severely injured during wars in the 20th century), vague references to what Japan inflicted, and troubling ambiguity about responsibility for such depredations. He has made a career of repudiating the 1993 Kono Statement about the comfort women and the 1995 Murayama Statement that conveyed a heartfelt apology for colonial aggression and a mistaken national policy, so it is understandable that his nod to past expression of responsibility and regret are unconvincing. Moreover, prominent members of his Liberal Democratic Party and Nippon Kaigi (Japan Conference) have undone any goodwill generated by previous mea culpas by controverting and gainsaying any and all apologies expressed. So yes Japan has apologized numerous times but it has never reaped the fruit of contrition because of the bitter seeds of denial recklessly strewn by reactionaries and revisionist zealots.
Apologies can be empowering and in this case a way to restore dignity to Japan and its victims. By unilaterally declaring that it is time to end apologies at a time when he has exacerbated tensions over history, Abe is ensuring that the memory wars will persist and that Japan will remain in the crosshairs. This is a time for statesmanship, but alas the Abe that showed up on Friday was the rigid revisionist who views history as a zero sum game, declaring that his door is always open for dialogue with President Xi Jinping and President Park Geun-hye while slamming it in their face. Clearly heartfelt apologies are not a panacea but it is naïve to suggest that they are not crucial to the process of overcoming the past. Abe's apologists are condemning China and South Korea for not responding more positively to the Abe Statement, but instead of pulling the rug out from beneath them with a bold and expansive gesture, Abe proved feckless and fanned the fires of discontent. Inadvertently, he is stoking the history wars and missed a great opportunity to add momentum to the recent thaw in regional relations.
In contrast, Emperor Akihito has dedicated himself to the unfinished business of the Showa era, tirelessly crisscrossing the region to promote healing and reconciliation. Throughout 2015 he has made clear that he is uneasy with Abenesia and called for history to be addressed with humility. On August 15, in a departure from the usual script on these anniversaries, Akihito expressed deep remorse, a message that many Japanese interpret as a thinly veiled rebuke targeting Abe's lame effort the previous day. Abe recently made clear his hope to remain prime minister until 2018, the 150th anniversary of the Meiji Restoration, so he may have time to redeem himself, burnish his legacy, and not be remembered as Abe the Shirker. Let's hope he does.
Jeff Kingston is Director of Asian Studies at Temple University Japan and author of Contemporary Japan and Nationalism in Asia Since 1945.