From Kabul to Gurdaspur: Pakistan's Reliance on Sub-conventional Warfare
Developments this summer highlight Pakistan's continued reliance of sub-conventional warfare.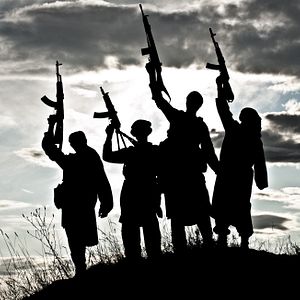 On August 8, 2015, Kabul witnessed its deadliest day since the 2001 U.S. invasion, when a series of attacks in the city left over 50 dead and hundreds injured. A suicide bomber dressed in police uniform detonated explosives outside the National Police Academy that resulted in almost 30 deaths. Then, a truck laden with explosives was detonated, killing 15 people and injuring over 200. Finally, a commando-style assault on Camp Integrity, a NATO military facility killed 10 people, including a U.S. soldier.
The attacks in Kabul come at a time when "peace negotiations" between the Afghan government and the Taliban are in a precarious position. Just a few days prior to the second round of talks between Kabul and the Taliban, Afghanistan's intelligence agency, the National Directorate of Security (NDS) and President Ghani's office confirmed that Mullah Muhammad Omar, the reclusive leader of the Taliban, had died in 2013.
Not everyone in the rank-and-file of the Taliban appears to agree with the Quetta Shura's endorsement of Mullah Mansour as the new leader of the Taliban. Mansour is a product of Pakistan's infamous Darul Uloom Haqqania madrasa, whose alumni include the likes of Jalaluddin Haqqani, the founder of the Haqqani Network.
Early indications are that Mansour, who is close to Pakistan's Directorate for Inter-Services Intelligence (ISI), will find his authority challenged by other powerful leaders in the Taliban, including Tayib Agha (who resigned in protest as the chief of the Taliban's Political Office in Qatar), Mullah Zakir (Taliban's military commander) and Omar's own son Yaqoob.
The attacks themselves bear the hallmark of previous attacks perpetrated by the Taliban in concert with other Pakistan-sponsored proxies — the Gulbuddin Hekmatyar group, the Haqqani Network (whose chief Sirajuddin Haqqani was appointed Mansour's new deputy) and Lakshar-e-Taiba (collectively referred to as the Kabul Attack Network).
Hafiz Saeed, the amir of Jamaat ud-Dawah (the parent organization of Lashkar-e-Taiba) led funeral prayers for Mullah Omar on July 31. JuD's official newspaper then published a piece on August 7 that praised Mullah Omar and accepted Mullah Mansour as the new leader of the Taliban, while criticizing Yaqoob of being a pawn of the West. The article, which claimed that Afghanistan was now at a crossroads, extolled the virtues of jihad in Afghanistan (which it called the "Graveyard of Superpowers") and read very much like a call to arms to its recruits and sympathizers.
Afghanistan, for its part, responded to the Kabul attacks with a very vocal and unambiguous criticism of Pakistan. President Ashraf Ghani gave an impassioned speech and took to social media to further broadcast his message, directed at reading Pakistan's leaders the riot act.
Meanwhile, the situation along Pakistan's western border with India is tense. While there has been an upswing in ceasefire violations since 2013, the frequency of terrorist attacks on border towns in the Jammu Division of the state of Jammu & Kashmir and most recently on a police station in Gurdaspur, Punjab indicate that Pakistan has loosened the reins on terrorist groups targeting India.
A night-vision device recovered from militants in the Gurdaspur attack had U.S. government markings. Upon India's request, the U.S. was able to identify the night-vision device as having been lost by its troops in Afghanistan. A militant captured alive during the attack in Udhampur claimed to have come from a town near Faisalabad, Pakistan. The interrogation report of the militant, Mohammed Naved, provided details of his recruitment and training with Lashkar-e-Taiba.
Pakistan, in effect, is in a state of active conventional and sub-conventional conflict with its western and eastern neighbors. Even as Pakistan-sponsored proxies set Kabul alight, there were news reports of Pakistani mortar shelling across the Afghan border provinces of Kunar, Paktika and Nangarhar. It is likely that the attacks in Kabul were motivated by a desire to both establish Mullah Mansour's credibility with other Taliban commanders, as well as an attempt by the ISI to get the Afghan government to recommit to the now floundering Murree peace negotiations.
On the Indian border, militant infiltration from Pakistan has moved southward from traditional infiltration routes via Kashmir Valley to Jammu and Punjab, while mortar shelling continues along the Line of Control and International Border. There are reports of the Pakistani military not being pleased with the agreement reached between the Indian and Pakistani prime ministers in Ufa, Russia. The agreement envisioned a meeting between Indian and Pakistani national security advisors (NSAs) to discuss "all issues connected to terrorism," but some in Pakistan criticize the agreement as having not explicitly mentioned the Kashmir dispute.
Much has been made in Pakistan on statements made by Ajit Doval (who is now India's NSA) at a conference in February 2014 on repercussions for any future Mumbai-like terror attacks. After the Indian Army's cross-border raid that targeted militants seeking sanctuary in Myanmar in June 2015, imprudent statements from some Indian politicians implied Indian willingness to replicate such operations on its western border in reaction to a terror attack traced to Pakistan. Attacks in smaller cities like Udhampur and Gurdaspur therefore could possibly be an attempt to gauge Indian reaction and test India's red lines.
There is justifiable outrage in India over the recent incidents, but those placing the condition of a terror-free environment on talks with Pakistan fail to adequately appreciate the nature of the sub-conventional war imposed by Pakistan on both India and Afghanistan. Not talking to Pakistan is no guarantee against terrorism, just as talking to Pakistan does not ensure a "terror-free environment."
Quite simply, for the Pakistani security establishment, the use of terrorism is the result of a carefully deliberated strategic choice towards which it has dedicated considerable resources of the state to augment over several decades. It is no surprise that many of the militant leaders targeting India today cut their teeth in the "mujahideen" campaign against the Soviet Union and in Afghanistan's civil war in the 1990s. Pakistan's strategy has largely worked with regard to its neighbors because it has allowed the country to further its objectives without having to commit to conventional military campaigns. Any costs associated in the pursuit of this strategy are either non-existent or at acceptable levels. There is therefore little incentive for Pakistan to change its ways, talks or no talks.
Ultimately, Pakistan is only likely to reassess its reliance on sub-conventional warfare if costs that it finds unacceptable are imposed. The recent attacks from Kabul to Gurdaspur and Udhampur only underscore the reality that there has been no discernible change in Pakistan's thinking with regard to the use of terrorism to further its security objectives in the region. The likelihood of a change in Pakistan's strategy towards its neighbors is unlikely so long as the strategy remains relatively risk-free. The infrastructure to pursue sub-conventional campaigns will continue to exist with Pakistani state support, the routine platitudes of Pakistan's leaders of wanting "durable peace" with its neighbors notwithstanding.