Gilgit-Baltistan: Pakistan's Hidden Paradise
Some stunning experiences await the traveler to one of Pakistan's most unique regions.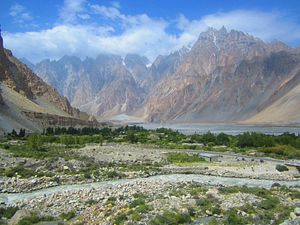 Karimabad, Hunza Valley
When the twin towers were hit on September 11, there was panic in Pakistan's Hunza Valley. Javed Ali was sitting in the lobby of his hotel, the Hilltop, when the news came in. There were shrieks and wails all around him as people watched the attacks unfold on TV. Tourists called their friends and family back home, wanting to rush out of Pakistan, and frantic calls were made to embassies. Everyone left as soon as they could. For years afterwards, Hunza saw few tourists. Restaurant signs in Japanese and Korean have faded, but they haven't been removed; they offer fond memories of happier times.
Now, more than 14 years later, Hunza is finally experiencing something of a tourism renaissance. In the valley's capital Karimabad, tourists have scrambled for space this summer. Visitors slept on pavements and tents were pitched on hotel roofs. Most of these tourists were Pakistani. "Earlier, there would only be foreign tourists but after 9/11, they stopped coming. Now Pakistanis have started coming in," one local told The Diplomat. It's almost as if the rest of Pakistan has finally discovered this semi-autonomous region, which borders the province of Khyber-Pakhtunkhwa, Pakistan administered Kashmir to the southwest, Wakhan Corridor to Afghanistan to the northwest, China to the north, and Indian Kashmir to the southwest.
Hunza is part of the Gilgit-Baltistan region of Pakistan, home to some of the world's greatest natural treasures. For one thing, it is here where three great mountain ranges meet – the Hindu Kush, Karakoram, and Nanga Parbat. It boasts the world's second and ninth highest mountains, K2 and Nanga Parbat. Gilgit-Baltistan in fact features five of the world's 14 "eight-thousanders" – mountain peaks that rise 8,000 meters or more above sea level – and has an astonishing 108 peaks that are over 7,000 meters. Below 7,000, the region has so many mountains that there is neither a definitive count nor have they all been named.
Hunza Valley defies many of the usual Pakistan stereotypes. It has a near 100 percent literacy rate, women run factories and cafes, and it remains untouched by the rise of Islamic extremism seen in other parts of the county. Locals insist that it is among the very few areas in Pakistan where women can safely travel alone at night. The people of Karimabad take pride in how liberated this region is, and continue to make determined efforts to provide employment opportunities for women.