Is Academic Freedom Under Fire in Kazakhstan?
Nazarbayev University responds to allegations that a professor was terminated because of pressure from Russia.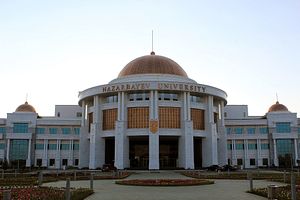 Nazarbayev University released a statement today pushing back on Professor Marcel de Haas' allegations that the university terminated his position because of pressure from Russia.
Eurasianet's Peter Leonard reported on Haas' situation Monday, writing that the professor–a retired Lt. Col in the Royal Netherlands Army with an extensive academic career before joining Nazarbayev University last year–says he "is being squeezed out of the state-funded university over the management's displeasure at a planned lecture on Ukraine that it deemed 'politically sensitive.'"
Shigeo Katsu, the president of Nazarbayev University, wrote in a statement released today that de Haas' allegations "are entirely without merit, a fact that is readily demonstrable by the record of events. NU has never been subject to pressure from any government to limit the expression of its faculty or students."
Katsu makes two points in the statement. First, that members of the campus community have taken critical positions on the actions of many governments over the years and not suffered any negative consequences. "NU reflects the same broad and eagerly expressed range of opinions that would be found at any other major research university, and NU faculty enjoy the same freedom to express themselves outside the classroom in any way they see fit," Katsu says.
Second, Katsu points out that the incident in question–a planned, then canceled, lecture on Ukraine–happened a year before the decision to terminate de Haas' position. Katsu says the decision to "discourage" the event was made by a university vice president "based on concern about student safety and the wisdom of the specific planned activity." He goes on to say that "NU is completely committed to freedom of expression and academic freedom in all its forms. It is not, however, part of NU's business to provide a platform for the promotion of the personal views of individual faculty members."
De Haas says the lecture on Ukraine last summer, titled "The Russian-Ukrainian Conflict," was canceled after Ruslan Kuznetsov, the defense attache at the Russian Embassy in Astana, voiced an objection (and apparently laid out a different version of the crisis in Ukraine) in a letter emailed to the university, which also copied a Kazakh defense ministry official.
The University says de Haas has been terminated because of a "poor fit between his areas of expertise and interests and the curricular needs of NU's graduate program in public policy." In a university brochure for the graduate school of public policy, de Haas' areas of research are listed as "Defense, Security and Foreign Policy of Russia, Central Asia, the South Caucasus (CIS, CSTO, SCO, Eurasian Union), NATO, and EU."
Nazarbayev University was opened in 2010 and graduated its first cohort (446 students) this summer. NU is at the center of Kazakhstan's enormous investment in education, seen as a vital part of elevating not just the country's economy but its international image. The university by law is autonomous, but President Nursultan Nazarbayev heads the Supreme Board of Trustees, which is the managing authority of the University.