Is Indonesia Really Open to Joining the TPP?
What a minister's recent comments say about Jakarta's openness to joining the agreement.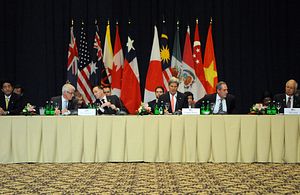 Last week, Indonesia's Coordinating Minister for Economics Sofyan Djalil said that Indonesia is now open to joining the Trans-Pacific Partnership (TPP) trade agreement following the Trade Promotion Authority victory U.S. President Barack Obama secured in Congress last month (See: "Finishing the TPP: It's Not Just About the US Congress").
"Many policymakers in Asia didn't believe that President Obama will get the mandate," Djalil told Reuters in an interview last Friday. "TPP is now getting closer and closer to reality, and now the option is to join it or you're left out."
"Of course we have to look at it, we have to study it comprehensively… But, in principle, we don't have any problem," Djalil said. He added that Indonesia was now studying the potential impact of TPP on its foreign trade.
Djalil's statement is in line with Indonesia's relatively warmer attitude toward free trade agreements in general in recent months as the country seeks to improve its international trade amid weak exports and anemic economic growth. In March this year, Bachrul Chairi, director general for international trade cooperation at the Trade Ministry, said Indonesia would resume free trade and economic partnership negotiations with important trading partners. Negotiations on several such agreements – including with Australia, Chile, the European Union, South Korea, and Turkey – had previously shown little progress.
At the time, Bachrul had only indicated that the government was reviewing a potential agreement with the United States – with no specific mention of entering the TPP negotiations, which currently include Washington along with Australia, Brunei, Canada, Chile, Japan, Malaysia, Mexico, New Zealand, Peru, Singapore, and Vietnam. That was consistent with Jakarta's generally lukewarm stance on the TPP.
But Djalil's recent comment about Indonesia being "left out" of the TPP indicate Jakarta's growing nervousness about losing out as the agreement progresses and it becomes clear that some of its neighbors (like Malaysia and Vietnam) will gain significant export advantages under the agreement at its expense. The loss to Indonesia will become even more significant if other interested countries like the Philippines and Thailand also join the pact (See: "Confirmed: Philippines Wants to Join TPP").
In addition to averting losses, Indonesia would also stand to gain too, according to some estimates. One 2012 study by the Peterson Institute for International Economics, a respected U.S. think tank, concluded that Indonesia would achieve export boosts of around 20 percent and income gains of around 2.5 percent by 2025 if it were to join the agreement.
However, it is still unclear if and when this rising interest in the TPP will translate into action. Thus far, Indonesia's focus on trade agreements has been on lower-hanging fruit, including concluding the Regional Comprehensive Economic Partnership (RCEP) – a regional free trade agreement between ASEAN, Australia, China, India, Japan, South Korea and New Zealand – by the end of 2015 as well as moving forward on negotiations with the European Union.
In part due to its higher standards, some say the TPP is the kind of agreement Indonesia may pursue in the future but not at this time. They argue that the country should focus on boosting its competitiveness – partly by safeguarding its domestic markets – instead of opening up further and undertaking radical restructuring in areas like intellectual property, environmental protection, labor reforms, and state-owned enterprise reform. Others, however, have argued that this anxiety about greater openness is misplaced and that bolder agreements can bring about much-needed liberalization.