Japan Launches New Helicopter Destroyer
Tokyo unveils its second Izumo-class helicopter carrier.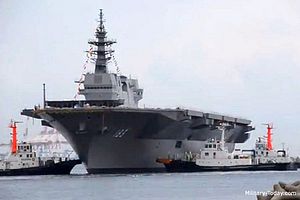 Japan launched its second Izumo-class helicopter carrier, the largest warship built by the country since World War II, media sources reported August 27.
The 24,000-ton ship, named Kaga, was unveiled at Japan Marine United shipyard in Yokohama. The name Kaga, derived from former Kaga province in present-day Ishikawa Perfecture, originally belonged to a WWII aircraft carrier that took part in the Pearl Harbor attacks and was lost at the Battle of Midway. The ship is expected to be commissioned in March 2017.
Kaga is the second Izumo-class carrier to be launched, with the first being JS Izumo which was launched in August 2013 and commissioned in March 2015. According to IHS Jane's, both vessels are nearly identical. Details provided by Japan Marine United suggest the only differences are a draught of 7.1 m rather than 7.3 m, and a complement of 520 rather than 470. Both vessels displace 19,500 tons (24,000 tons at full load), and Kaga will likely also be armed with two Raytheon Sea RAM RIM-116 systems and two Mk 15 Vulcan Phalanx close in weapons systems.
At first glance, the Izumo-class helicopter carrier – officially designated a "helicopter destroyer" – resembles an aircraft carrier. The ships can carry up to 14 helicopters designed for anti-submarine warfare or mine countermeasures. Some have also noted that it is capable of accommodating vertical takeoff platforms such as the F-35B and V-22 Osprey given the large size of the ships, relative to the smaller 18,300-ton Hyuga-class helicopter carriers already in operation. Its features have led some to conclude that it is meant singularly or primarily for direction against China, specifically for anti-submarine warfare.
Japanese defense officials have admitted that this is indeed one role for these new helicopter carriers. Indeed, an officer from the Japan Maritime Self Defense Forces told Asahi Shimbun in March that the ships "heightens our ability to deal with Chinese submarines that have become more difficult to detect."
At the same time, officials have also gone out of their way to emphasize the multi-purpose nature of the vessel – especially its peacetime roles. They have stressed repeatedly that the features of the Izumo-class helicopter carrier, including its high command and control capability, would be useful not only in wartime but also for rescue missions and natural disasters. This is important not only for disasters which hit Japan, but also other neighboring countries since Japan often plays an important role in humanitarian assistance and disaster relief operations, with a recent example being Typhoon Haiyan which hit the Philippines 2013.
Given its various functions, some have argued that it is more useful to think about the Izumo-class helicopter carriers more broadly as platforms for power projection rather than narrowly for anti-submarine warfare directed against China.
"In this sense, the Izumo is…intended as a platform for power projection. It is designed to offer the option to expand fleet air defense or support short-distance amphibious raids. Izumo maximizes a variety of functions, from ASW to HADR, showing the extent of Japan's seriousness as a responsible stakeholder in international security," Alessio Patalano, a naval expert at King's College in London told DefenseNews earlier this year.
Once the Kaga is commissioned, Japan will have a total of four helicopter carriers, with the Izumo in addition to the two Hyuga-class carriers.