Japan's New South China Sea Gift to the Philippines?
Reports indicate that Tokyo wants to donate planes to Manila for South China Sea patrols.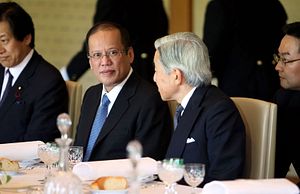 Japan may give the Philippines planes to use for patrols in the South China Sea, media sources reported August 6.
According to Reuters, sources have revealed that Japan may be looking to offer three Beechcraft TC-90 King Air Planes to Manila.
The reports will come as little surprise to those following the Japan-Philippine relationship closely. As I have written before, Japan has been a strategic partner of the Philippines since 2011, and the two countries have boosted the defense side of their relationship significantly over the past few years amid growing concerns about China's assertiveness in the East China Sea and the South China Sea ("Japan, Philippines Boost Defense Ties").
Defense ties are set to grow even stronger in the future as the two sides have vowed to conclude an agreement on the transfer of defense equipment and technology, expand bilateral and multilateral trainings and exercises, and even conclude a Visiting Forces Agreement (VFA) to allow Japan access to Philippine military bases (See: "Japan, Philippines Strengthen Strategic Partnership").
The TC-90s would be a boost for the Philippines' capabilities. Manila currently does not have enough aircraft to conduct regular patrols in the South China Sea, and the planes could be fitted with basic surface and air surveillance radar for surveillance as Manila responds to China's threat to Philippine claims there (See: "The Truth About Philippine Military Modernization and 'The China Threat'").
That being said, discussions are reportedly still quite preliminary and there are a number of uncertainties that remain.
First, it is unclear how this fits in with previous understandings of Japanese support for the Philippines. In particular, Manila has previously expressed interest in the more sophisticated Lockheed Martin P3-C aircraft. The P-3C would be a vast improvement over the Philippine Navy's patrol aircraft Islander as it has more sophisticated and extensive radar and longer flight endurance (See: "What's Next for Japan-Philippines Defense Ties?").
One interpretation, which the article seems to support, is that the TC-90s would be provided instead of the P3-Cs, which are more sophisticated but harder to operate and maintain. Some in Japan reportedly worry that Manila's lack of experience in maritime surveillance means it would struggle to operate the equipment and quickly analyze the data collected. Given this, the TC-90s may be a way to familiarize the Philippine navy with the operation of sophisticated aircraft such as the P3-Cs.
Second, such a deal would require legal changes on Japan's part in order to occur. As of now, the three TC-90s would be donated by Japan to the cash-strapped Philippines as used military equipment. Since that would constitute the first donation of used government-owned military equipment to another nation, sources indicate that Japan would have to amend financial regulations that require such equipment to be sold at fair market value.
Thus, while we have seen significant progress in Japan-Philippine defense ties over the past few years, it may take a while longer before some of the future initiatives now being mulled — like the TC-90 deal — can actually be realized.