Kyrgyzstan's Risky Open Borders Experiment
Plans by the country to open its borders to other EEU members could bring some nasty side effects.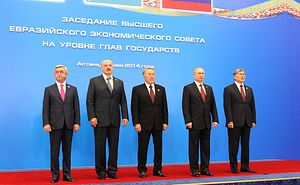 Last week, Kyrgyz Deputy Foreign Minister Askar Beshimov announced that Kyrgyzstan would open its borders to other Eurasian Economic Union (EEU) member states, once Kazakhstan's president ratifies Kyrgyzstan's membership in the trade bloc. While this announcement occurred under the radar of the Western press, Kyrgyzstan's decision is a significant step towards turning Putin's customs union into an institution that resembles the EU in its free movement of human capital.
Open borders in the EEU will be economically beneficial as they can facilitate intra-regional trade. If Kyrgyzstan can break down trade barriers with Kazakhstan, it will take an important step towards reducing its dependence on remittances from a sanctions-hit Russian economy. Supporters of an open borders policy also highlight the humanitarian benefits. Amnesty International implored Central Asian countries during the 2010 unrest in Southern Kyrgyzstan to open their borders to Uzbeks fearing persecution. The lack of consensus on this issue prevented Kyrgyzstan's borders from opening fully and had a demonstrably negative humanitarian impact.
While open borders would have been helpful in ameliorating the turmoil triggered by the 2010 ethnic clashes, the humanitarian benefits of Kyrgyzstan's open border policy are much more limited than one would expect. Uzbekistan, which has many political refugees seeking to flee to Kyrgyzstan, is not a member of the EEU. This means that citizens residing in one of the world's most repressive regimes will not benefit from the open borders policy.
Even more importantly, free migration flows could have a detrimental impact on Eurasia's security. The insufficient development of the Shanghai Cooperation Organization's (SCO) security architecture makes Kyrgyzstan's decision highly perilous for Eurasian security. The two biggest risks associated with Kyrgyzstan's open borders policy relate to the illegal drug trade and the movement of terrorist networks. Should drug trafficking and terrorism be facilitated by Kyrgyzstan's open borders policy, the resulting turmoil would destroy any of the policy's economic or humanitarian benefits.
Drug Trade
The Southern Kyrgyz city of Osh has historically been a hub for heroin trafficking from Afghanistan to Russia and the EU. Kyrgyzstan's central location on a route that transports 25 percent of the world's heroin has strengthened linkages between drug gang leaders and Kyrgyz government officials. The Kyrgyz government's deepened involvement in the drug trade was evidenced by a wave of assassinations of crime bosses from 2005-2009. Journalist Reid Standish, in an in-depth report on drug violence in Kyrgyzstan for Vice News, claimed that these assassinations resembled political murders more than killings by rival drug cartel leaders.
In 2011, four Kyrgyz police officers were arrested for drug trafficking. The quantity of heroin discovered when these officers were arrested was more than what was previously thought to pass through all of Kyrgyzstan in an entire year. These arrests revealed the extent of police corruption and complicity in the illegal drug trade. When Kyrgyzstan granted influential crime boss Aziz Batukaev early release from prison and safe passage to Chechnya in 2013, it further demonstrated the government's unwillingness to confront illegal drug trafficking.
Loosened security restrictions will undoubtedly increase urban crime and worsen addiction patterns in Kyrgyzstan and amongst its neighbors. The drug trade will become even more problematic should Tajikistan, Afghanistan's largest trade partner, gain EEU membership and be able to ship drugs freely across the border. Coordinated cooperation on extracting drug revenues could ease tensions between Kyrgyzstan and Tajikistan, and further weaken the EEU's institutional capacity to combat the drug trade.
The Kyrgyz government's involvement in the illegal drugs trade is so pervasive that maintaining border restrictions are the only viable way to restrict heroin shipments. Without these restrictions, the movement of drugs between Kyrgyzstan and its Eurasian neighbors will resemble the large-scale trafficking facilitated by free travel along the Russia-Belarus border. Belarus has sought to strengthen its drug enforcement policies through deeper engagement with the Shanghai Cooperation Organization. Belarus now has SCO observer status and the SCO pledged its commitment in 2006 to countering drug trafficking as part of its broader counter-terrorism campaign.
Despite these measures, the Belarus-Russia border continues to be very vulnerable to illicit arms sales and the movement of illegal drugs. There is therefore no substitute for tightened border security implemented at a domestic level, however imperfect it may be. Kyrgyzstan's removal of this last remaining safeguard will make the drug trafficking crisis more acute as the SCO simply lacks the ability to enforce its rhetorical pledges.
Hub for Terrorism 
The timing of Kyrgyzstan's decision to open its borders to its EEU neighbors is made even more questionable by the recent spike in terrorist activity on Kyrgyz territory. On July 16, 2015 alone, six terrorists were killed and five were detained in two separate clashes in Kyrgyzstan's capital of Bishkek. While RFERL reported initially that it was unclear whether these terrorists had international ties, many have attributed this terrorist activity to ISIS. Kyrgyzstan's growing domestic terrorism problem was confirmed further by ISIS's July 27, 2015 video, urging Kyrgyz citizens to move to the caliphate created by ISIS militants in Iraq and Syria.
Unlike the struggle against drug trafficking, the Kyrgyz government has been committed to curbing domestic terrorist threats. Kyrgyz authorities frequently vet Islamist preachers to ensure they are not inciting violence. The authorities have also used the 350 Kyrgyz nationalists who fled to Syria to fight for ISIS as evidence of the need to crack down on terrorism at home.
The open borders policy threatens to severely compromise these counter-terrorism efforts. Kazakhstan has become increasingly concerned about terrorism in recent months, and the leader of the ISIS sect implicated in the July 16 skirmishes was a Kazakh national. ISIS videos have also revealed that the terrorist organization has recruited child soldiers from Kazakhstan to assist in their operations. As Kazakhstan's repression of Islamists makes it difficult to conduct large-scale terror operations there, ISIS terrorists would undoubtedly relish crossing the open border with less repressive Kyrgyzstan. Kyrgyzstan's historically unstable southern regions and even the capital of Bishkek could be fertile ground for ISIS affiliates seeking to flee repression in Kazakhstan.
The security implications of Kyrgyzstan's open borders policy will become more acute if Tajikistan accedes to the EEU, as is eventually expected. The Ferghana Valley has become a terrorist hotbed as many radical Islamists enter Kyrgyzstan via this region, which shares borders with Uzbekistan and Tajikistan. The Ferghana Valley area is overpopulated and vulnerable to destabilization, making it the ideal place for ISIS to use as its base in Central Asia.
Relations between Tajikistan and Kyrgyzstan have been strained since the early 1990s, when Tajik rebels crossed the border to Kyrgyzstan during the 1992-1997 civil war and caused instability in Kyrgyz territory. Should Tajikistan join the EEU, Kyrgyzstan will be forced to ease bilateral tensions, much like it has done recently with Belarus. A discriminatory border security policy will be normatively incompatible with the EEU's mandate. Kyrgyzstan will therefore be forced to open its borders to Tajikistan and allow many terrorists from Afghanistan and ISIS to enter.
To suppress this threat, Kyrgyzstan may have to implement highly authoritarian legislation resembling Uzbekistan, which has banned beards, suppressed Islamic dress and forced restaurants to sell alcohol. Kyrgyzstan has a much more volatile and pluralist political system than Uzbekistan, which makes such measures impossible to implement. Following Uzbekistan's draconian approach would likely cause massive unrest to the point that Islamists could endanger the Kyrgyz government's hold on power. Therefore, the alternatives to strict border security regulations are impractical and, if implemented, will be highly damaging to the stability and security of Kyrgyzstan.
Kyrgyzstan's border security legislation may well herald a new era of Eurasian integration and fulfill the normative dreams of Putin's customs union. Yet consolidated Russian hegemony and the easing of intra-regional tensions will be accompanied by unpleasant side effects, especially if other countries follow Kyrgyzstan's lead. An upsurge in drug violence and terrorism could make Kyrgyzstan's open borders experiment a short-lived one and one that is very costly to the stability of the Kyrgyz state.
Samuel Ramani is an MPhil student at St. Antony's College, University of Oxford in Russian and East European Studies. He is also a journalist who is a regular contributor to the Huffington Post Politics and World Post verticals, and recently to the Kyiv Post.