Markets Plunge on Less Chinese Government Intervention
Stock markets around the world have been roiled on Chinese policy and a slowing economy.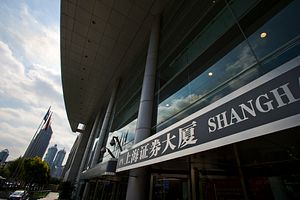 This past Monday, stock markets around the world fell on fears of an economic slowdown in China and worries that the Chinese government was taking a less active position in shoring up its own stock market. The FTSE 100 lost ₤74 billion ($115.4 billion), while the Dow Jones Industrial Average dropped by more than 1,000 points during the trading day. China's stock market lost 8.5 percent in a dramatic decline, wiping out its 2015 gains. While global stock markets recovered Tuesday, China's stock market continued to fall. On Wednesday, the Shanghai Composite index gyrated wildly before finishing another 1.3 percent down.
Official attempts to jump start economic growth have been unsuccessful, and the leadership has simultaneously sought to increase the role of market forces within the financial sector. We think the government is right to take a less active stance in the stock and exchange markets, as China must continue to marketize its economy, slump or no slump. Although the timing is less than perfect, efforts to let exchange and stock markets prevail is in line with China's reform agenda.
Official policy on enhancing market forces has been made clear in recent days. The China Securities Regulatory Commission has stated that it would "generally not enter market operations." The PBOC said the "devaluation" resulted from moving to a more "market-based" onshore foreign exchange regime (although the PBOC did intervene in currency markets to prevent a freefall on the RMB). The foreign exchange regime would be determined by referring to "the closing rate of the interbank foreign exchange market on the previous day, in conjunction with demand and supply condition in the foreign exchange market and exchange rate movement of the major currencies."
Foreign analysts have not responded well to this, however. They hated it two weeks ago when China devalued its currency in order to move the exchange rate more in line with market forces. They hated it when the Chinese government halted efforts to bail out the stock market in order to promote market forces. Yet this is what China-watchers have long been calling for, less government intervention and more marketization of the Chinese economy.
The financial sector has remained under limited state control for thirty years, frustrating foreign analysts and the foreign business community alike. The loosely pegged exchange rate has been criticized by American politicians for years as undervalued; increasing exposure of the exchange rate to market forces has been a long-time policy recommendation. Foreigners and Mainlanders have both looked forward to a more market-oriented stock market as an alternative channel for investment. The current response to increased marketization is therefore somewhat of a puzzle.
One reason that analysts and traders have responded so negatively to recent events may be that they have misinterpreted official intentions. First, the exchange rate devaluation was viewed as a means to increase the attractiveness of exports, even though the amount of the devaluation was insufficient to really push forward outbound trade. Second, stock market losses have been seen as reflective of a decline in the real economy, despite the fact that the Chinese stock market is somewhat segmented from the real economy and is not a good measure of economic growth.
What is true is that China's economy is suffering. PMI recently fell to a 77-month low, services sector growth has not been robust, and exports have flagged. China cut interest rates for the fifth time in nine months Tuesday to spur economic growth, taking a more hands-off approach to stimulating activity. The leadership is continuing to take action, but in a less direct way, in line with its long-term economic goals. Foreign analysts should be happy about this, despite China's ongoing economic malaise.