Narendra Modi in the Emirates: Bridging India's Gulf
There has been a gradual, yet visible, transformation in India's relationship with the Gulf Arab states.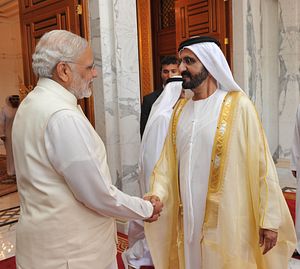 Narendra Modi's visit to the UAE was the first by an Indian prime minister to that country in 30 years. The visit was quintessentially Modi-like: a warm embrace of Abu Dhabi's crown-prince, Mohammed bin Zayed al-Nahyan, a pitch for trade and investment and for his flagship "Make in India" initiative, and a speech in the midst of Dubai's large and vibrant Indian community that bore resemblance to his address at Madison Square Garden in New York last year.
Many of the themes distilled from the India-UAE joint statement are articulations of a gradual, yet visible, transformation in India's relationship with the UAE, and more broadly, with the Gulf Arab states. Chief among these themes are energy security, human security, counterterrorism and defense.
India's historical dependence on crude oil imports and its growing economy makes energy a key component of its engagement with the Gulf. India today imports 70 percent of its crude oil from the Gulf and 85 percent of its natural gas from Qatar alone. By 2020, India is projected to account for 5 percent of global oil demand; between 2020-2035, India will represent the largest share of incremental global oil demand. A sustained and assured energy supply from the Gulf region, which is often beset with instability, is therefore crucial to India's sustained growth.
Human security is another area of concern for India. That the Gulf is home to vast numbers of Indians — almost 8 million — is well known. However, the Gulf is also home to a very sizable number of undocumented immigrants from India, although authoritative figures are not available. In a 2007 interview, then-Overseas Indian Affairs Minister Vayalar Ravi estimated that India potentially adds as many as half a million undocumented persons to the Gulf's workforce each year. Worryingly, many of these undocumented workers use the UAE and Saudi Arabia as transit points to find employment in countries that they might otherwise not be cleared to emigrate to by the Indian government.
Periods of instability in the Gulf have forced India to expend considerable resources to evacuate its citizens from the region: 200,000 from Kuwait and Iraq during the Gulf War, about 25,000 during the Arab Spring, and about 5,000 during Saudi Arabia's military campaign in Yemen last year.
Many of India's legal workers in the Gulf are victims of unscrupulous practices, including the confiscation of passports, non-payment of wages and being forced to work long hours under inhumane conditions. In this regard, Modi's visit to a labor camp in Abu Dhabi — where many blue collar workers live, often in conditions of squalor — as well as the Indian government's new requirement to vet and issue permits to potential employers in the UAE are positives.
Counterterrorism also forms an important component of India's engagement with the Gulf states. The attacks in the U.S. on September 11, 2001 altered the calculus of many Gulf regimes on certain kinds of extremist ideologies and groups tolerated or patronized by them. Tighter regulation over financial systems in these countries impacted the ability of terror groups and criminal organizations to exploit unregulated financial channels to fund terrorism or carry out illicit commerce with impunity.
A concurrent push by Gulf regimes to bolster ties with India has resulted in improved counterterrorism cooperation between these countries and India. The 2012 extradition agreement between India and Saudi Arabia was pivotal in the extradition of Abu Hamza (a Lashkar-e-Taiba operative accused of being involved in the November 2008 attacks in Mumbai).
Additionally, Abdul Sattar (an Indian Mujahideen operative who fled India in 2007) was repatriated to India under a bilateral transfer-of-sentenced-persons agreement with the UAE, which is also likely to have extradited Abdul Karim Tunda (a LeT operative and alleged expert bomb-maker) and Yasin Bhatkal (the founder of the Indian Mujahideen).
The Gulf monarchies' security perceptions are being transformed as a result a social and political upheaval in the region. The tumultuous events of the Arab Spring saw protests and uprisings in Oman and Bahrain. The Sunni Gulf regimes see the hand of Iran in destabilizing Bahrain, Iraq, and Yemen. Al-Qaeda's continued strongholds in Yemen and Iraq, coupled with the dramatic rise of ISIS and challenges from the Muslim Brotherhood continue to be viewed as threats to the Gulf regimes.
The P5+1 nuclear deal with Iran and the perception that the U.S. is no longer interested in being the predominant security guarantor in the region is fueling the Gulf states' desire to seek alternate sources to secure their interests.
India, for its part, views the Gulf as an extension of its strategic neighborhood and is both willing and able to play the role of a net security provider, including securing energy shipments from the Gulf to India. India now has security and defense agreements with key Gulf states: the UAE (2003), Oman (2005), Qatar (2008), and Saudi Arabia (2015).
The defense agreement with Qatar, in particular, which commits India to protecting "assets of importance to both countries," is significant. Modi's visit to the UAE outlined the contours of future defense cooperation, including maritime security, joint exercises, and manufacturing of defense goods, which will augment the preexisting 2003 agreement.
The Indian Navy today makes regular ports of call in Oman and the UAE and is involved in anti-piracy operations in the Gulf of Aden. On the heels of Modi's visit to Abu Dhabi and Dubai, the chief of the Indian Air Force embarked on a four-day trip to Oman and the UAE. In 2013, Indian Navy ships undertook visits to Qatar and Kuwait, while in 2015, over 100 ranking IAF officers and pilots aboard a contingent of IAF Sukhoi-30MKI fighters and transport aircraft landed in the Saudi port-town of Jeddah for the first time. The frequency and nature of these visits underscores a mutual desire for a greater Indian role in the Gulf's security architecture.
A word here about Pakistan, since much has been written about an Indian "coup" in the UAE. It is true that Pakistan has historically had a far greater security role in the Gulf than India. Pakistan army contingents, for example, have been stationed in the Gulf since the 1950s to provide protection to the regimes with encouragement from the U.S. and the U.K. It is also true that Pakistan has gravely underestimated the consequences of its refusal to participate in the Saudi Arabia-led campaign in Yemen, and in so doing, has provided India an opportunity to further constrain Pakistan's space in the Gulf.
However, as this article demonstrates, the instruments and contours of a framework for increased security and counterterrorism cooperation between India and the Gulf began gaining definition well before the now-complicated Pakistan-Gulf relationship. Pakistan's relevance to the continued maturation of India's security relationships in the Gulf is limited, except perhaps in the increased willingness of Gulf regimes to repatriate individuals accused being involved in acts of terror in India with state support from Pakistan. But such willingness on the part of the Gulf regimes could be attributable to the fact that Pakistan's own narrative on the terrorism points sponsors in India. But this willingness could be attributable to the fact that there is discomfort in the corridors of power in the Gulf over Pakistan's continued use of militancy to further its objectives against India.
For India, the positive trajectory of ties with the UAE and other Gulf states is welcome, but follow-up action and implementation of agreements is key to a broad-based and sustained relationship with the Gulf.