The Oracles of Malabar
Theyyam is a vibrant folk religion from Kerala, India.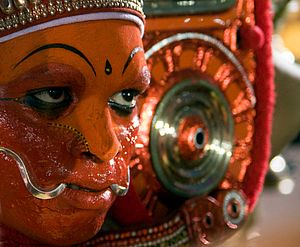 Theyyam is a corruption of the word "daivam," which means "god" in Malayalam, Kerala's state language. An incredibly vibrant tradition that has been in practice for the last 1500 years, Theyyam is a folk religion with deep roots in Malabar, the northern region of Kerala. In Theyyam, the practitioner, or oracle, enters a state of exalted trance in which he becomes the physical manifestation of a deity. He is believed to be possessed with divine powers to heal, foretell the future, and confer blessings on devotees. A Theyyam practitioner traditionally hails from select castes, who are among the most socially disadvantaged communities in Kerala, where caste divisions are still very strong. Yet during Theyyam, the oracle is worshipped as a living deity by all classes, even by the Brahmins, the community at the helm of the social system.
A visually rich cult with explosive colors in the face and body painting of the practitioner, Theyyam is also a religious art with dense layers of imagery and symbolism, one in which ancient chants are employed in conjunction with the ritual use of music, richly colored fabrics and dance to visualize and invoke the deity.