Uzbek Refugee Facing Terrorism Charges In the US
Fazliddin Kurbanov, arrested in 2013, is about halfway through his trial in Idaho.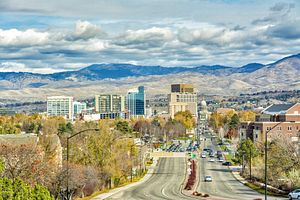 Fazliddin Kurbanov, a a 32-year old Uzbek refugee, moved to Idaho with his family in 2009. In 2013, he was arrested on federal terrorism charges filed in both Idaho and Utah. The indictment in Idaho included charges of conspiring to provide material support to a foreign terrorist organization and possession of an "unregistered destructive device." In Utah, Kurbanov was charged with distributing information relating to explosives. Kurbanov's trial was delayed several times but finally began in mid-July. The trial is expected to take six weeks and began on July 14.
According to the authorities, Kurbanov reached out to the Islamic Movement of Uzbekistan. The FBI says Kurbanov discussed bomb-making and attacking U.S. military bases or public transportation with what he thought was the IMU. When his apartment was raided in May 2013, authorities say they found materials that could have been made into an explosive device: a hollow hand grenade, a hobby fuse, aluminum powder, potassium nitrate, and sulfur. After his arrest, Kurbanov agreed to talk to FBI agents without an attorney present, signing a statement waiving his rights in both Uzbek and English. In January, the defense tried to have the interview tossed out, saying that Kurbanov did not understand his rights:
Defense attorney Charles Peterson wrote in a court filing that Kurbanov's cultural background led him to believe he had to comply with law enforcement.

"He did not understand the justice system and his only experience with the law involved questioning in Uzbekistan by authorities who required that he answer their questions," Peterson wrote.
Uzbekistan has been widely criticized by human rights organizations which say its justice system is rife with arbitrary arrests and torture. In April, Amnesty International released a report on forced confessions in Uzbekistan, saying that "rampant torture and other ill-treatment plays a 'central role' in the country's justice system."
Last week in Boise, Kurbanov testified in his own defense.
According to Katie Terhune, of KTVB, Kurbanov testified that he had no intention of carrying out any attacks in the United States. Instead, he said he lied to the IMU, writing that he wanted to pledge loyalty to the group in order to get the IMU to talk to him. According to Kurbanov, he wanted to talk to the IMU in order to find out if a childhood friend who had disappeared had joined the group. Terhune also reported that Kurbanov said he wanted to know the IMU's plans: "I wanted to find out if they are going to come back to Uzbekistan, or are they going to stay there?"
The IMU, despite its namesake, has in recent years been most active in Afghanistan and Pakistan. As Pakistan ramped up pressure in Waziristan late last year, the IMU shifted into Afghanistan's northern provinces. Although the group was founded in opposition to Uzbekistan's ruthless president, Islam Karimov, and advocates for an Islamic state in the Fergana Valley, its attentions in the past 15 years have been largely focused on Afghanistan and Pakistan.
Kurbanov and his parents converted to Christianity while in Uzbekistan, precipitating a move to Kazakhstan and then to the United States as refugees. After arriving in the U.S. Kurbanov bounced around—New York, Denver, Boise—in pursuit of work and eventually converted back to Islam.
Charles Peterson, the defense attorney, in questioning one of the FBI agents who interviewed Kurbanov asked whether visiting websites for terrorist organizations or uploading videos advocating jihad was illegal. The agent replied, "In itself, the answer would be no." Peterson, the AP reported, has argued that "Kurbanov was curious after a friend shared his fireworks-building hobby and that confidential informants for the FBI encouraged Kurbanov to view videos and other content on a terrorist organization's website."
Such a defense is not unfounded. Last summer, Human Rights Watch released a report critical of the U.S. government's handling of terrorism cases. Although the report focuses on American Muslims, the conclusions may extend to Kurbanov as well insofar as they refer to the role that informants play in encouraging behavior that later forms the core of a terrorism case. The report examined 27 cases of American Muslims arrested, tried and convicted on terrorism charges. HRW says that "in some cases the Federal Bureau of Investigation may have created terrorists out of law-abiding individuals by conducting sting operations that facilitated or invented the target's willingness to act."
Kurbanov's trial is ongoing. If convicted in Idaho of all three charges, he faces a maximum of 40 years in prison. Regardless of the verdict, he will be transferred to Utah to face trial there on a separate charge that carries a maximum sentence of 20 years.