Why You Should Listen to What Japan's Emperor Says on August 15
What we will hear from Emperor Akihito on August 15 will be equally—if not more—important than the Abe Statement.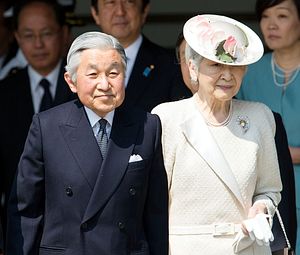 On the eve of August 14, the eyes of the world are on what Prime Minister Shinzo Abe will (and will not) say in the statement he is expected to issue to commemorate the 70th anniversary of the end of World War II. However, what we will hear from Japanese Emperor Akihito on August 15 will be equally—if not more—important.
As the Washington Post reported on August 11, Emperor Akihito has used various opportunities to reaffirm his personal commitment to Japan's national identity as a peace-loving nation, as well as his creed that Japan should not forgot its prewar history of aggression. The Post article refers to Emperor's  New Year's statement on January 1 this year, in which he stated, "It is most important for us to take this opportunity to study and learn from the history of this war, starting with the Manchurian Incident of 1931, as we consider the future direction of our country."
In June, at the banquet to welcome visiting Filipino President Benigno Aquino III to Japan, Emperor Akihito, referring to the battle that took place on Philippine soil during World War II, went further to say that such a history is something that "we Japanese must long remember with a profound sense of remorse. In particular, in this year of the 70th anniversary of the end of World War II, I offer my deepest condolences to all those who lost their lives then."
Most recently, on August 1, the Imperial Household Agency released the original recording of the radio address by Emperor Hirohito on the day of the surrender—something that would not have been possible without Emperor Akihito's approval.
Emperor Akihito took over the throne when his father, Emperor Hirohito, passed away in 1989. Emperor Hirohito went through the experience of his position being transformed from that of the ruler of a nation to the symbol of the nation. The life of Emperor Akihito, who grew up as Japan rebuilt, runs parallel with the postwar history of Japan transforming from an imperial state with colonial ambition to a war-defeated country that reconstructed itself by putting a priority on economic development and forgoing military might.
Given this personal history, Emperor Akihito long demonstrated his determination to make sure that Japan as a nation continues to remember its wartime history. It is widely known that Emperor Akihito and Empress Michiko identified "four dates that should not be forgotten":  June 23 (the Battle of Okinawa), August 6 (the atomic bombing of Hiroshima), August 9 (the atomic bombing of Nagasaki), and August 15 (the end of the war). He also continues the practices of his father Hirohito, who stopped visiting Yasukuni Shrine—a controversial Shinto shrine—after it enshrined Class A War criminals. In recent years, Emperor Akihito has been particularly eager to visit the islands in South Pacific where the Imperial Japanese Army engaged in a fierce battle with the United States.
Emperor Akihito is now 81 years old.  Some wonder whether he will have passed the throne on to his son, Crown Prince Naruhito, when Japan commemorates its 80th anniversary of the war's end. Crown Prince Naruhito, born in 1960, only knows Japan as a modern, developed country. This makes the statement that Emperor Akihito will make in two days, as the last Japanese emperor who knows the war, all the more significant.