Abbott Resigns: Australia Changes Course to Liberalism
With the ousting of Tony Abbott humane republicanism replaces conservative monarchism down under.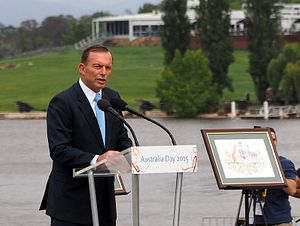 With the victory of Malcolm Turnbull in a leadership ballot within the Australian Liberal Party on September 14 to eject Prime Minister Tony Abbott from his job, Australia can turn a new page toward liberal values in government. Abbott was a divisive prime minister, whose political values owed more to a hard-line and brutish Catholic conservatism than any sophisticated understanding of social and political reality either in the world or his own country. Under Abbott, the country had lost its moral compass. This was made all the more visible by the emergence of a more liberal-minded Pope Francis in the Vatican. He and Abbott parted company on key issues including the moral responsibility to recognize climate change and respond appropriately.
Abbott inherited some of the ugliness of his public policy from a vacuous and amoral Labor Party leadership before him, not the least a policy of mandatory detention of refugees, including children, under inhumane conditions. This policy has been heavily criticized inside Australia and beyond by human rights advocates. To his credit, the Abbott government had moved to get most of the children out of detention. But the intemperate and intolerant streak in the Abbott government ran deep in his own psyche and can be seen in continuing abusive policies by the Australian government toward interned refugees. His focus on old-fashioned education policies and culture wars was deeply demoralizing to many Australians. A good number of them had been refugees themselves and therefore simply did not buy into his ideological bile on some of those issues.
There will be few immediate changes to foreign policy, but where that touches on humanitarian and human rights issues, we can expect to see a gradual shift to a softer line. This may take some time to emerge, and will necessitate a replacement both of the minister responsible for immigration and some of his senior officials. The establishment of Australia's new Border Force on 1 July this year will probably be revisited since it contains a number of very unappealing features, such as new paramilitary status that includes command and control of Australian navy assets in frontier waters and the elevation of the force's commander to the same status of Chief of the Australian Defence Force. The Border Force's policy of secrecy toward its actions is not widely accepted in the country.
While the most notorious recent difference between Abbott and Turnbull on human rights issues was over marriage equality, the divisions were comprehensive. The two men simply represented two sharply divided factions of the Liberal Party. That factionalism is not as well managed as it is in the Opposition Labor Party and it will continue to stymie the effectiveness of any Liberal Party government. One reason for this is that the party governs in coalition with the rural-based and highly conservative National Party, some members of which have made no secret of their dislike of Turnbull.
Where Australian foreign policy touches on innovation policy and competitiveness around the information economy, we can expect to see change more quickly. Turnbull emphasized the importance of this in his first public remarks after winning the leadership ballot.
The biggest single division between Abbott and Turnbull may have been on whether Australia should become a republic by breaking all constitutional ties with the monarchy in the United Kingdom. Turnbull has been a leader of the Australian Republican Movement and vocally campaigned for this cause in the run-up to a previous referendum on the topic. Turnbull is unlikely to support a new referendum before the next election due in a year's time, but in the next year he is likely to foreshadow a national vote on that in the next term of government.
Tony Abbott cast himself as a national security prime minister, taking every opportunity to use that as an excuse for hardline policies. Turnbull will pay far less attention to the military aspects of national security than Abbott by emphasizing the economic and social foundations of national security in a globalized digital world. Australia can once again become a beacon of sensible policy for cooperative international security.
Australia's foreign minister, Julie Bishop, who was Deputy Leader of the Liberal Party under Abbott, also participated in a ballot for her job and was returned. She is likely to stay foreign minister since she is highly regarded in the government and the country for her performance. She has been a strong supporter of Turnbull. Broad continuity is therefore likely in Australian foreign and security policy.
Greg Austin is a Visiting Professor at the Canberra campus of the University of New South Wales.