Does Thailand Really Want to Join the TPP?
Bangkok is uttering maybes. But it is unclear if it can get to yes.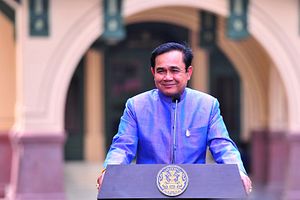 On Monday, The Bangkok Post reported that Thailand's deputy prime minister Somkid Jatusripitak had said his country would be interested in joining the U.S.-led Trans-Pacific Partnership (TPP).
"We are very interested but we must weigh the advantages and disadvantages carefully," Somkid said of the mammoth free trade pact whose 12 current members comprise around 40 percent of the global economy. Expressing interest, Somkid added, would put Thailand "on their radar screen."
In the broadest sense, Somkid's cautious optimism is nothing new. U.S. officials have long held the belief that Thailand, in addition to other countries like the Philippines, would probably be one of the countries that will eventually sign on to the TPP, joining their four existing ASEAN partners Brunei, Malaysia, Singapore and Vietnam (See: "Confirmed: Philippines Wants to Join the TPP"). Since the TPP is a 'living agreement,' additional countries would be able to join even once the current 12 members finish negotiations – which is fair from a certainty (See: "Finishing the TPP: It's Not Just About the US Congress").
What remain unclear are the specifics such as roughly when Thailand might join or how it might overcome domestic challenges to doing so. Under the former government led by Prime Minister Yingluck Shinawatra, Thailand had expressed its unequivocal intention to enter the TPP back in 2012. "Thailand will initiate negotiations on the Trans-Pacific Partnership…and undertake the necessary domestic legislative process to make it become a reality," Yingluck had said at a joint press conference with U.S President Barack Obama in Bangkok.
But the new government, led by the military junta who overthrew Yingluck last May, has been quite coy. In mid-August, Deputy Commerce Minister Apiradi Tantraporn suggested that while Thailand could eventually join the TPP, it should focus on the ongoing Regional Comprehensive Economic Partnership (RCEP) negotiations while the TPP negotiations are finalized. Apiradi also added that as of now, while the TPP would benefit Thailand in some ways, pharmaceutical patents and biodiversity remain major issues for the country.
Earlier last month, Prime Minister Prayuth Chan-o-cha said following a meeting with a visiting U.S.-ASEAN Business Council delegation in Bangkok that he had to be careful publicly commenting about "such a critical agreement that could make or break Thailand."
"All parties must be consulted, especially the Ministry of Public Health," Prayuth said warily.
Beyond these concerns, it is also unclear how Thailand's position may evolve over time since Thai politics itself is in flux. For now, Prayuth's interim government is still holding on firmly to power and elections likely to be postponed into 2017 with the recent rejection of a draft constitution (See: "Thailand's Junta Reshuffles its Cabinet Amid Uncertainty").
Some experts have stressed that Thailand would still benefit immensely in an overall sense in spite of these sector-specific challenges. One 2012 study by the East-West Center and the Peterson Institute for International Economics estimated that Thailand would have the second-largest percentage gains among potential members with a TPP agreement, with incomes rising by 7.6 percent – second only to Vietnam. And beyond these statistics, Thai policymakers do seem to recognize the cost of Thailand being left out of an agreement that other regional economies either already are or eventually will be part of.
But so far, the lack of specifics makes it difficult to say whether Thailand will eventually sign on to the TPP. Thai officials, including Somkid, have not shied away from uttering lukewarm maybes. What remains unclear, though, is whether they can do what is necessary to get to yes.