For Peace, Pakistan Needs to Get Over Its Denial
Pakistan's history of denial complicates the prospects of peace between it and India.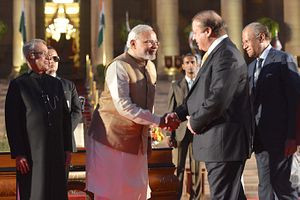 The cancellation of the August 23-24 meeting of the national security advisors (NSAs) of India and Pakistan is one more indication of the inability of the two countries to talk constructively. This time, Pakistan canceled the talks, stating that the Modi government's preconditions — not inviting the separatist Hurriyat and following the terrorism-only agenda as agreed to at Ufa — was unacceptable.
The NSA meeting would have been an attempt to resume the composite bilateral dialogue, but every time such a decision is made at the prime ministerial level, the process falls apart due to unrealistic expectations on both sides. This is compounded by Pakistan's denial of its support of terrorist activities in India.
This pattern — of hope and then a block — was evident also in the efforts made by former prime ministers Atal Bihari Vajpayee after Kargil in 1999, and by Manmohan Singh after the 2008 Mumbai attacks.
But renewed expectations emerged in May 2014, when India's newly-elected prime minister, Narendra Modi, managed a diplomatic coup by inviting the heads of governments of India's South Asian neighbors to his swearing-in ceremony. Pakistan's Prime Minister Nawaz Sharif attended, after which a meeting of their respective foreign secretaries was announced.
But India called off the August 2014 meeting of foreign secretaries after Pakistan invited the Hurriyat for talks ahead of the bilateral meet. Pakistan knows that the Modi government does not accept any legitimacy accruing to the Hurriyat, as it would call into question the democratically-elected government in Jammu and Kashmir (J&K), of which the Bharatiya Janata Party (BJP) is a coalition partner.
In the following months, the Modi government reached out to Pakistan again. Indian foreign secretary S. Jaishankar visited Pakistan in March 2015 in the course of his trip to all SAARC countries. Modi and Sharif had friendly telephone conversations on various occasions, including during the cricket World Cup in February and on the occasion of Eid in June.
But expectations of bilateral talks remained muted until the Shanghai Cooperation Organization meeting in Ufa, Russia, in July 2015. There, Modi and Sharif announced a sequential resumption of talks, agreeing for "a meeting in New Delhi between the two national security advisors to discuss all issues connected to terrorism." That would be followed by early meetings of the directors general of the Border Security Force and the Pakistan Rangers, and then of the directors general of military operations.
But, once again, these intentions got waylaid when Pakistan invited the Hurriyat for a reception on the evening of August 23. Pakistan thus deliberately crossed the red line drawn earlier by this Modi government, ensuring that the proposed NSA talks were canceled.
Perhaps India could have handled the process better, but it is Pakistan's behavior that must be closely examined. After initially agreeing at Ufa to talks focused narrowly on terrorism, it was Pakistan that went on to ensure that the dialogue process could not resume.
While analysts are apportioning blame, it is worth understanding why efforts to improve bilateral relations are so hurdle-prone. One explanation is Pakistan's history of denial—starting with organizing an invasion of Jammu and Kashmir by tribal militias, in violation of the Standstill Agreement on October 22, 1947.  Even now, Pakistan does not acknowledge this massive incursion orchestrated by its army, which resulted in mass killings in J&K and eventually led to the first India-Pakistan war. Another denial came in 1999, when Pakistan's prime minister actually claimed he did not know that the country's army had invaded India. Nawaz Sharif said: "Musharraf [then army chief] attacked Kargil and I had no information about this military operation."
Pakistan also continues to deny that terrorists captured by India during violent attacks are Pakistani citizens. The most egregious example is Ajmal Kasab, who was captured during the November 2008 Mumbai attacks, followed recently by Mohammad Naved, the militant captured alive after a terrorist attack in Udhampur on August 5, 2015.
Given this record of denial, what could have been achieved even if the India-Pakistan NSA level talks had been held? Instead of building up unrealistic expectations around such talks, perhaps both countries should now abjure high-profile diplomacy. Instead, they can undertake small confidence-building measures in specific areas of commercial, consular and civil society interest, to incrementally address long-standing differences.
Neelam Deo is Co-founder and Director, Gateway House: Indian Council on Global Relations; She has been the Indian Ambassador to Denmark and Ivory Coast; and former Consul General in New York. 
This article was originally published at Gateway House: Indian Council on Global Relations, a foreign policy think tank in Mumbai, India, established to engage India's leading corporations and individuals in debate and scholarship on India's foreign policy and the nation's role in global affairs.