How Will China and the US Address the North Korean Puzzle?
With Xi Jinping in the United States this week, North Korea should figure high on the agenda.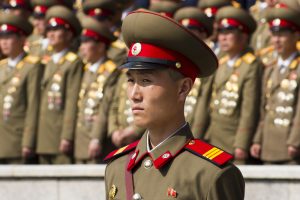 The media is paying close attention to Chinese President Xi Jinping's trip to the United States, with a particular focus on an array of hot-button issues: the South China Sea, cybersecurity, the U.S.-China bilateral investment treaty negotiations, and the devaluation of China's currency. Analysts say that a breakthrough on any of those topics could help defuse the tensions that developed in the relationship over the past few months. In that case, developing a "new type major country relationship" would be much more possible.
But in my view, an even more difficult period is awaiting Xi and U.S. President Barack Obama after Xi's visit. That's due to one factor that's been largely overlooked in media discussions of Xi's visit: North Korea.
On October 10, North Korea will celebrate the 70th anniversary of the founding of the Korean Workers' Party (KWP). North Korea has already raised the possibility of launching a satellite (in truth, a long-range rocket) at that time, and has not ruled out conducting its fourth nuclear test. So as Xi visits the United States, the U.S. and China will undoubtedly share their views on the new round of tensions on the Korean Peninsula.
This is an important topic where Xi and Obama can forge a consensus. The U.S. and China will continue to jointly pressure North Korea, to prevent an extreme situation from arising on the peninsula. But China's position will remain tactful, though its meaning will be clear: North Korea should not undertake provocations, and the rest of the world shouldn't irritate North Korea.
Recent Moves in China-North Korea Relations
Looking back at the recent state of China-North Korea relations, we've already seen a gradual move toward normalization after a rough patch. Kim Jong-un's confidante, Choe Ryong-hae, came to Beijing to attend China's military parade on September 3, held to celebrate the 70th anniversary of the end of World War II. It was the first high-level exchange between Chinese and North Korean officials in two years.
China does not want to see a satellite launch or a nuclear test, which would disrupt the current positive trend in relations. And North Korea itself actually does value its relationship with China, though South Korean media outlets sometimes suggest otherwise.
As one example, North Korea sent Jin Yong-nam, the head of its Supreme People's Assembly and nominal head of state, to attend Russia's military parade on May 9, a purely ceremonial gesture. For China's parade, North Korea was represented by Choe, part of the inner circle of Pyongyang elites – a sign that, when it comes to China-North Korea relations, leader Kim Jong-un values substance over style.
Some media analyses emphasized that Choe was seated far away from the center, while South Korean President Park Geun-hye sat near Xi himself. This was interpreted as a sign that Beijing is tilting toward Seoul and away from Pyongyang. But in truth this was a question of protocol. Choe's official title is secretary of the Korean Worker's Party; he does not hold an official government position. With so many heads of state and prime ministers in China for the parade, Choe was naturally seated behind the higher-ranking officials from other countries.
This sort of arrangement exactly captures China's hope that its relationship with North Korea can maintain its traditional closeness while not taking on the characteristics of a "blood oath." We can't rule out the possibility that Choe also conducted private talks with high-ranking Chinese Communist Party officials, where both sides would have frankly discussed sensitive issues.
Making China-North Korea relations more stable fits with Xi's diplomatic priorities, and will also help China give the flagging economy of its northeastern region a much-needed boost. Analysts have suggested that, due to the traditional friendship between China and North Korea, and the importance of keeping high-level channels open, China will likely send a high-ranking delegation to Pyongyang to attend the 70th anniversary celebrations for the KWP.
But if North Korea uses the 70th anniversary celebrations to launch a satellite, it would put China in an awkward position. If China expresses condemnation and opposition, the criticism would be at odds with the CCP's participation in North Korea's celebrations. The China-North Korea relationship, only recently recovering from tensions, could again freeze over. But if China took a low-key approach to a North Korean launch, South Korea, the United States, and the international community would put pressure on China. This would damage China's image as a responsible major power.
The North Korean Issue and Xi's U.S. Trip

In that regard, Xi's visit to the U.S. is a good opportunity to once again explain China's North Korea policy, in order to avoid an international misunderstanding. It's also a major opportunity for China and the United States to truly investigate how to fundamentally solve the Korean nuclear problem.
Xi must make it clear to Obama that the Korean nuclear issue isn't China's issue, but an issue for the entire Asia-Pacific region. Xi should also frankly ask Obama what the United States can do besides applying pressure.
As Obama enters the last two years of his presidency, he has successfully restored normal diplomatic relations with former enemy Cuba and opened the door for a peaceful solution to the Iran nuclear question. North Korea, along with Cuba and Iran, was one of the three countries where U.S. diplomacy was in need of a real breakthrough. Whether Obama is interested in making that final breakthrough or not is a matter of political will. If he is willing, he cannot do it without China's help.