India, China to Hold Military Exercise Despite Border Skirmish
Beijing and New Delhi will hold the fifth iteration of their 'Hand-in-Hand' exercises.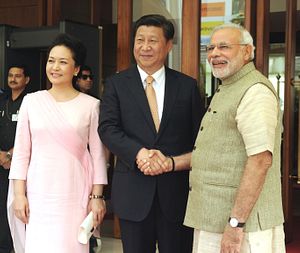 India and China are set to hold a round of bilateral exercises next month in spite of border tensions over the past few weeks, officials confirmed last week.
According to Indian defense sources, the two militaries will hold the fifth edition of their "Hand in Hand" exercises in Kunming, Yunnan province for two weeks from October 11.
The exercise, which is meant to alternate between India and China, is part of a series of confidence-building measures that the two Asian giants have put in place to manage tensions between them, including on border issues.
As I have noted previously, border disputes between Beijing and New Delhi largely center around two separate pieces of territory: Aksai Chin and what India terms Arunachal Pradesh (or, for China, Southern Tibet), the latter being the site of the Sino-Indian war in 1962. But ambiguity still remains on other matters, including Sikkim, and other irritants tend to be dragged in as well like India's harboring of the Dalai Lama and China's alleged "string of pearls" strategy allegedly designed to strangle New Delhi.
The first iteration of the Hand in Hand exercises was held in Kunming in December 2007, followed by a second in India in December 2008. But there was a gap of five years before the third took place in 2013 in Chengdu, owing to heightened border tensions between the two sides. Last year's exercise was held in Pune, India.
For this year's exercise, which will reportedly be held from October 11 to 23, India will send soldiers from its famed Naga regiment to join those from the People's Liberation Army (PLA). All in all, 144 troops from both sides would take part according to Indian media reports.
The exercises will come a few weeks after a four-day standoff between the two sides along the 4,057 km-long Line of Actual Control (LoAC). India claimed that Chinese forces had intruded about 1.5 km into territory on September 11 and erected a watchtower equipped with surveillance cameras. The watchtower was subsequently removed by India. Both sides held meetings along the LoAC, and the situation was ultimately resolved without further incident.
On Thursday, China's Defense Ministry spokesman Wu Qian asked the Indian Army not to take any "unilateral actions" that might undermine the stability of the border areas.
"The recent actions by the Indian Army in the relevant area was not consistent with the relevant agreement and spirit of the consensus of the two sides," Wu said.
Wu's comments were China's most direct on the incident since it began. Previously, the Chinese Foreign Ministry had downplayed the notion of a "face-off" between the two sides along the border.