Indonesia Weapons Firm Inks New Defense Deal with UAE
Agreement with state-owned arms manufacturer PT Pindad unveiled during Jokowi's trip.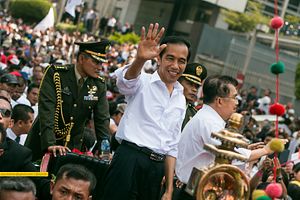 Earlier this week, Indonesia's state-owned arms manufacturer PT Pindad inked a new deal establishing defense cooperation with the United Arab Emirates on the sidelines of President Joko "Jokowi" Widodo's visit to Abu Dhabi.
The deal would see PT Pindad offering to transfer technologies to UAE defense logistics and support company Continental Aviation Services (CAS), with the goal of enabling the localized manufacture and marketing of Indonesian products. These include the SS2 assault rifle as well as a range of other ammunition products.
It would also see CAS collaborating with Rheinmentall Defense Canada to transfer technologies to PT Pindad to allow the company to manufacture remote weapons systems with its own brand for the defense needs of Indonesia as well as other Southeast Asian markets.
"We appreciate the support of the government and all relevant agencies for encouraging defense industry cooperation between Pindad and its strategic partners from the UAE," PT Pindad's director Silmy Karim was quoted as saying by state-owned Antara News on Monday.
Also discussed were opportunities for Indonesia to export up to 100 units of the X18 Fire Support Vessel – which has been dubbed the Tank Boat – to the UAE. The vessel is being developed by Indonesian firm PT Lundin along with the Belgian firm CMI Defense which developed the boat's 105mm cannon.
Antara News quoted Liza Lundin, director of PT Lundin, as saying that this would constitute "a large defense industry export" from Indonesia to the UAE.
More generally, it would also be a boost to President Jokowi's efforts to boost Indonesia's local defense industry capabilities. As I have written previously, Jokowi has placed an emphasis on producing defense products locally as well as cementing ties with foreign manufacturers to facilitate the transfer of know-how and potential exports (See: "An Indonesian Defense Revolution Under Jokowi?"). State-owned firms such as PT Pindad, along with PT PAL and PT Dirgantara, are central to the realization of this objective.