Meet the Architect of China's Economic Policies
What you need to know about Liu He, Xi Jinping's top economic advisor.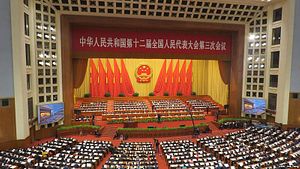 During her visit to Beijing in late August, U.S. National Security Advisor Susan Rice met with Liu He, the chief of the General Office of the Leading Small Group for Financial and Economic Affairs of the Chinese Communist Party. That begs the question: who is Liu He and why did Rice meet with him?
A native of Beijing, Liu has been called a childhood friend of President Xi Jinping because they both allegedly attended the same middle school in Beijing. This is mistaken: Xi went to the August First School (and then briefly to No. 25 Middle School), and Liu He went to No. 101 Middle School in Beijing.
Liu and Xi both had experiences as "sent-down youths," but not in the same place. Liu went to Jilin for physical labor in the countryside in 1969 while Xi went to Shaanxi in the same year. Liu joined the People's Liberation Army one year later, and Xi came back to Qinghua University in 1975. After his demobilization in 1973, Liu worked in a factory in Beijing for four years before being admitted to the People's University of China in 1978 through competitive national college entrance exams. He obtained bachelor's and master's degrees in economics there. He later went to Harvard University and obtained a MPA from the John F. Kennedy School of Government in 1994.
During his tenure at the State Planning Commission from 1988 to 1998, Liu was involved in making 11 industrial policies. He also participated in the production of four Five-Year Plans (the eighth, ninth, 10th, and 12th Five-Year Plans) and has been one of the major drafters of Party plenum documents since 2003. He was appointed deputy chief of the General Office of the Leading Small Group on Financial and Economic Affairs in March 2003 and was installed as its chief 10 years later.
It is likely that Xi did not know Liu until 2007, when Xi began to work full-time in Beijing as a standing member of the Politburo. But Liu became important to Xi only after Xi took over as the head of the Leading Small Group on Financial and Economic Affairs of the CCP. During his meeting with Tom Donilon, then the U.S. national security advisor, in May 2013, Xi reportedly pointed to a tall, scholarly looking aide by his side and said, "This is Liu He. He is very important to me."
Liu is "very important" because he is considered the general architect of Xi's economic policies. He is the inventor of the term "dingceng sheji" ("top-level design"), a phrase first used in the 12th Five-Year Plan published in March 2011 to indicate the necessities of making good plans for the coordination of economic, social, and political reforms. He also introduced another popular term, "dixian siwei" ("bottom-line thinking"), which is also Xi's favorite. Liu reportedly contributed more than 60 suggestions on economic reforms to the Third Plenum document on comprehensive reforms.
According to the old rules, Liu would have to retire in 2017 when he reaches the age of 65. But under Xi's leadership, Liu not only will not have to retire but also is likely to become one of the decision-makers in the 25-member Politburo.