Myanmar: Shan Villagers and the Salween Dam Fight
Development is sparking rising tensions in southeastern Myanmar.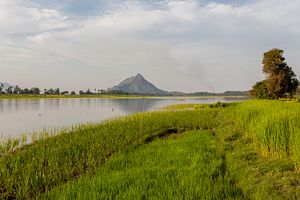 The increasing army presence to defend the construction of a controversial Salween river dam in southeastern Myanmar's Shan state has sparked heightened concerns among rural villagers, who are determined to fight the development that threatens their livelihoods.
"The Burma army tanks are even moving there, but we are not afraid because we have nothing to lose. If the dam goes on, our farms will be underwater and we will lose everything," said Khur Hseng, a Shan member of the Shan Sapawa Environmental Organisation, a civil society group that banded together in 2012 to defend the local environment and land rights.
In recent months, scores of government soldiers have flooded into the area surrounding the Mon Ton dam in southern Shan sate, and thirty-nine armed battalions – a fourfold increase in troops in the past twenty years – now guard the massive 241-meter high concrete structure which will dominate more than 32 kilometers of the Salween river, according to the Shan community-based organizations (CBOs). Local opposition is strong, but the Mon Ton dam (also called Tasan dam) project is forging ahead based on agreements signed in 2007 and approved by Parliament in February 2013 by the Chinese Three Gorge's Corporation, the Electricity Generating Authority of Thailand (EGAT), and the Burmese Ministry of Electric Power.
Locals feel that they have nothing to gain and everything to lose from the dam – which will produce roughly 7,100 megawatts of electricity and export 90 percent of it to Thailand and China. Public fury over not being consulted prior to launching developments is also stirring.
"The Salween basin is politically and geographically marginalized. In the basin it is ethnic minority people so they have not been included in the decision-making," said Pianporn Deetes, the Thailand Campaign Coordinator for International Rivers.
There are six dams planned for the Salween, crossing through the villages of upwards of 50,000 people who stand to lose their homes if the projects go ahead, and who have petitioned against the dams, according to International Rivers. Though the Australian consulting company hired by the Myanmar government, the Snowy Mountain Engineering Company (SMEC), say that it is trying to carry out social and environmental impact studies, as construction has already started with tens of kilometers of the river already off-limits to local villagers, people feel it is not real consultation.
"Contrary to media reports, SMEC has tried to engage with local civil society organizations on numerous occasions, with limited success," said Geraldine Quinlan, the General Manager of Corporate Services at SMEC based in Melbourne.
SMEC has encountered near uniform protest by the residents of villages, many of whom have even boycotted meetings as a sign of opposition. In the past six months, hundreds of villagers from at least ten towns in Taunggyi, Mon Ton, Kung Hing, Mon Paeng, and Mong Pu Long have either blocked or protested at consultations, wearing anti-dam t-shirts to proposed meetings and handing out posters to the company explaining why the dam project should not go ahead.
"It is apparent that SMEC's assessment is simply a sham, aimed to rubber stamp the Mong Ton dam plans rather than objectively assess the project's actual impacts," said Shan CBOs in a statement at a press conference in Bangkok last month.
Human rights advocates say that, given the history of forced relocations, conflict and abuse between ethnic populations by the former military government, investors should not sign agreements for major infrastructure projects with the government before speaking with the ethnic populations living on the designated sites.
"What we always condemn is that before approaching the people, investors approach the government. Before they should engage with the people first. At least then they know what the people think and whether they should continue the project or not," said Rual Lian Thang, the Natural Resource Governance program coordinator for the Heinrich Boell Foundation, an international think tank for policy reform headquartered in Berlin.
"They did not even inform or try to work with local leaders," said Hseng, referring to the government's lack of transparency surrounding the start of construction for the Mon Ton dam, which will have a 641km reservoir spanning along two-thirds of Shan state.
Many villages and culturally significant sites will be submerged in water, including the 120-household strong Sawng Lak on the eastern bank of the Salween and a 700-year old pagoda, Ho Leung temple, in Mon Paeng township in the Wa Special Administrative region.
Communities also fear that they will not be adequately compensated for the loss of land, communities, and river water. While the government has promised compensation, based on past examples – such as the relocations for Myitsone Dam on the Irrawaddy river in Kachin state – left displaced villagers with such a small plot of land they could no longer farm as a means of survival, according to Boell Foundation's Tsang.
Active and ongoing conflict between ethnic minority rebel armies and the government military – which have forced 300,000 people to relocate in the past two decades – make it impossible for any development projects to proceed in a sustainable and responsible way, say social and environmental experts.
In July, SMEC attempted to visit villages in Wa region, along the Salween river's eastern bank bordering the Chinese border, but the United State Wa Army (USWA) blocked their visit due to instability and growing tensions, which erupted in fighting near Mon Ton dam in early June, according to a recent press release by the Shan State Action Network.
Though conflict has prevented extensive environmental studies from being carried out, a 2008 report by the Karen Environmental Social Action Network (KESAN) documented  at least 42 rare, indigenous species of plants and animals at risk of becoming endangered by hydropower.
But with decisions over the fate of Shan villagers and their biodiverse river being made behind closed doors thousands of kilometers away in Naypyidaw, Bangkok and Beijing, analysts say the fight ahead will be long. But villagers are prepared.
"This is our land, our river. They need to get out from here, because we do not accept or agree," said Hseng.
Dana MacLean is a journalist covering Southeast Asia.