Nepal's Lingering Anguish
Many Nepalese are struggling to cope in temporary shelters, at risk of abduction and trafficking.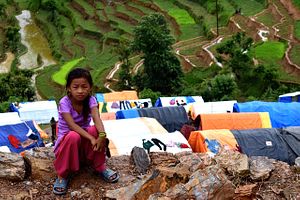 In a soggy alley between hundreds of grey tarpaulins and tents which make up Nepal's largest displaced people's camp in Kathmandu, 11-year-old Raj Kumav Acharya stopped and looked at his muddy shoes.
"You know my father, he died in the earthquake," he said in a small voice.
Raj had been kind enough to show me around the Chuchhepati camp of more than 7,100, introducing me to people like him, some who had lost nearly everything.
He did not linger on his point though, apparently not wanting to dwell on his own loss. "Let's go this way," he said, before dodging another puddle.
A few minutes earlier Raj had been showing me his own tent, a grey tarp stretched across a fence, which he said was not sufficient for keeping the elements at bay.
"This is where I live now, there is nothing on the floor here, so the water just comes all the way in. The other day  I saw a snake just there," he said pointing to the corner of the dirt floor.
It is a long way from his village home in the hilly Sindhupalchowk, the most severely damaged area of the country when the big quake, followed by a stream of aftershocks and landslides, rocked the area four months ago.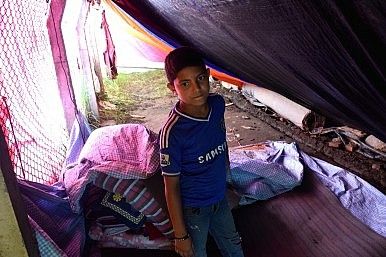 He and his mother took a bus for hours, believing the Kathmandu Valley would be safer.
They joined a mass migration at the time, which aid groups said caused concerns about vulnerable people, especially women and children, being susceptible to human trafficking.
Chairperson for the camp's committee Sandesh Rai said about 750 unaccompanied children had come through the camp since the April 25 quake.
"Every day there are more people coming, some by bus or some walking — we have so many types of people here," he said.
He said many of the children had been returned to family members, but some were still being cared for by aid workers or other families in the camp while others were unaccounted for.
Across town in a small office, Daya Sagar Shrestha, executive director of local aid-group collective the NGO Federation of Nepal, lamented that children like Raj needed more than just tents.
He spoke animatedly when describing the immediate response to the quake, how member groups of the federation – a collection of non-governmental organizations – and volunteers ran to take action and help their neighbors.
But towards the end of our conversation he drew quieter as he reflected on the enormity of the emotional toll on the Nepali people. While it was just as important to build homes, rebuilding the minds of traumatized people would take a lot more time and effort, he said.
"There is not only the destruction of physical assets but there is the destruction of societies, the psychological impacts and problems at the cultural level — which are very difficult to recover," he says.
"For instance, children who have lost their parents — how do they help those people?"
He said people like Raj who shifted from their home towns faced a raft of issues outside the physical, including loss of identity.
"People migrated from one place to another, where it is not favorable for them – it takes a long time to address these types of problems," he said.
"Human trafficking is one of the most challenging things in the affected areas … and some people are not getting services, even after four months, these are some problems at the local level."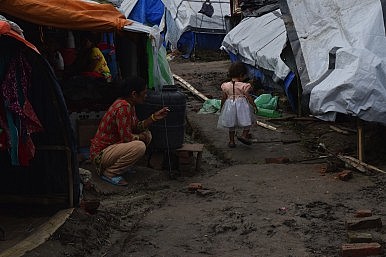 Recent UNICEF figures stated 513 children and women had been intercepted from being trafficked or illegally moved out of the country and nearly 30,000 children needed psychosocial support to help recover from their experiences.
Back at the camp, which is shoe-horned into a park in between bustling Kathmandu streets, it was a busy day when workers from UNICEF, Red Cross, and government agencies arrived for assessments and a local TV crew conducted interviews.
The workers hardly made it into the camp before a crowd formed around them with demands and complaints. An impromptu meeting began.
As though mimicking the grown-ups, Raj offered one of his own as he stretched out his football jersey.
"I want to play football, but we don't even have a ball here," he said.
Tent Villages
In the remote and hilly region of Dhading, displacement camps can be seen dotted around the green hillsides.
Bright and colorful tent villages are easily spotted from the provincial capital, Dhading Besi, where people came after their homes were destroyed or entire villages were swept away by landslides.
In one such temporary camp are about 200 people who traveled from the remote village of Rid, leaving because slips and destroyed homes made it too dangerous to stay there.
Children gathered around as a group of visitors arrived, keen to have their photo taken and show people their new homes.
Village committee members were also interested and said they have had little word on when rebuilding can begin, but it will most likely be in another few months, after monsoon rains cease.
Visiting the camp was U.K.-Based NGO Our Sansar, which has a bamboo-hut transit home in town for children displaced or affected by the quake.
Director Julia Krepska and project manager Ayush Dhakal were interested to see if any children are in need of help.
A teenage girl quietly approaches and asks if they can care for her sister. The girls' mother has died, and the older sister has been left in charge.
They couldn't just take her, Krepska explains. A government worker needs to make assessments and processes need to be followed before any child can be temporarily homed at the center.
"These children need homes, but they are at risk, some have lost homes and family, some have parents who cannot support them or are in need of psychological care themselves," Krepska said.
"There are people in a lot of desperate situations."
At the temporary home which was made from a local park, the children pushed each other in trolleys or asked staff members for one more game of badminton, seemingly resilient to the poor circumstances which led them to be there.
"We have had children as young as three who have been abandoned – many people just aren't coping," Krepska said.
"We are also helping parents of the children who stay at our transit home by providing training and assisting them with finding jobs so that they can rebuild their lives."
Down the road at the offices of anti-trafficking and health service Awaj Aviyan Nepal (Voice Campaign in English), Chairman Keshav Duwadi said the group and volunteers were effective shortly after the quake in providing temporary shelters and emergency care, using already established contacts in remote areas.
Now Duwadi said people were facing other issues such as trauma and risked manipulation by outsiders. In Nepal's worst affected, rural areas, lower incomes and education levels made people easy targets.
"Women and children are more vulnerable because of the quake. There are these middle-men who will convince people who have no earnings now that they can give them a good job – but these are false promises," he says.
In a country where 26 percent of the GDP already came from workers' overseas remittances, the lure of work for people who lost their livelihoods was only increasing.
Duwadi said people were offered jobs then had their money taken for services but were never given employment – or worse, they were trafficked to India for the sex trade, child labor, or illegal organ harvesting.
Back in Kathmandu, I sat down for a cup of tea with shop owner Rajendra Pandey, who tells me the anguish from the April 25 quake keeps him up some nights.
He said he was fortunate not to lose any family members but taking three months off to rebuild his demolished home and poor tourist numbers had created huge amounts of financial and personal stress.
"I try to be happy, you must move on, but sometimes I find I am crying," he said.
"Maybe one day I will forget."
Shrestha from the NGO Federation echoed the sentiment and said the construction of houses was one issue but "fixing people's hearts," would take much more time.
"If we have the money and materials and human resources we can build easily but the negative impacts in the social aspect in the psychological aspect it is very difficult – that is the reality. People are also facing those sorts of problems," he said.
"Still they are in miserable conditions … and people are suffering, even today."
Andrew Neal has worked in newspapers for six years and is currently based in China. He visited Nepal recently to report on the situation there.