Afghanistan: Fragile But Moving Forward
Despite persistent challenges, there are reasons for cautious optimism.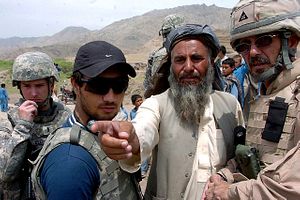 On August 22, Colonel (Retired) Richard McEvoy, a dedicated soldier and truly great American, was killed in an Improvised Explosive Device attack near the U.S Embassy in Kabul. My first squad leader in the Army and a fellow brigade commander at the 10th Mountain Division in Fort Drum, New York, Dick's death caused me to reflect closely on the prospects for Afghanistan. After more than two years serving in Afghanistan as a brigade commander and chief planning officer at ISAF Joint Command, I have continued to be positive regarding the future of the country, but this incident made me question my convictions.
The EastWest Institute has sponsored the Afghanistan Reconnected Program for the last three years. The premise of the program is that in order to capitalize on the successes and progress made in Afghanistan over the last 14 years, Central and South Asian countries must work together to improve regional economic prosperity.
Our regular events involving regional business, governmental and academic leaders have centered on the opportunities associated with Afghanistan's youthful and better-educated population, central location as a transportation hub, historic agriculture industry and potential mineral and energy sectors.
A high-ranking and dynamic group of private sector leaders and members of parliament from Afghanistan, Pakistan, India, Tajikistan, and other countries active in the region has identified concrete measures that can be taken to reduce border crossing procedures, improve the quality and timeliness of cross border commerce, capitalize on regional natural resource development, and streamline visa requirements, among other tangible actions that would serve to improve economic growth.
And while our team fully recognizes the challenges posed by historical mistrust, corruption, as well as an unstable security environment, it asserts that economic growth and regional stability are possible.
After successful trips to Islamabad and New Delhi, where the Afghanistan Reconnected team discussed the actions that could be taken with government and private officials including the president of Pakistan, and senior ministers in Islamabad, the EastWest Institute has been planning to carry these ideas and messages to senior leaders in Kabul.
However, Colonel (Retired) McEvoy's death has caused EWI to seriously consider our underlying assumptions and analysis. The increase in violence in Kabul combined with Taliban advances in Helmand and Kunduz over the summer serves as another indicator of a tenuous situation. Government concerns regarding the flight of wealthy and educated Afghans are beginning to impact the growth potential of the country as a whole. President Ashraf Ghani's unity government is only now filling all of its ministerial positions, which has slowed its internal anti-corruption reform and capacity building efforts. In addition, Ghani's initial overtures, which had been seen as very positive in Islamabad, are not having the desired impact on bilateral cooperation with Pakistan.
The negative reports and indicators are worrisome when taken at face value but with some trepidation, I decided to accept an invitation to speak at the Sixth Regional Economic Cooperation Conference on Afghanistan (RECCA), hosted by the Afghan Foreign Ministry.
My arrival into Kabul International Airport after a four year absence helped alleviate some of my concerns. The airport itself now supports numerous regional and international carriers, and after the opening of a new international terminal in 2008 it now allows travel to over 15 destinations, and has the capacity to host over 100 aircraft.
The roads, which had been either dirt or in dire need of repair, are now paved with newer cars filling the lanes. The once ubiquitous donkey carts are now mostly replaced by small trucks and new stores. The children were in school and the ministries functioning.
Most importantly, although the security situation has forced international organizations, Afghan government and private entities to retreat behind "Jersey Barrier" walls, commerce and trade continue to flow. Afghanistan has maintained steady economic relations in the region, increasing the country's trade value by 7.70 percent in 2014. Pakistan is the top trade partner, which, in 2014, benefitted from a strong cross-border trade worth over $1,500 million – up from $1,087 million in 2013 (39.4 percent).
My assessment after a week in Kabul is that despite the disturbing reports and security challenges on the ground, there is an opportunity to consolidate gains in Afghanistan and continue to grow regional economic capacity.
However, various challenges remain, particularly when it comes to securing the country. The Afghan National Security Force continues to have mixed performance reviews, as reflected by the Taliban's increased presence in the South and North combined with high-profile attacks in and around the capital and Kunduz.
Still, things are not looking as bleak and there are reasons for cautious optimism. Closer analysis of the Afghan National Security Forces indicates that although tending to become fixed to bases and therefore less effective in some areas, they have demonstrated success in offensive capability and independent coordination, and have dramatically improved their special operations capability. The police have been less successful in preventing attacks in the cities but have also proven to be competent and professional in their responses to emergencies. For example, the attack in Kabul in June, where one suicide bomber and six gunmen targeted the parliament building demonstrated police competence. After the suicide bomber detonated a car bomb outside of the compound, the six gunmen attempted to enter the parliament building where members of parliament were meeting with acting Defense Minister Masoon Stanikzai. Afghan security forces reacted quickly and managed to prevent the attackers from entering the building. Ghani personally congratulated one soldier in particular, Sergeant Esa Khan, who played a large role in the counter attack that killed all six gunmen. The Ministry of Interior Affairs has also been vocal in attributing the success of this incident to the effectiveness of police forces.
On top of this, the enemy they are fighting is more fragmented, between competing Taliban elements, ISIS, and tribal elements. This could lead to greater effectiveness as the summer fighting season closes in the coming months.
The NATO led coalition sacrificed thousands of lives and trillions of dollars in order to achieve ultimate stability in Afghanistan. The gains that have been made so far have not met the expectations of either the governments or the people. But the substantial progress that has been achieved cannot be ignored.
The improvements in education, governance, economic capacity, and security from 2001 are substantial. Basic education continues to slowly improve. With the help of the U.S. and other international donors, the Ministry of Education has been able to build more than 13,000 schools and train 186,000 teachers. These improvements are reflected in the increased enrollment of students in public universities which has grown from 7,800 in 2001 to 123,000 in 2013. Challenges with security and stability associated with the Coalition withdrawal are to be expected, but are not catastrophic. The Afghan government, with a respected leader at the helm, continues to make strides in fighting corruption and reaching out to regional neighbors to explore ways to improve economic and political cooperation.
The international community should continue to support the Unity Government, promote regional economic cooperation, assist and train Afghan security forces, and help the Afghan people maintain a positive attitude as they move toward a more stable environment with better prospects for economic security and regional stability.
To ignore Afghanistan now and pull away as we did in the 1990s in Afghanistan and in 2011 in Iraq is to surrender the security and economic gains and squander the sacrifices that have been made, thus insuring ultimate victory to factionalism and extremist voices.
Colonel James L. Creighton is chief operating officer of the EastWest Institute. He served as a commissioned officer in the U.S. Army for 30 years.