China Derailing Myanmar Peace Talks: Top Negotiator
Senior official says it is "time to stop whispering" about Beijing's meddling.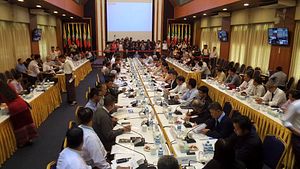 China has undermined Myanmar's peace talks with ethnic rebels by convincing groups not to ink a ceasefire pact and obstructing international monitoring to help end decades of civil war, a top Myanmar government negotiator has revealed.
As I reported earlier this week, officials had revealed that the Myanmar government would ink a nationwide ceasefire agreement (NCA) on October 15 with only eight of the country's fifteen ethnic armed groups it initially agreed to negotiate with (See: "Myanmar to Ink Peace Deal With Eight Armed Groups Ahead of Historic Election"). Observers had expressed concern that the pact had left out several key groups and would do little to help bring lasting peace.
But Min Zaw Oo, a senior official at the government-linked Myanmar Peace Center, told Reuters that this had occurred partly because China's special envoy to Myanmar had pressed two major rebel groups – the United Wa State Army (UWSA) and the Kachin Independence Organization (KIO) not to sign the peace accord.
Beijing also objected to clauses in the deal that would have included Western nations and Japan among international observers of the conclusion of the peace process, he added.
"China usually says they want stability. Of course they want stability but at the same time, they want to wield influence on the groups along the Chinese border," Min Zaw Oo said. He added that while he had stayed quiet on China's interference until now, "it was time to stop whispering."
China's interference in Myanmar in and of itself is nothing new. While Beijing views Naypyidaw as an important strategic and economic partner both bilaterally and regionally, the first and foremost concern is stability in its 2,200 kilometer border with Myanmar which is both frequently plagued by ethnic conflict, drug trafficking and disease and hosts the multi-billion dollar border trade critical to its southwestern Yunnan province as well as the two million estimated Chinese nationals in Myanmar.
Ensuring that stability has often meant interference in Myanmar's internal affairs This has particularly been the case over the past few years as border instability has spilled into Chinese territory and Beijing has felt its influence in Myanmar threatened by the growing involvement of new players – including the United States following the easing of sanctions. With respect ethnic groups, for instance, close observers know that China has been known to do things like lean on the KIO to decline certain overtures, supply weapons to the UWSA and try to keep out outside actors like Japan and other Western nations out of talks.
Min Zaw Oo's comments are nonetheless significant because they suggest growing frustration at the outcome of the talks such that Beijing's interference has been publicly and plainly stated.
China, for its part, has rejected the accusation.
"China has consistently supported all sides in Myanmar in resolving differences through peace talks in service of signing a national-scale ceasefire agreement at an early date," said Hong Lei, spokesman at China's Ministry of Foreign Affairs.