Kachin: Hardly a Ceasefire
The recent ceasefire has done little to bring peace to Kachin.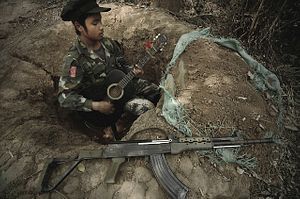 The United Nations recently "hailed" the signing of a ceasefire in Myanmar, describing it as "historic." However, fewer than half of the armed ethnic groups involved in the process actually signed the agreement and fighting continues as the oldest civil wars in the world continues to rage along the country's northern borders.
The Kachin Independence Army, one of the largest armed ethnic groups, refused to sign the treaty, in part due to the escalation of the conflict in KIA-controlled zones over the past two months.
Behind the front lines another cold winter is approaching and the internally displaced persons (IDP) camps have been overcrowded for years. Now children born into the camps are starting to ask questions about peace and if they'll ever see it. Young people want to get married and settle down, farmers want to see their orchards again, nobody sees an IDP camp as a long-term home, but for 150,000 Kachins, that's precisely what the camps have become. Today many in Kachin fear that the lack of a ceasefire could lead to increased fighting. As winter looms prospects for peace are bleak.
The following images have been taken over the past five years, since the outbreak of fighting.