Kyrgyz Defense Minister Sacked Over Corruption Charges
Another high-profile corruption case in Central Asia. Is it just for show?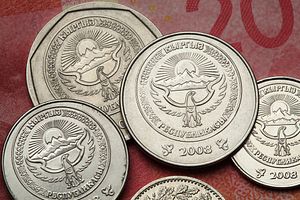 Monday, shortly after anti-corruption authorities in Kyrgyzstan announced they had opened a criminal investigation against Defense Minister Abibilla Kudaiberdiev–alleging that he misappropriated ministry funds for personal gain–the minister was relieved of his post.
According to the corruption control service and the military prosecutor's office, Kudaiberdiev and his associates embezzled 12 million soms ($175,000) from the defense ministry's budget last summer. As reported by 24.kg, the criminal case announced this week includes charges of abuse of power, forgery and embezzlement and targets Kudaiberdiev and several associates within the ministry as well as within the Asker-Kurulush state enterprise, to which the embezzled funds were funneled.
President Almazbek Atambayev then dismissed Kudaiberdiev from his post. As RFE/RL reported, it is not clear whether the former minister has been detained.
Kudaiberdiev told 24.kg that he is innocent of the charges. "I'm going to sue the Corruption Control Service of the State Committee for National Security and prove my innocence," he said. "The company's management is first and foremost to blame for misuse of funds."
This is the latest in a string of high-profile corruption cases in the country, all part of the president's anti-corruption campaign. In July, the head of Atambayev's office, Daniyar Narymbaev, and Hajimurat Korkmazov, an Ata-Jurt MP, were arrested for allegedly taking bribes from the family of Bishkek's former mayor, Nariman Tyuleev, himself under investigation for fraud.
"While the trials of senior officials like Narymbaev and Tyuleev are a positive step," Samuel Ramani write in The Diplomat, "the Kyrgyz government's self-described 'war on corruption' has been a bitter disappointment." Ramani attributes the "miserable failure of Kyrgyzstan's anti-corruption campaign" to "its inability to reverse longstanding public distrust for judicial institutions, and the campaign's focus on prosecuting individuals rather than reforming corrupt institutions."
Instead of pursuing institutional reforms, Ramani argues, Atambayev's anti-corruption campaign focuses more on tackling the perception of corruption. Transparency International ranked Kyrgyzstan as 136th out of 175 countries in its corruption perception index in 2014, less corrupt than Uzbekistan, Turkmenistan and Tajikistan, but more so than Kazakhstan.
The Kyrgyz public certainly wants something done about corruption, but institutional reforms are difficult–to say the least–and fail to sate public audiences in the same way the sacking and trial of former officials does. In an International Republican Institute survey in Kyrgyzstan earlier this year, 93 percent of respondents indicated that corruption was a big problem in the country and 73 percent said the government wasn't doing enough to fight it.