Malaysia Eyes New Regional Facility to Counter Islamic State
The country could host a regional center to counter IS messaging.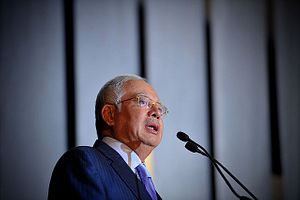 Last week, Malaysian prime minister Najib Razak announced that the Southeast Asian state may soon establish a regional center to counter messaging from the Islamic State (IS).
Najib told the Leaders' Summit on Countering ISIL and Violent Extremism at the United Nations on September 29 that Malaysia is eying the formation of a "regional, digital counter-messaging center" because Southeast Asia lacks such a facility. His remarks came after Malaysia became one of the newest members of the U.S.-led Global Coalition to Counter ISIL, joining Singapore as the only two ASEAN states in the grouping so far.
Specifics of the proposal still remain unclear. On October 2, U.S. Assistant Secretary of State for East Asian and Pacific Affairs Daniel Russel told reporters that the stationing of a messaging center in Malaysia was an idea "under active consideration." Russel later clarified that while Malaysia was a leading candidate to serve as host for such a regional hub, no final decision had been made.
Officials say the center would be similar to the one that the United States launched together with the United Arab Emirates (UAE) in July this year. The Sawab Center based in Abu Dhabi, U.S. Undersecretary of State for Public Diplomacy and Public Affairs Richard Stengel said following its launch, is designed to help both counter IS's social media strength and sophistication as well as to present a more positive alternative to the vision the group presents. That, Stengel said, would hopefully help stem the flow of new fighters joining IS.
The new center in Malaysia would aim to do something similar. Russel said that it would serve as a hub for active messaging coordinated among coalition partners to counter IS's distorted narrative with a more moderate vision.
"[W]hat it offers I think is a hub for the regions in which likeminded countries… can ensure that via traditional and social media means, a moderate and more credible set of messages is delivered to the broad public that counter the distorted messaging being broadcast by ISIL," Russel said.
For Malaysia, taking such a leadership role is consistent with Najib's idea of a Global Movement of Moderates, an approach that emphasizes moderation to realize world peace and harmony which he called for in an earlier UN speech. This year, promoting moderation in the face of extremism from groups like IS was the main theme of Najib's remarks to the United Nations General Assembly.
It is also one part of a broader strategy Malaysia is taking against the Islamic State amid its rising threat. As Najib noted in his UN speech, Malaysia has arrested over 100 of its own citizens suspected of links to IS, including civil servants and security personnel who were involved in deadly plots foiled by law enforcement.
In response, the country has taken a series of measures including passing tougher laws and strengthening intelligence sharing with neighboring states. In addition, as Najib pointed out, an international group of Sunni and Shia scholars representing a cross-section of the global Muslim community was convened in Kuala Lumpur to define what actually constitutes an Islamic State in a bid to counter IS's narrative.
Back home, Malaysian officials have expressed enthusiasm for the proposal of a new center. Jailani Johari, the deputy minister of Malaysia's communications and multimedia ministry, said late last week that the ministry was ready to take proactive steps towards establishing the center. The first step, he said, would be to hold discussions with the ministries in charge of the issue in all regional countries.
"We laud the prime minister['s] desire to immediately establish the center to prevent 'online-terrorists' who support IS from continuing to spread their propaganda on the Internet and social media… Efforts involving regional countries are timely as intelligence cooperation of all the countries involved will help achieve the objective of its establishment, that is to curb the internet misuse by the ruthless cyber terrorists," he told reporters.