Multicultural Korea and Its Discontents
The number of multicultural South Korean families has doubled since 2007.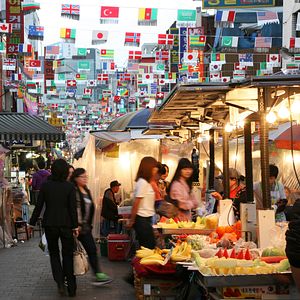 The face of South Korea is changing. According to the Joongang Ilbo, data from the National Assembly's Gender Equality and Family Committee released earlier this week shows that multicultural families are on the rise. Currently at 820,000, the number has more than doubled since 2007.
The article doesn't specify, but the data is likely from the latest population and housing census, data for which is set to be released at the end of this year. The government defines a multicultural family as one where one spouse is either a "marriage immigrant" or "a person who acquired Korean national in accordance with… the Nationality Act."
The total number, while important, isn't likely to reveal much – other than the fact that more people seem to be residing in South Korea on a permanent basis. (Foreigners on a temporary sojourn in South Korea and migrant workers represent separate categories.) For those interested in South Korea's demographic changes and its broader effects, knowing from where the immigrants or newly minted ROK citizens are from will be just as important.
For instance, it is well documented (by scholars and government agencies alike) that most immigrants are Korean-Chinese. Because of kinship and cultural connections and the prospect of making money, many Korean-Chinese come to South Korea to work and study. Starting in the earlier 1990s and continuing into the 2000s, Korean-Chinese started coming to South Korea in large numbers to work — illegally at first. Labor and visa reforms in the early 2000s allowed Korean-Chinese to come to South Korea to work legally. These reforms Park Hyun Ok, author of the The Capitalist Unconscious, claims had a distinct "capitalist character."
One's origin is important because in South Korea, like many other countries, there is a racialized hierarchy within society. As a public opinion poll from earlier this year shows, Koreans don't respond to foreigners in equal ways. The foreigners viewed most negatively are Chinese, while those viewed least negatively are American. Lee Jin-kyung, author of Service Economies, might attribute this to South Korea's becoming a "surrogate (sub)empire." Like the American empire it emulates, there is a racialized division of the transnational migrant classes that seek to enter the country. All migrants are equal, but some are more equal than others.
Both the state and society are aware of Korea's changing demographics and have responded in various ways. Multiethnic Korea? Multiculturalism, Migration, and Peoplehood Diversity in Contemporary South Korea, a recently published volume paints a well-rounded primer on the various social and policy changes in a time when "few observers can now state with much conviction or cogency that contemporary South Korea is a monocultural and monoethnic society," as John Lie, the volume's editor, writes in the introduction.
The contributors to the volume come to varying conclusions about the state of "multicultural" Korea, but a common theme running throughout is that there isn't anything particularly multicultural about the new policies in place or society's response to South Korea's changing demographics. Confusion (about what multiculturalism actually is) hampers the policymaking process and intolerance and discrimination are common social denominators. Not everything said is negative, but it is clear that South Korea has a long way to go towards creating a more just and equal society.
Jin Sun-mee, a first-term lawmaker in the New Politics Alliance for Democracy (NPAD) opposition party, and who reported the numbers on multicultural families in Korea cited by Joongang, is quoted as saying, "We need to transcend policies that simply help [newcomers] adjust to Korean society and, rather, enable policies that will help foster tolerance in our society." One might agree with this statement in the abstract, but how, exactly, is tolerance fostered from the top down?