Remembering Indonesia's Bloody Coup
Fifty years ago this week Indonesia experienced one of the 20th century's darkest moments.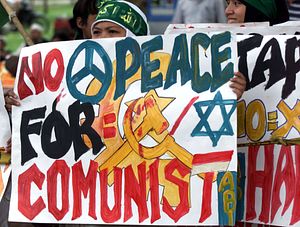 In the heart of Medan, Indonesia third largest city and the setting for much of Joshua Oppenheimer's Oscar-nominated documentary The Act of Killing, is a meticulously maintained, but quiet memorial. From a distance it looks similar to the war memorials scattered throughout Western countries.
What it commemorates, though, is one of the 20th century's darkest moments. The Monumen Perjuangan 66 has on its white-plastered sides visual depictions of the military-led crackdown that resulted in the deaths of an estimated 500,000 to 2 million Indonesians.
This week saw the 50th anniversary of the aborted coup that led to the mass killings, which have been depicted as an act of heroism on the Medan memorial. Killings for which, today, few have been held responsible and which remain a rarely discussed and barely understood topic in now democratic Indonesia.
"The world has to understand that this was genocide, and the world has to take responsibility," said Saskia E. Wieringa, professor at the University of Amsterdam and Chair of the International People's Tribunal 1965.
A Misunderstood History
On September 30, 1965, in what remain murky circumstances, six top generals were killed by a group allegedly consisting of left-wing Indonesians. This allowed a previously little-known military leader, General Suharto, to assume power and launch a nationwide campaign against the perpetrators of the killing, which, according to him, were the Indonesia Communist Party (PKI) and its left-wing allies. Within two years, Suharto was in firm control of the country, the PKI had been completely destroyed, and hundreds of thousands of Indonesians were dead.
Indonesia's mass killings rank alongside some of the bloodiest events in post-World War II history. The estimated death toll puts this event alongside the Korean War, or the Rwandan genocide in terms of bloodshed. Yet, unlike those two events, it receives little attention globally. Within Indonesia itself, the situation is worse.
"The younger generation has grown up with very little knowledge of anything about this period of time, unlike their parents who had swallowed government propaganda for years," said Tom Pepinsky, associate director of the Cornell University Modern Indonesia Project.
Democratic Indonesia's Blind Spot
Throughout the Suharto era, which ran from 1965 to 1998, on October 1 each year, a controversial documentary, Pengkhianatan G30S/PKI (The Treason of the September 30 Movement and the Indonesian Communist Party), was aired on television and shown in school. It greatly exaggerated the threat of a takeover by the PKI and honored the militias and military leaders who organized the mass killings.
Today, the documentary is no longer shown and the holiday celebrating the killings no longer celebrated, but teachings of the event take on either a strong nationalistic tone, or are completely ignored. Only in a few elite universities, such as Univeritas Indonesia, are students able to learn openly about what really happened in the 1960s.
This is part of the progress made since Suharto fell from power in 1998, during the Asian Financial Crisis. Then, Indonesia quickly moved to build a democracy that, contrary to the expectations of many, has survived and thrived. One thing it did not do, however, was create a space for victims of Suharto's three-decade long rule to gain justice.
"When Suharto fell, a bunch of people, shall we say, 'switched sides,' which narrowed those who would be held responsible," said National Coordinator East Timor & Indonesia Action Network (ETAN). "There really was no thorough accounting of the Suharto years, or a cleaning of house"
In fact, democratic Indonesia is run by many of the same people or families who ran Suharto's New Order regime. Sometimes, the connections are so close as to be comedic. Former President Susilo Bambang Yudhoyono was a general who served numerous terms in East Timor, where more than 200,000 died during Indonesia's bloody, Suharto-led invasion and occupation. Prabowo Subianto, who ran for president in a tight race against eventual winner and current President Joko Widodo last year, was Suharto's son-in-law. Marrying into his family allowed Prabowo to become head of the 27,000-strong Army Strategic Reserve Command (Kostrad) in 1998, where his subordinates were accused of torturing pro-democracy advocates. Amazingly, his close connection to Suharto and alleged involvement in human rights abuses in East Timor did not stop him from being just a few percentage points short of becoming Indonesia's seventh president.
"This is why there is enormous corruption in Indonesia," said Wieringa. "Power is still unchecked, corruption is still going on, and it is impossible for Indonesia to make progress on human rights or in checking corruptions if these people still remain in power."
In fact, SBY and Prabowo are just the tip of the iceberg, as Indonesia's political, business, and civil service ranks are dominated by Suharto supporters and those who took part in, or at least supported, the mass killings of the 1960s. They, Wieringa believes, are the ones holding back a true accounting of Indonesia's past.
"Although we now have democracy, and lots of things have improved, still the old power holders are there, and they prevent closure of this kind of history," said Wieringa.
The West's Role
Responsibility for what happened is not Indonesia's alone. Many Western countries strongly supported Suharto's rule in the name of anti-communism during the cold war, most notably the United States.
"The U.S. was Suharto's main international patron," said Miller. "America wanted to keep Suharto happy as it was their big ally in the region." This included turning a blind eye as the killings were taking place across the archipelago. Miller's organization, ETAN, is calling on the United States to release files showing the full extent of its cooperation with Indonesia
Today, world leaders often cite Indonesia as an example of civic democracy, both for Asia and the Islamic world. Last year, the world was enthralled with the election of Joko Widodo to the presidency. He was a true break from the past, Indonesia's first president not tied to Suharto, and without the blood of the old regime on his hands. However, his record over the past year, tarnished by an inability to move his party or the government, shows just how much power the old regime still holds in Indonesia.
"Jokowi is not tainted [by Suharto regime] directly, but is at the mercy of many connected to the events of 1965," said Miller.
Jokowi has made hints that it might release an apology for the killings, a landmark admission that would have repercussions throughout Indonesian society. If it happens, it would be just the first step towards a belated, but needed, healing process.
"Coming to grips with Indonesia's older wounds will be a long-term project that will require generational changes and efforts by elites and regular citizens at every level," said Gregory Poling, an Indonesia expert at the Centre for Strategic and International Studies in Washington.
On the 50th anniversary of one of the worst atrocities of the last century, Indonesia has an opportunity to take another step towards reconciliation and furthering the cause of its democratic progress. Someday soon, perhaps the monument in Medan will no longer memorialize the killers, but pay homage to the innocent victims of Indonesia's darkest era. Then, perhaps, the country can be a true model for the world.
Nithin Coca is a freelance writer and journalist who focuses on cultural, economic, and environmental issues in developing countries. Follow him on Twitter @excinit.